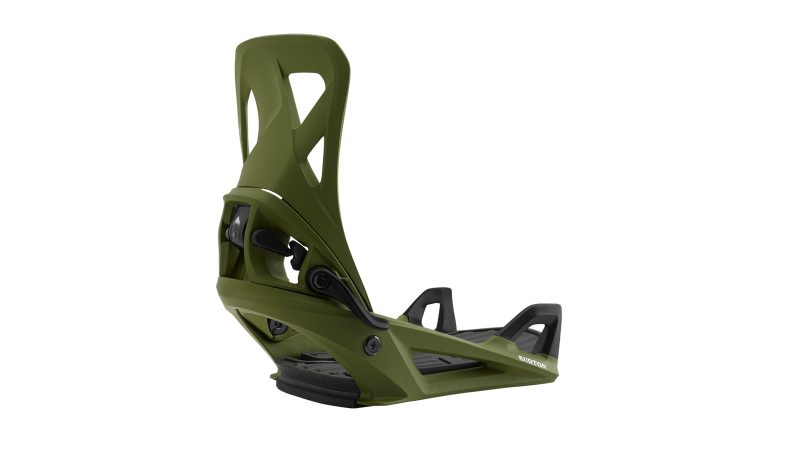 Burton Snowboard Bindings FW18/19 Preview
Retail Buyers Guide: Staff Sales Handbook: Snowboard Bindings 2018/19
CATEGORY: SNOWBOARD BINDINGS
BRAND: BURTON
KEY PRODUCT FOCUS: What are the top three most important products of next year's line, and why? Please tell us about them, and what makes them the highlights.
Step On in general is a huge story for us, if you haven't checked it out yet I urge you to find a demo location and try out this game changing system. New for the 18/19 season we are expanding our Step On step on boot and binding offerings to now be available with youth sizing options!  For the bigger groms we're going to have this boot/binding interface available in boot sizes 4K-7K( euro size 35-40) with the Zipline BOA and Step On Youth binding.
The Mission got a really nice upgrade this season, most notably getting an all new ankle strap with our Hammockstrap 2.0 with Smooth Glide buckles. 
Which new materials are you using in your bindings?
Nothing necessarily new to our offerings, but our line is already offering a variety of materials across models ranging from glass filled nylons to carbon.  We are continuing to expand our injected strap technologies, while you can still find a full grain leather strap…a great offering for whatever ride style you're looking for.
Please tell us about the dominant colour themes in next year's binding line?
This season we've applied a tonal, neutral color pallet across the majority of our line, peppering in a some pop highlights here and there such as a fluorescent hot pink on the Mission, or a beautiful rose gold on the Lexa.
Prices: Where is your brand going? Higher? Lower?
While continuing to elevate our binding construction to more sustainable designs and materials, our goal is to keep the retail costs to the end consumer neutral.
Any new ideas in buckles, straps, highbacks, bases (or baseless)?
We've got an all-new toe strap design offered across our high end men's & women's models.  The Super Grip Cap Strap 2.0 brings a better strap to boot fit, offering better wrap and reduced profile, improving performance while reducing overall footprint and weight.  This new strap is included on the following models: X-Base, Hitchhiker, Genesis X, Genesis, Malavita, Escapade and Lexa (EST and ReFlex offerings respectfully.)
Going for an easy-in, easy-out solution next year? If so, are you licensing or developing it yourself?
Nothing revolutionary over last year, when we totally changed the game!  But yes, we are continuing to offer our Step On system, and new for 18/19 we will have a Youth offering with sizing available for the larger groms.
It's important the binding fits the snowboard boot correctly. What do you do to make sure the fit is OK?
We're lucky enough to be designing/developing boots and bindings under the same roof at Burton, and are thus able to deliver an ideal fit between these two products.  We put special focus to this throughout our design phase, working with the decades of experience we've had in these categories, and then prove it out in our extensive lab and on snow testing.  By using our rapid protoype machine (3D printer) we are able to churn through development samples early in the design phase, (mostly speaking to our binding straps,) which allows us to nail that boot to binding fit before we've invested in a final tool.
Which factories do you use for production, what country? Where do you do the assembly?
Majority of our manufacturing is done in China.
Doing a splitboard-specific binding next year?
Yes, we are continuing to offer our splitboard specific binding which is a collab with the crew from Spark R&D, the Hitchhiker.
What are your top marketing stories for next season? This will help us to put some focus in the right place.
Continuing to support Step On on the boot/binding front.