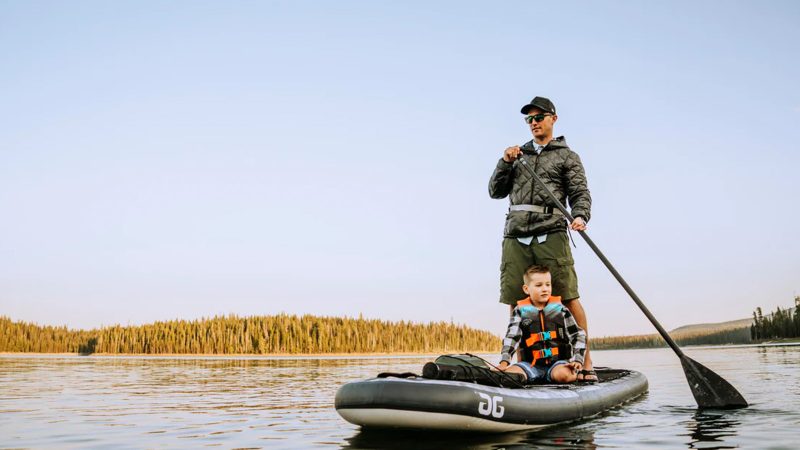 Aquaglide 2023 SUP Preview
Retail Buyers Guide: SUP 2023 Retail Buyer's Guide
Brand: Aquaglide
Interviewee: Seb Thursby
2022 has been marked by overstocks for many players in the SUP industry. Was it the case for your company?
As with a lot of brands in the industry Aquaglide had some overstock. The low end of the SUP market has been tough, but we've seen the high end selling well with high end boats above £1000 RRP selling better in 2022 than even 2021.
Inflation is in everyone's mouth, so how do you keep up with the costs rise (production/shipment)? How much of an increase of price points are we talking for 2023?
Due to the levels of overstock, the great thing is that in market with ever increasing price points we are able to carry over the pricing from 2022. Aquaglide continue to make industry leading products at great prices.
Spring is on the corner: can you guaranty an early delivery of goods in Europe?
We are all stocked up and ready for the spring paddle season in Europe.
Which inflatable models are you pushing in 2023? Please list the technologies/materials which make those iSUPs outstanding?
We see the fishing SUP as an ever grower secter of the SUP market. The Blackfoot Angler SUP is for those who enjoy the thrill of chasing (and catching) fish on a stand-up paddleboard. The Blackfoot SUP also features FSL construction and AeroRail reinforcements to achieve maximum stiffness and durability.
Aquaglide loaded this board with features just for anglers, such as multiple universal mounts and an integrated MOLLE plate that provides multiple attachment points for your accessories, from rod holder to fishfinder, and everything in between. Not to mention the frame seat compatibility which transforms the Blackfoot from a stand-up paddleboard to a plush sit-down paddleboard. Designed and built for the master angler or weekend hobbyist, the Blackfoot Angler 11 is outfitted with utility and comfort features that make it ideal for regular fishing excursions.
Hardboards: is the category worth stocking for retailers or is the D2C channel more appropriate for such SUPs affiliated with experienced riders?
Due to the packability and portability of an iSUPs, Aquaglide continue to focus on the inflatable paddleboard market. The unrivalled flexibility they offer continue to delivery outstanding solutions to getting people on the water no matter their location vs their hardboard cousins.
Any piece of advice to give to brick & mortar retailers concerning their order sorting?
With Aquaglide iSUPs pricing carried over from last year and stock ready to ship to Europe, there's never been a better time to stock Aquaglides high end paddleboards.
Best Sellers
Blackfoot Angler
The Blackfoot Angler SUP – for those who enjoy the thrill of chasing (and catching) fish on a stand-up paddleboard. Coming in at 11 feet long and 36 inches wide, the Blackfoot is the biggest and burliest board in the Aquaglide line-up. The additional width contributes to increased stability – without sacrificing maneuverability, thanks to AG's snub nose, consistent rocker, and shallow draft capability.
Cascade 10ft + 11ft
The Cascade SUP Package is not your average SUP package.  As paddlers, we understand what quality means for both experience on the water and for the longevity of your gear investment.  Designed for recreational paddlers and featuring a unique snub nose, the Cascade paddleboard design boasts reduced overall length and swing weight for equivalent tracking and stability of longer boards.
Roam
If performance is your top priority, the Roam 12ft6 is the paddleboard for you. This SUP is artfully designed for those looking to go fast and far. At 12 and a half feet long and 30 inches wide, the Roam features an extended, narrow deck with a sleek silhouette and low rocker profile. These dimensions combined with the drop-stitch construction and AeroRail Stringers makes for a board that is optimized for stiffness, speed, and glide.