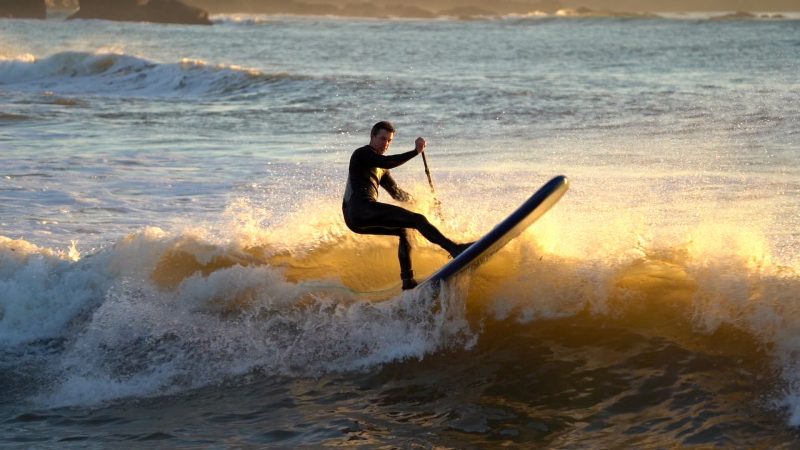 Red Paddle 2023 SUP Preview
Retail Buyers Guide: SUP 2023 Retail Buyer's Guide
Brand: Red Paddle Co
Interviewee: George Shillito. Commercial Director
2022 has been marked by overstocks for many players in the SUP industry. Was it the case for your company?
It's hard to find an industry not affected by macro forces in 2022, but on the whole, we've managed to avoid overstocks by working closely with our network from suppliers through to retailers. By managing a private production facility, we are able to monitor and react to global factors quicker than most to ensure we don't dump stock on our sales network creating discounts and eroding value. As always, we put a huge focus on quality and consistently maintain very low levels of QC failures, which is something that has plagued others and created headaches for customers and retailers. 
Inflation is in everyone's mouth, so how do you keep up with the costs rise (production/shipment)? How much of an increase of price points are we talking for 2023?
We plan material purchases a long way in advance, which helps us remove pricing shocks at the retail level. We also ship in bulk and have a team focused on managing this part of the business, which allows us to identify the best rates and times to ship stock. We have seen a reduction in shipping costs which is helping offset any inflation in material costs. 
Spring is on the corner: can you guarantee an early delivery of goods in Europe?
Absolutely – All our product launches and stock movements are planned months in advance of stock arriving in market. This allows us to work with our shipping agents to manage cost fluctuations in shipping and ensure stock is where it needs to be. Our demand forecasting is based on pre-orders and historic sales data predictions, meaning we have limited numbers on some models but in most cases, stock has arrived or is on route to our European distribution partners, retailers, and warehouses. 
Which inflatable models are you pushing in 2023? Please list the technologies/materials which make those iSUPs outstanding?
To CELEBRATE 15 YEARS of Red we have launched two very special boards to our line up to showcase the two driving forces of Red Paddle Co.
Performance Innovation:
Introducing the 8'10 Compact. Using our patented MSL PACT technology, we have created the smallest, most portable SUP package in the world, designed with travel in mind and exploring new surf breaks off the beaten track. 
–       Sleek new board profile is perfectly contoured for SUP surfing.
–       Varying traction zones provide extra grip for supporting movement across the deck.
–       Designed for Disassembly: Removable and replaceable handles can be taken off when surfing to keep the deck unobstructed.
–       Removable click fins to provide agility and tracking for the ultimate 'packability'.
–       Our industry leading package includes the travel-ready Compact Board bag, unrivalled Titan II pump, five-piece adjustable carbon paddle and premium leash.
Our exclusive and patent protected MSL PACT material made from specially produced, high density drop stitch allows us to make a board that easily folds in half before being rolled up, whilst still maintaining industry leading stiffness and durability. Super small pack downsize, with no compromise in performance. Unsurpassed in terms of lightweight, compact performance, the 8'10" Compact is a revolutionary new board which makes travel SUP/Surfing more accessible than ever before for riders up to 95kg.
Responsible Design:
Introducing the 10'6" Ride Limited Edition board. 
Last year we invited our global SUP community to create a unique design for our award- winning Ride 10'6" SUP. The winning design was selected from hundreds of entries from around the world and chosen in partnership with the Love the Oceans Charity. 10% of brand profits from the sales of these boards are going straight to the Love the Oceans team to enable them to carry out their vital marine conservation research which protects and preserves the marine ecosystems in Mozambique. By using Red Paddle Co boards the team are able to get closer to the wildlife than ever before and study natural behaviors due to the reduced disturbance from an inflatable hull. Furthermore, the project works with the local community to provide lifesaving drowning-prevention work and swimming lessons for women and children. It was this dedication that inspired the winning artwork, "All is Water, Water is All".
The intricate repeater pattern has been applied to the deckpad and underside of our bestselling Ride 10'6" paddle board.
–       MSL: Super Durable, high density dropstitch tested by a 22T digger.
–       Bullet-proof rails: Kevlar weave rail tape makes Red Paddle Co boards indestructible
–       Less Glue: 2kg of glue removed from production to maintain longevity by working with the world's leading glue manufacturer. 
–       Twin Ifin: Super durable, flexible fins for zero faff and zero warranty/spares. 
–       Tec Air: The world's most robust QC production on the planet.
Any piece of advice to give to brick & mortar retailers concerning their order sorting?
Passion is addictive – stocking products you are proud of and passionate about is the number one way to win customers. In a world where there are many direct sell brands it is important to focus on upgrading customers to equipment built for performance and purpose. 
Best Sellers
11'0 Compact: The 11'0 Compact is a full-sized touring SUP that packs down to half the size of a conventional inflatable paddle board using our exclusive high definition MSL PACT material. It is an ideal match for paddlers who regularly travel with their board or want to adventure further. Designed with a drawn-out shape to increase glide, at 4.7" thick this board is a super agile, versatile board and a favourite amongst the Red Paddle Co team. 
12'0 Voyager MSL: For lighter riders the dilemma of length vs volume has always been a difficult decision. At 4.7"/120mm thick the 12'0 Voyager uses our patented Rocker Stiffening System to provide rock-hard rigidity without increasing your centre of gravity. Sitting lower in the water, the board is less effected by side winds and when combined with the Voyager twin fin system and V-HULL technology this board breaks through chop with speed and precision.  
Limited Edition 10'6 Ride MSL: With 10% of brand profits going to ocean conservation from the sale of these exclusive boards – they not only look great but do great as well. Our award-winning 10'6 Ride is the sweetspot of Inflatable SUP dimensions offering total control and confidence for first time paddlers through to fun family adventures. There is nothing quite like it.