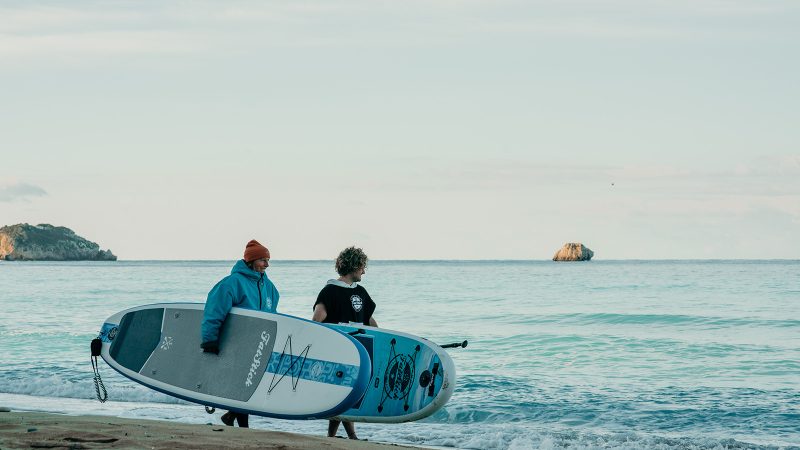 Fatstick 2023 SUP Preview
Retail Buyers Guide: SUP 2023 Retail Buyer's Guide
Brand: Fatstick
Interviewee: Reuben May - Founder
2022 has been marked by overstocks for many players in the SUP industry. Was it the case for your company?
The boom of sales during Covid gave a lot of people rose tinted glasses and as such, a lot of brands over invested. We had a plan for 2021, 2022 & 2023 – and we stuck to it. It was important, and at times, we skirted close to not having enough stock, but we came through the other side. 2023 has seen another upturn, but it's still important to buy well to prevent waste or to enter the race to the bottom. Quality, affordability and stock control is massively important. 
Inflation is in everyone's mouth, so how do you keep up with the costs rise (production/shipment)? How much of an increase of price points are we talking for 2023?
We do everything in our power to now reflect the inflationary prices in our RRP, and pass this on to our customers. Where we can, we mitigate the costs by changing our processes. As you may know, we visit china when we can to meet with our factory owners and make our products amazing and affordable. Inflation, no matter how much should be passed on. We will always try to soak it up!
Spring is on the corner: can you guaranty an early delivery of goods in Europe? We offer next day delivery in the UK on our inflatable boards, excluding hardboards. For delivery in Europe, it usually takes 3-5 working days for inflatable boards.
Which inflatable models are you pushing in 2023? Please list the technologies/ materials which make those iSUPs outstanding?
The Pure Art board is our flagship inflatable model and it comes 'water ready'. This means you do not need to buy anything else in order to get you on the water. At 10'6 x 32″ x 4.7, this board is sleek, sits in the water for a lower centre of gravity which ultimately means improved stability from boards with a 6″ rail. Made from dual-fusion material, which means 2 layers of PVC compressed together using heat, this material is not only durable it's also very rigid. The material is a dense drop stitch and the board comes with an action camera mount, deck bungees, a kayak conversion seat and a 4 piece carbon wrapped paddle that converts into a kayak paddle. Once again, with safety in mind, the Pure Art comes with a coiled ankle leash and a Quick Release waist belt as standard with no extra cost. The main difference in this board is not just the premium materials, it's also the accessories – large durable wheeled bag that can be carried as a backpack, the carbon wrapped 4 piece paddle and a dual action high pressure hand pump. 
Pure Art Summary 
• High quality double layer fusion construction 
• Complete kit with 5 year warranty 
• Able to carry a passenger 
• Very stable 
• Great for heavier riders 
Hardboards: is the category worth stocking for retailers or is the D2C channel more appropriate for such SUPs affiliated with experienced riders? 
The hardboards offer better performance, simply by their build alone. Inflatables are incredible, but the stability and performance of a hardboard cannot be replicated in an inflatable. It's simply not possible. Our hardboards range from 9'8 to 10'6 all rounders , and 12'6 touring boards. We also have our shorter boards with less volume that are made with the SUP surfers in mind. With differing fin set up, 1, 3 and 5 fin options – the boards are made with adaptability in mind. Allowing you a single fin set up for beautiful straight line paddling to adding side fins if you're playing in the surf. Whether enjoying a leisurely paddle with friends, hitting the distances or searching for waves – our hardboards have you covered. 
Hard Board Summary 
• Higher performance than inflatable boards 
• Increased stability & ride-ability 
What do you offer when it comes to foiling/wing in the SUP category? Is the foil still boosting SUP sales? 
Wing Foiling is new to us, but we're very lucky to have 2 riders that love it and offer us feedback. Andy Campbell (New Quay, Wales) and Dave Ludgate (Cork, Ireland) have our foil boards and because of them and their experience and journeys on foiling, we have managed to design and make a new FatStick foil board for 2023 and we are very excited about it. 
Any piece of advice to give to brick & mortar retailers concerning their order sorting?
With FatStick, you invest in a community. Anyone can create a board, brand it and sell it, with us, we want to be a part of peoples lives, SUP journeys and are looking to give back in a very big way to environmental projects. As a retailer, they can sell the product with a clear conscience knowing that by choosing FatSick, they are also investing in a plastic removing, tree planting, mental health supporting and community funding brand that is looking to grow in not only product development, but improving our legacy and what we leave behind. Maybe call it a little FatStick Philanthropy. It's who we are. 
Best Sellers
Pure Art The Fatstick– 'Pure Art' Inflatable Paddle Board is a great looking board and perfect design for beginners and intermediates. Whether you are after a board to cruise around on those hot sunny days with the family or a safe and stable board to catch your first few waves, this board has you covered.
AirStick– With every paddle board we produce, we learn more and more. SUP technology has advanced greatly and with these great advancements, we are able to bring you the FatStick Airstick! Not everyone wants to spend a big on their first SUP, but does that mean you should compromise on quality and performance? Not at all. Reuben has been working hard to create an entry level inflatable stand up paddle board that doesn't break the bank, gives you the same quality that FatStick strives to bring everyone and ultimately allows you to get out on the water.
Bamboo Bullet– This popular board carries a story. This was the initial design that we brought out years ago and it performs as good today as it always did! This board put Fatstick on the map and gained our reputation for a quality brand selling affordable paddle boards. The Bamboo Bullet, which is also available in a high performance carbon version, is based on a traditional longboard shape that will bring you fun whether your paddling flat water inlets or surfing wild ocean waves. It's wide shape and rounded rails makes for a forgiving ride, perfect for beginners or more advanced paddlers.