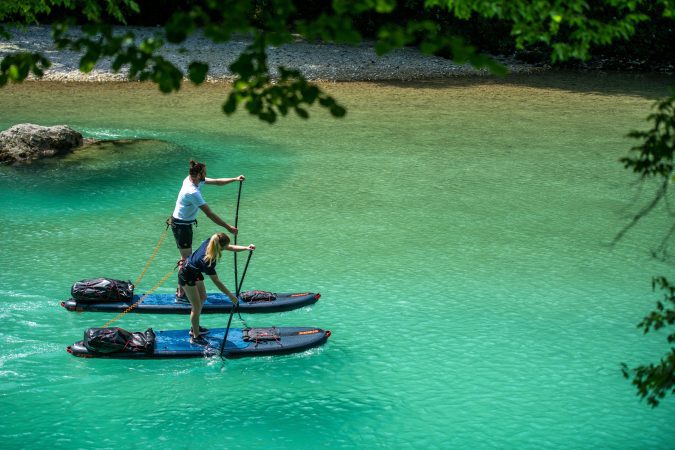 Jobe 2023 SUP Preview
Retail Buyers Guide: SUP 2023 Retail Buyer's Guide
Brand: Jobe
Interviewee: Martijn van Gool, Marketer
2022 has been marked by overstocks for many players in the SUP industry. Was it the case for your company?
At Jobe, we have a continuous range and a new range of Paddle Boards. As a result, the stock is good and we have no typical overstock.
Inflation is in everyone's mouth, so how do you keep up with the costs rise (production/shipment)? How much of an increase of price points are we talking for 2023?
New agreements for this year have been made, and it actually looks better than last year. To be ahead of any increases, we have added an extra product to our SUP packages: the Quick release belt. This makes the new price more in line with market conditions.
Spring is on the corner: can you guaranty an early delivery of goods in Europe?
We can guarantee early delivery in Europe, thanks to our continuous range and our new range that we have planned ahead well. This makes that the stock is right. For our customers, it will be possible to purchase all our Paddle Boards as of the beginning of Spring.
Which inflatable models are you pushing in 2023? Please list the technologies/materials which make those iSUPs outstanding?
In 2023 we've added a new outstanding range, the Elite Series. These boards are created with the goal that "the sky is the limit". Everything that we look for in a Paddle Board, is in it. The Elite version of our Yarra 10.6 is packed with next-gen innovations like a new hook system, sandwich railtape, carbon rails and many, many more! We have also added the most premium necessary accessories to give you the best experience possible.
5 year warranty

Non-slip EVA foam pattern: A soft deckpad for comfortable SUPing, no matter how long your tour is

Lightweight X-dropstitching construction

Bungee storage net

Easy-to-carry neoprene handle with paddle holder

Halkey Roberts Valve

8″ EZ lock fin

A double stringer on the top and bottom for improved control

Carbon Sidewall: Added stiffness for more response

Comes with waterproof bags to attach to the tip and tail through our Hook System

D-ring on tip and tail

Flat leash loop

Heat bonded technology: better layer quality and lightest construction in the market

Removable bungee storage net

Sandwich railtape: taped seams at the top and bottom of the board for more durability

Valve patch assistance

Package contains: Aero Elite Yarra SUP board 10.6, adjustable 100% carbon 3-piece paddle, 1 big Waterproof backpack, 1 small drybag, triple action pump, Padded Quick Release Waist Belt, 10ft / 3,04m coiled leash
Hardboards: is the category worth stocking for retailers or is the D2C channel more appropriate for such SUPs affiliated with experienced riders?
In 2023 we don't have new hardboards on the market. This is because of the easy storage of Inflatable Paddle Boards and the trust that we have in our Inflatable Boards. 
What do you offer when it comes to foiling/wing in the SUP category? Is the foil still boosting SUP sales?
For now, we do not have a foil in our range of products. This might be something for the future! 
Any piece of advice to give to brick & mortar retailers concerning their order sorting?
Be on time, and order ahead. Plan your expectations well together with your representative.   
Best Sellers
Duna 11.6– The Jobe Duna 11.6 Inflatable stand-up paddle board Teal has received some serious design changes including a more rounded tail where form meets function! We have also created two new colorways due to the popularity of this beautiful board. It doesn't just look better, the design changes have a practical use and make for an integrated storage cord and handles. Combine this with our high-end technology like our X-stringer construction, rail tape and a double stringer and you get one of the best SUP boards on the market as a result!
Sena 11.0– The all-new Jobe Sena 11.0 Inflatable Stand-Up Paddle Board is called into life to demand the stand-up paddlers who prefer making longer distances on the water. Next to our Duna 11.6 and Neva 12.6, this touring board is optimized and has the best performances for the more lightweight people. The Sena belongs to our Aero Series which gives you a premium SUP experience for a friendly price. In this board you will find – apart from the stringer – the exact same technologies and innovations that are used in our Premium and Elite series!
Yarra Elite 10.6– The Jobe Yarra Elite 10.6 is the perfect combination of durability, functionality, and style. The Yarra Elite is our best board made so far! It boasts a non-slip EVA foam pattern, lightweight X-drop stitching construction, and a carbon sidewall for added stiffness and responsiveness. The package comes with a waterproof backpack, drybag, triple action pump, 3-piece paddle, waist belt, and a coiled leash. With a recommended weight capacity of 140kg and dimensions of 10'6″ x 32″ x 6″, this board is ideal for long tours, making it the perfect companion for any water adventure.