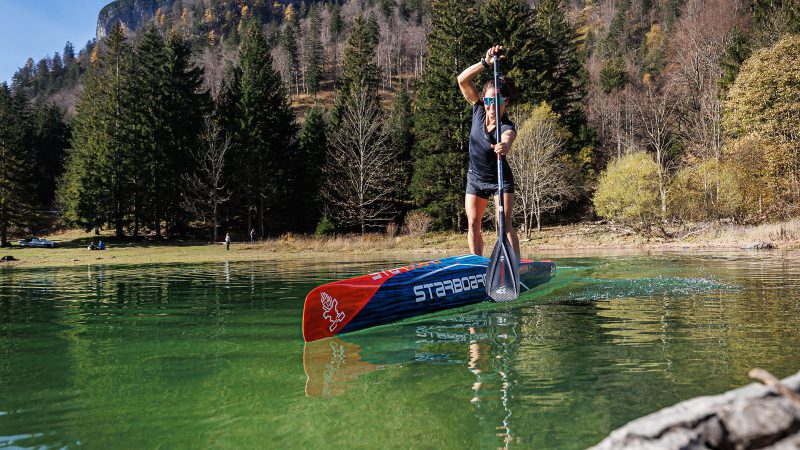 Starboard 2023 SUP Preview
Retail Buyers Guide: SUP 2023 Retail Buyer's Guide
Brand: Starboard SUP
Interviewee: Ollie O'Reilly - Brand Manager
2022 has been marked by overstocks for many players in the SUP industry. Was it the case for your company?
2022 was indeed a challenging transition from Covid and other external influences. Like most brands in the industry, it has been challenging in some product categories to balance the supply and demand during these unpredictable times. 
However, we see growth in both the inflatable and composite sales during this first quarter.  Furthermore, we have been working on some key products campaigns soon to be launched, which we expect to impact well on demand. 
Having just finished our 2024 Board Meeting in Lanzarote with some of our top distribution partners, the overall feeling is positive and optimistic for the upcoming 2023 season. 
Inflation is in everyone's mouth, so how do you keep up with the costs rise (production/shipment)? How much of an increase of price points are we talking for 2023?
Inflation is definitely one of those external factors which has to be considered. But there are other factors such as the reduction in shipping prices which will help to reduce the impact. We see certain price increases in our composite models between currency exchange, year on year increases and material changes. The industry for Carbon fiber had big changes in demand and supply during covid and post, so it's a challenge to ensure consistent supply, which ultimately affects price. 
Every year, we scrutinize pricing and work with our suppliers, manufacturers and distribution partners to ensure we are competitive in the market. 
Spring is on the corner: can you guaranty an early delivery of goods in Europe?
Covid is mostly a sign of the past, as we now see our production facilities are back to full capacity and ready to produce. We are early this year with our product set up to ensure an on time delivery. However,  like all manufacturing, there can be unexpected delays but we plan for the majority of our new products to ship in July, arriving in store in September. 
Which inflatable models are you pushing in 2023? Please list the technologies/materials which make those iSUPs outstanding?
Starboard being a premium leading brand in the industry has a wide range of boards to cater for all niches and aspects of SUP.
The IGO and Touring ranges continue to be our best selling models with widest appeal to anyone getting into the sport. These are available in our flagship woven fusion Deluxe and our value price point Zen constructions. The Double Chamber technology is still a preferred feature that has set the benchmark, offering additional safety as well as significantly increasing the overall stiffness. 
We have several specialty models in the industry that stand alone, such as the Icon with the first concave bottom shape, the fastest All star and Sprint Airline race boards, and the patented Air Foil boards which have been setting the standard for foiling in inflatable Winging. 
The Starboard Welding technology is still our single most important technology and innovation. . Since we developed our welding technology several years ago, our warranty rate for leaking boards has reduced to 0.16% or 2 out of 1,000 boards sold. Welding technology is without doubt the most impactful innovation that has revolutionized the industry in both product lifetime and quality. 
Hardboards: is the category worth stocking for retailers or is the D2C channel more appropriate for such SUPs affiliated with experienced riders?
100%. We actually see a growth in composite models overall. As the inflatable technologies appeal to the mass market, we see consumers looking to buy a composite board for the improved performance and progression, often a second purchase.
Riders looking for wave and race performance will always choose a hardboard for its subtle differences in shape and technology. 
The performance of a composite board is still superior to an inflatable due to the technology limitations in shaping an inflatable. That said, the patented Inflatable Air Foil, new Surf model and Airline models really push the boundaries in inflatable technologies, proving to be a closer match than ever before.
Hardboards are not just focused towards progression and experienced riders. Our Go models are the easiest, most stable and fastest models for entry level riders that just want to go paddle. The flat deck, boxy rails and deep concave bottom shape makes this model a benchmark in entry level performance. 
For those wanting a truly versatile one board quiver, the Generation model has so much value as a 3in1 design, optimized for cruising, surfing and racing. 
What do you offer when it comes to foiling/wing in the SUP category? Is the foil still boosting SUP sales?
Our foiling range is expanding and growing with the demand and growth of the sport, and fast! Foiling is still very much in the early stages of the sport yet is becoming much more mainstream than many expected.
Foiling continues to evolve and is the bridge between so many sports such as surfing, windsurfing, kitesurfing, and SUP. This year we definitely see an increased demand for SUP Downwind Foiling, as well as Wingboards, crossover SUP foil boards, surf and pump foiling. 
Our Freewing brand is driving innovation in Wing performance, offering a comprehensive range from entry level, intermediate and advanced riders, as well as disciplines from racing, all round, surf and freestyle. The growth of Wingboarding is still early and so the development of boards, wings and foils is very exciting. 
Starboard Foils continues to deliver more performance across Wing, Wave and Windsurf. The Quick Lock 2 system is fully modular, making it very quick and easy to adjust for set ups for different conditions and wings. The pairing of development between, boards, wings and foils makes for a truly comprehensive package.
Any piece of advice to give to brick & mortar retailers concerning their order sorting?
The Watersports industry is unique in that it relies so much on the feel and touch of products, the advice and experience from those in the sport and general gear talk on how to progress. Therefore, I only see brick and mortar retailers becoming stronger in the future, as their service ensures people get the right gear in hand. Yes you can quickly look for deals online. But without talking to a shop, feeling the weight of the product and seeing the actual product in person, there are limitations with the online experience. 
Ongoing demo days, fun events, tech talks and rider clinics are all great ways to engage people and give them the tools to start their SUP journey. 
Best Sellers
Air Foil- The Starboard AirFoil is an award winning patented design that combines ultimate performance with maximum convenience. The unique top plate design on the standing connects directly to the foil to offer direct response and control, while giving you the sensation of standing on a composite platform when in the air. 
 Lima Paddle- The Starboard Lima blade is the most winning paddle in the industry, winning 7 world champion titles from the last ICF World Championships. The Lima remains the paddle of choice for those that want to paddle fast and go further from its incredible direct catch and power transfer. 
Spice 8'2"x30.75"- The Spice since we introduced this SUP wave range in 2022 has quickly become our second best-selling model. Designed to be more progressive than the Wedge, yet more user friendly and stable over the Pro, the Spice is appealing to both world champion riders in the smaller sizes, up to intermediate and heavier riders in the bigger models.