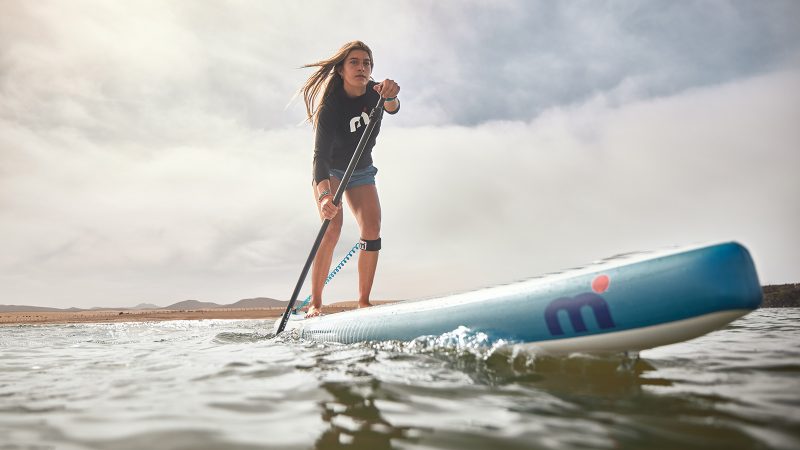 Mistral 2023 SUP Preview
Retail Buyers Guide: SUP 2023 Retail Buyer's Guide
Brand: Mistral
Interviewee: N/A
2022 has been marked by overstocks for many players in the SUP industry. Was it the case for your company?
We've had a year of upheaval and change, as Mistral was sold in February 2022. The incoming owners have been on a brand repositioning and rebranding exercise during this time, detracting from normal business in many respects, leading to some residual stock of some items as a consequence, not helped by a year in which SUP sales were slow for most due to over predictions of sales for 2022. Still, we will roll these into 2023 as NOS items. What it's done is reduce our usual order quantities to account for the overstock. Critically, we want to present our new image and designs for 2023 as a blueprint for moving forward, with our primary focus on 2024 as a full reboot in effect. 
Inflation is in everyone's mouth, so how do you keep up with the costs rise (production/shipment)? How much of an increase of price points are we talking for 2023?T
The net effect of energy price rises and the cost of living, in general, has impacted working people's surplus cash reserves. We can all anticipate a general downturn in sales across the leisure industry sectors. Consequently, we've had to negotiate hard with our suppliers to keep costs down, but they, too, have been impacted. On balance, we've managed to keep our retail prices at a realistic rise in alignment with new design and aesthetic improvements to justify the increase in part.
Spring is on the corner: can you guaranty an early delivery of goods in Europe?
Trains, planes, and cargo shipping has been the answer to getting our stock to us on time. There have been some delays in production and partly due to the continuing covid issues, but transit times have thankfully been reduced. We anticipate having at least 50% of our stock on hand during March, with the balance to follow soon after.
Which inflatable models are you pushing in 2023? Please list the technologies/materials which make those iSUPs outstanding?
We will be pushing our interdisciplinary boards for paddling and wingsurfing in particular. We're using our Twine-X drop stitch with 15,000 threads per sqm at the top of industry standards. For wingfoiling to appeal to the masses, there needs to be a transitory solution whereby the skills of using a wing can be learnt without needing a foil. For some, this will actually be enough, as not all will want to make the step to foiling. Additionally, we have two inflatable wingfoil boards (5'4 and 6'6) in which we believe the market is ripe for development. These feature a carbon rail system. The worry with foiling is how it will be marketed and portrayed. With wingfoiling, the base entry for many 'would-be foilers' when you look through the magazines, the emphasis is seemingly hardcore-focused before the sport has had time to appeal to the average board sport enthusiast. Are we over-shooting it before real traction has taken hold is a question we need to ask.
Hardboards: is the category worth stocking for retailers or is the D2C channel more appropriate for such SUPs affiliated with experienced riders?
The D2C route has always favoured inflatable online sales, and that's here to stay. Retail stores stocking expensive, space-invading hardboards have always been the retailer's nemesis as many simply do not have the space. If we are talking about specialist race boards and even some sup surfboards, they are aimed at a specialist niche rider with low numbers, and it's questionable if these should take up space. Ironically they tend to be the brand's showcase products for those involved with hardboard manufacture. For the more utilitarian hardboard, your tongue depressor Malibu board for riding fat waves or being paddled, there's still reason enough to have a few on hand. In many instances, the issue really comes down to a willingness to support the hardboard as a concept as a better option than the inflatable. Touring boards in hardboard construction are another potential stepping stone and popular seller as an alternative to the inflatable and could warrant a corner of the store.
What do you offer when it comes to foiling/wing in the SUP category? Is the foil still boosting SUP sales?
With our interdisciplinary boards for wingsurfing, we aim to sell more wings as a consequence of supporting and promoting the concept, especially our budget-priced designs. When riders transition to foiling, we have a higher level of wing design and a range of hydrofoil kits and components for our inflatable wingfoil boards to create a packaged solution. We have our own in-house designed Sabre foils, and we've recently teamed with Italian makers and designers SAB for our high-end offerings. Frankly, we haven't seen a correlation between increased SUP sales and the foiling system being as they are, for the most part, mutually exclusive to one another, accepting where inflatable SUPfoiling is concerned; and that's a very small niche sphere of interest. This year that could change, of course.
Any piece of advice to give to brick & mortar retailers concerning their order sorting?
This is a proximity and seasonality question. It really depends on many factors. Coastal and inland retailers will naturally have differing needs in order to support the rider's needs to align with the prevailing water and wind conditions. Understanding your buyer demographic and the environment around you is critical, as are knowing and understanding seasonal conditions and weather patterns. Why fill your store with high-wind equipment when it may only be windy from October to September the same goes for surf-related products and for the time of year the surf rolls in. There's a time and season for everything. Inland retailers may have more static prevailing water conditions, but again, you still need to grasp seasonal shifts, the analogy being that you would only sell a few 5mm wetsuits in summer; that's an autumn and winter reality.
Best Sellers
SUNBURST 10'5 INTERDISCIPLINARY BOARD – Created with the SUP paddler in mind that wants to learn the art of harnessing the wind through the use of a wing. Carefully positioned side bite fins make wingsurfing possible. Deck grab handles for recovery and deck cargo net for provisions. The Sunburst makes for an ideal family board for windy days or calm.
SKYWAVE AIR 6'6 – Travel the world or stash easily at home; our inflatable wingfoiling board with carbon rail system provides a high-performance solution to making journeying with your kit a breeze. The short waterline length makes for a rigidly inflated platform. Fit any of our Sabre or Mistral X SAB foils for the ultimate ride. 
SPHINX WINGS (3.5M, 4.2M, 5.0M, 6.5M) – Using our radial cut panels, our Sphinx wings deliver high performance across a wide wind range due to their tremendous stability created from the panelling. Three webbed control handles keep handling simple and positive. Tested extensively in Europe, Australia, the Caribbean and Maui.