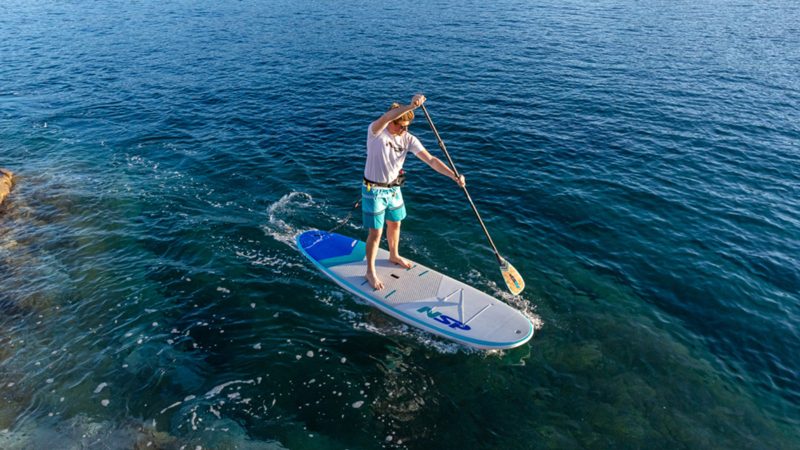 NSP 2023 SUP Preview
Retail Buyers Guide: SUP 2023 Retail Buyer's Guide
Brand: NSP
Interviewee: Sander Blauw
2022 has been marked by overstocks for many players in the SUP industry. Was it the case for your company?
While we were all cautious of 2022 being unable to sustain the growth we had seen in 2020 – 2022, it started off as a strong year, but the bumps on the road became more apparent as the situation in Ukraine worsened impacting gas and oil, and costs of living quickly rose. By May  things has definitely started to cooled down into the new reality with slower sell through and warehouses remaining quiet and well stocked when they are traditionally emptying out.
Having enjoyed 2 years of strong growth we and the industry looked at 2018 and 2019 as comparative base years. By end 2022 it was healthy to see SUP hard board sales despite a decline were doing better than the pre-covid years of 2018 and 2019. Strong growth was driven in the race category thanks to the strong interest in health and wellness as well as seeing a strong increase in youth and new comers to SUP races. The increased events from ICF, APP and ISA all helped to raise the profile of SUP race and NSP's strong results at the races delivered strong results in sales
Inflation is in everyone's mouth, so how do you keep up with the costs rise (production/shipment)? How much of an increase of price points are we talking for 2023?
We had to cut back on some items to minimize the unavoidable increase in costs, however with the sharp decrease in the previously insane costs of shipping, the increase to customers has been kept to a minimum. We just hope we can sustain this into 2024 when the global economy is expected to hopefully return to growth… lets see
Spring is on the corner: can you guaranty an early delivery of goods in Europe?
For most products yes… but for the high an in demand race boards we are already fully booked with orders well into the 2nd half of the year.
Which inflatable models are you pushing in 2023? Please list the technologies/materials which make those iSUPs outstanding?
Despite a general oversupply across the industry, our race inflatables continues to see strong demand. We've introduced a narrower side due to the requests. A key feature is the removable fin box that sits flush with the bottom of the board, thus significantly reducing drag as experience by regular fin boxes that protrude and create drag.
Hardboards: is the category worth stocking for retailers or is the D2C channel more appropriate for such SUPs affiliated with experienced riders?
There certainly remains demand for retailers, but as with many things, we see the best shops with the best results are the ones that participate in the sport and connect with the local community who sees them as an active player in the category sharing their experiences with the local community and continuously bringing new people into the sport. Shops that also offer schools, rentals and tours are best positioned to deliver the complete experience and strongly support sales thanks to the relationships and trust they have built
What do you offer when it comes to foiling/wing in the SUP category? Is the foil still boosting SUP sales?
Foiling is a growing part of our business. Our latest generation of Fireball Airwings, Riblet foil wings and category specific boards – ie downwind, wing, surf we are seeing a strong interest and uplift (pun intended) in our foil sales
Any piece of advice to give to brick & mortar retailers concerning their order sorting?
Hang in there, things will improve! Make the most of the opportunity to connect with your local community and share you love and passion for sup. Regardless of brand, create weekly paddle groups and invite new members of the community to discover SUP. We all need to stay positive and creative to keep finding solutions to help keep the wheels in motion.
Best Sellers
NSP Riblet Foil wind with Modular 80 SET
With its unique riblet shape, much like "tubercles" on whales and fish, it delivers higher lift efficiency and greater stall resistance than regular wings of the same size.
The riblets come in 3 different front and two rear wing sizes. When combined with the modular 80 set which includes an 80cm mast and 70cm fuselage and all accessories to mount everything, you can pick and mix and riblet or other front wing combination to build your own custom set to best meet your needs, skills and conditions. A truly versatile package.
Hit Cruiser
Remaining as by far NSP's top sell hard board SUP ever, this exceptionally durable price point SUP continues to exceed sales expectations. While popular for families and private use thanks to it attractive pricing, this board was originally designed for hotels, resorts, schools and rentals due its extremely high durable construction. The board features an M8 screw so a recreational windsurfing rig can be easily attached and the boards locking point on the nose allows for a  bike chain to lock the board when not in use – allowing rental operators to leave the boards outside without worry of theft or misuse.