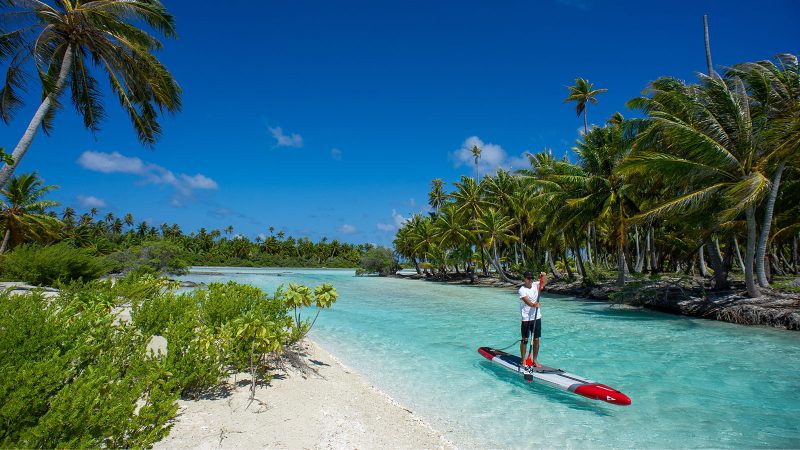 SIC 2023 SUP Preview
Retail Buyers Guide: SUP 2023 Retail Buyer's Guide
Brand: SIC
Interviewee: Casi Rynkowski – SIC Global Brand Manager
2022 has been marked by overstocks for many players in the SUP industry. Was it the case for your company?
Similar to the rest of the industry, SIC is experiencing overstock from late factory deliveries due to lagging production caused by COVID. Additionally, market saturation in specific categories like inflatables has caused stock levels to be higher than normal.
Inflation is in everyone's mouth, so how do you keep up with the costs rise (production/shipment)? How much of an increase of price points are we talking about for 2023?
SIC continues to evaluate pricing regularly to remain competitive as a global brand. Container shipping costs have decreased, helping to provide some relief, and production and raw material changes will also help also.
Spring is on the corner: can you guaranty an early delivery of goods in Europe?  
SIC held much of the product lineup stable during COVID, anticipating that late deliveries would impact stock levels. We currently have stock available for many products, and now that factories have opened up, we expect to have more availability and timely delivery for our new products.  
Which inflatable models are you pushing in 2023? Please list the technologies/materials which make those iSUP outstanding?
SIC Okenaos Expedition Air continues to be one of our top-tier inflatables with FUSION SKIN TECHNOLOGY (FST), the stiffest inflatable drop-stitch material. This material has a low-stretch, high-tensile skin, which is heat-fused onto the base fabric. When inflated, this stiffer skin, combined with the compound curves of the rails, makes this board super stiff at only 15 psi. The Okeano's generous nose and tail tie-down locations, convenient carrying strap, and a drybag backpack that doubles as a space to store gear while paddling make this the ultimate adventure inflatable paddleboard.
SIC's Tao Air inflatable series has something for every paddler—touring, surfing, windsurfing, or wing paddleboarding. The TAO series boards are constructed from a single-skin drop stitch material (DSC) that is lightweight and extremely durable. It also utilizes Support Stringer Technology (SST), which is an HDPE stringer heat fused onto PVC to stiffen the board and lock in the rocker profile.
Finally, our RS AIR series offers performance on the go. Carbon Fusion Lite (CFL) is the lightest fusion skin material on the market. This material has a lightweight, low-stretch, high-tensile skin that is heat-fused onto the back of the outer PVC skin. When inflated with the compound curves of the rails, this stiffer skin makes this board super stiff at only 15 psi. The carbon-fused PVC belt on the top and bottom of the board provides increased longitudinal stiffness for one of the most high-performance paddling inflatables on the market.
Hardboards: is the category worth stocking for retailers or is the D2C channel more appropriate for such SUPs affiliated with experienced riders?
Hardboards via qualified specialty retailers are still the most reliable channel and best experience for most consumers. The logistics (including the possibility of damage), plus cost to transport hardboards for D2C are prohibitive in most cases. But the performance of a quality hard board is still superior to inflatable SUP—a performance retailer should be looking to offer all the best options for customers.
What do you offer regarding foilingwing in the SUP category? 
SIC offers the convertible inflatable Tao Wind AIR for those interested in paddling and pursuing wind sports like wing flying or windsurfing. Its wider width and volume provide stability without compromising performance in the wind. Center and rear fin boxes deliver better traction when in wing flying or windsurfing mode, providing many opportunities to stay in the water during windy days.
Any advice to give brick & mortar retailers concerning their order sorting?
After two years of supply chain disruptions, both production and logistical issues are stabilizing. Models that could not be produced during the worst period of Covid are back in production with no delivery delays. Retailers can plan with confidence and order from a complete assortment with products arriving on time and available immediately.