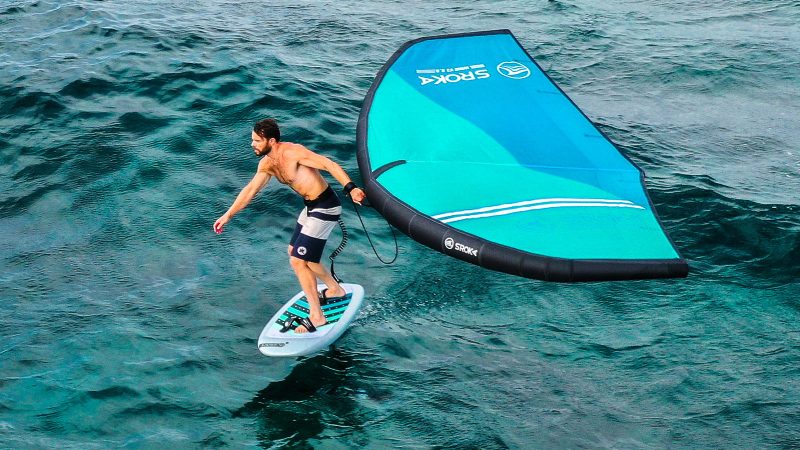 Sroka 2023 SUP Preview
Retail Buyers Guide: SUP 2023 Retail Buyer's Guide
Brand: Sroka
Interviewee: N/A
2022 has been marked by overstocks for many players in the SUP industry. Was it the case for your company?
In 2020 and 2021, stores were complaining that there was not enough stock. To address this problem in 2022, the stores' pre-orders were really oversized. We all fell for it. We ordered from the suppliers the quantities requested by the stores. However, at the beginning of 2022, they had a lot of pre-orders, (due in part to the war in Ukraine) and so we all found ourselves with a lot of stock. 
So yes, we were overstocked on many products. And it is still the case now.
Inflation is in everyone's mouth, so how do you keep up with the costs rise (production/shipment)? How much of an increase of price points are we talking for 2023?
To be honest with you, we have not seen any inflation in the price of supply and transportation. Many brands use inflammation to increase the margin rate. We have maintained the rates without any price increase. 
Spring is on the corner: can you guaranty an early delivery of goods in Europe?
Yes, no problem, we have a lot of stock so we can ship every time.
Which inflatable models are you pushing in 2023? Please list the technologies/materials which make those iSUPs outstanding?
For 2023, we have two inflatable SUP models that stand out for their quality and versatility: the Malibu Fusion and the Alpha Fusion.
The Malibu Fusion is our best-seller, known for its stability, strength, durability, and versatility. It comes in two sizes: 10'x31x5 and 10'6x32x6, and two colors: blue and orange. This model is ideal for learning, riding, and family fun on the water. It benefits from Fusion technology, which makes it lighter, and three layers of PVC on the rails, which increase its rigidity and avoid air leakage problems (exclusive to SROKA). It comes with a backpack, a double action pump and a leash.
The Alpha Fusion is the perfect compromise between lightness and speed. It measures 12'6×28 and weighs only 8 kg. It offers excellent glide for an active touring SUP. Its shape allows it to absorb chop and guarantee stability and glide in all conditions. It also benefits from Fusion technology and three layers of PVC on the rails. It comes with a rolling carry bag, a double action pump, and a leash.
Both models are made with the best materials on the market, which we have carefully selected. We are concerned about our environmental impact, which is why we develop SUPs with a maximized lifespan that will limit the use of new resources. Producing better to produce less and thus limiting the waste of natural resources is one of the objectives of the SROKA brand.
I can also tell you about the Ocean Walker, our entry-level model.
The Ocean Walker is an inflatable SUP ideal for learning stand up paddling. It measures 10'4 long by 32′ wide, which gives it optimal gliding sensation and stability. It is sold as a complete pack with everything you need to practice SUP immediately: an inflation pump, a removable and adjustable 3-part paddle, a leash, 3 zippered fins, an adjustable carrying bag and a small repair and maintenance kit. It is made with 100% high quality PVC and dropstitch materials, which ensure good quality and satisfactory rigidity. It is a lightweight all-around SUP that adapts to any body of water: ocean, lake, or river. It has elastic nets at the front to carry your stuff in a waterproof bag (not included in the pack) or to collect waste during your outings. It comes with a 2-year warranty on the board and all its accessories.
The Ocean Walker is the best priced inflatable SUP, perfect for beginners or budget paddlers who want to enjoy paddling without breaking the bank.
Hardboards: is the category worth stocking for retailers or is the D2C channel more appropriate for such SUPs affiliated with experienced riders?
We don't sell hardboards because the market has been destroyed by the big brands who made products so elitist and expensive that we lost the customers who could have bought them. It doesn't make sense to sell boards at 3000 or 4000 euros. We are on leisure and people who want to have fun but at a reasonable price. It's always the same thing. We forget too much about the practitioner and the general public. We are here to have fun and to do business. If we make products that are too technical and too expensive, we will lose a big part of our customers.
What do you offer when it comes to foiling/wing in the SUP category? Is the foil still boosting SUP sales?
We have been producing foils since 2014 (initially for kiteboarding) then surf foil came along and sup foil and wing. Yes, thanks to the wing, some customers are looking for this type of product. It boosts the beginners and allows to put the practitioners in the water on multi support. This allows to open a market on another clientele.
Any piece of advice to give to brick & mortar retailers concerning their order sorting?
The key in our opinion and the only way to be effective is that they bring real added value with advice, service and meet the needs of customers. Unfortunately, this is less and less the case. If we take the example of foil, customers are sometimes much more technical than the store. So, we need technicality, service, and advice. This is the only solution in our opinion.
Best Sellers
The Alpha 12'6×28 inflatable paddle is the best compromise between glide, stability, and performance. It offers an unprecedented feeling of speed. Featuring an ultra-strong Fusion construction with 3 layers on the rails, it's the perfect paddle for hiking or touring. Easy to inflate and transport thanks to its backpack with wheels, it is suitable for all levels of practice.
The Sroka Air 6'4 inflatable wing foil pack is ideal for anyone who wants to foil with ease. Its 150L board offers you a fast take off and an optimal stability. The Classic 1750 front wing guarantees exceptional lift and maneuverability. The inflatable pack is easy to carry, easy to store and super strong!
The Sky Rider 5'4 complete wing foil pack is a quality product for all levels. Its board offers you speed and control. The pack is also composed of a 5m V3 wing, ultra-powerful and maneuverable, and an S-Foil with a Classic 1750 front wing that is versatile and stable.