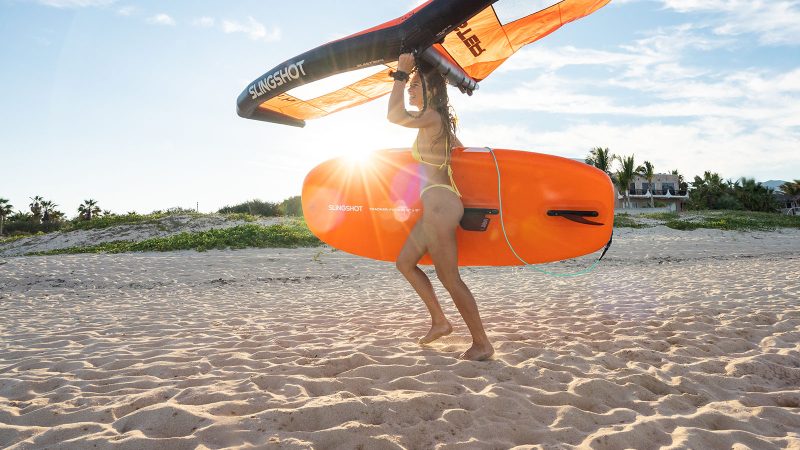 Slingshot 2023 SUP Preview
Retail Buyers Guide: SUP 2023 Retail Buyer's Guide
Brand: Slingshot
Interviewee: Wyatt Miller Brand Manager Wind/Wing
Which inflatable models are you pushing in 2023? Please list the technologies/materials which make those iSUPs outstanding?
For this year we are hyped on our Cross Sport SUPs.  We have 3 constructions available in this 11' cruiser: inflatable, soft top and hard top.  These are multi-sport paddleboards that have a mast track for windsurfing and a removable keel fin that when installed allows you stay upwind as you learn to windsurf or wing.  Being so versatile they are just a blast to play with no matter what your application.  They paddle fast and make learning to harness the wind a breeze.  
Hardboards: is the category worth stocking for retailers or is the D2C channel more appropriate for such SUPs affiliated with experienced riders?
We are a not really in the hard shortboard SUP market anymore and concentrate our products in the multi-sport category with a focus on inflatables for learning to wing.  Many of our crossover wing/SUPs are fun to paddle and compact enough to hike into epic locations.  
What do you offer when it comes to foiling/wing in the SUP category? Is the foil still boosting SUP sales?
Being a top foil and wing brand we are all about these facilitating the explosion of this new category.  We have the Wing Raider XL boards in 100, 120 and 150L that are great for SUP Foiling and winging with their mid-board foil placement and short nose that minimizes swing weight and maximizes pumping performance.  These boards allow you to learn SUP foil in the waves and are great for getting your first flights with a wing.   Then our Cross Sport 11' boards mentioned above ensure the whole family can get out on the water either with a paddle or by harnessing the wind.