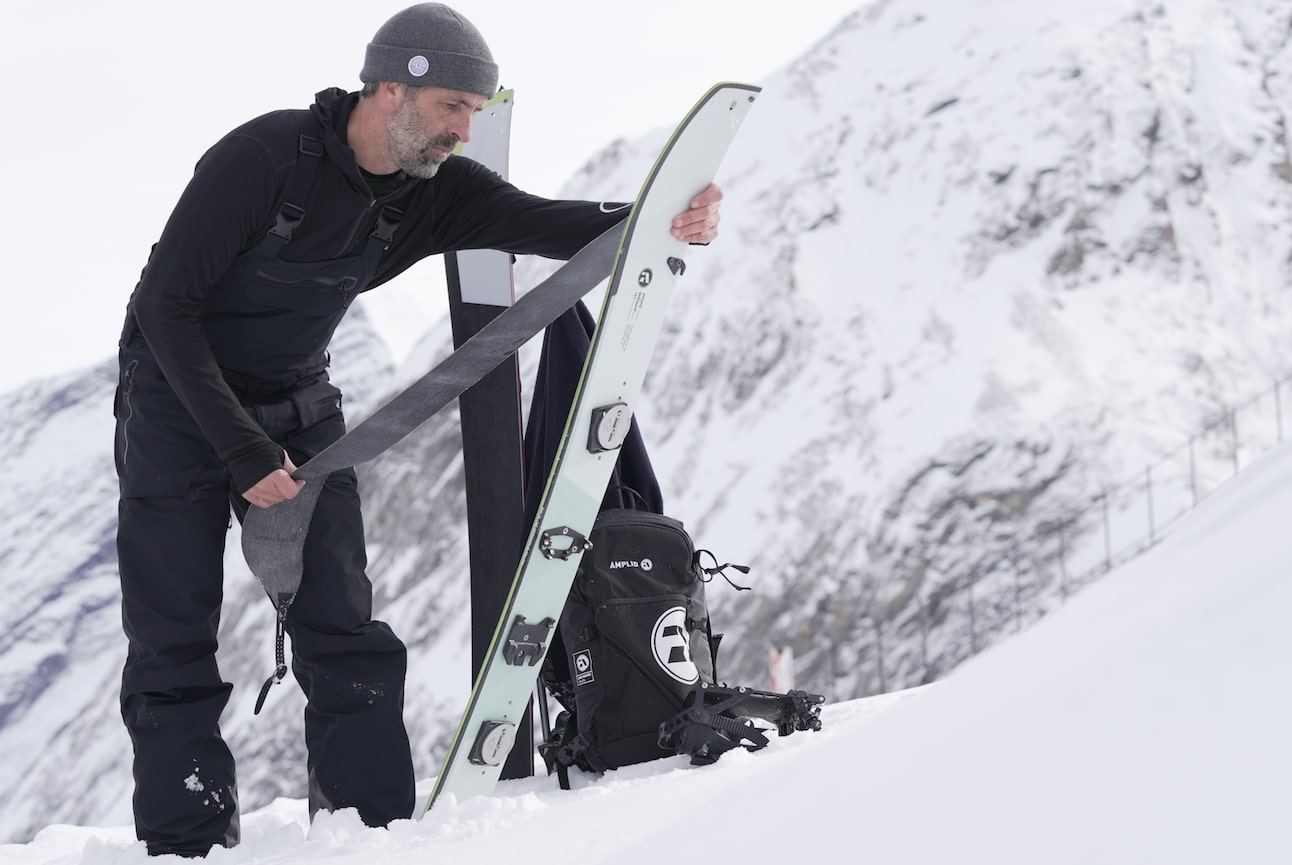 Amplid 2022/23 Splitboarding Preview
Retail Buyers Guide: Splitboarding 2022/23 Retail Buyer's Guide
Brand: Amplid
Interviewee: Peter Bauer, Owner and Chief of RnD
Please provide an overview of how 2022/23 is shaping up for your brand?
Amplid will be introducing next to our carry over models (Tour Operator, Surf Shuttle, Mahalo, Freequencer) 2 new models, the MILLIGRAM and the MILLISURF. With lots of new tech and details.
Everyone has been affected by impacts from Covid-19 in one way or another. Have you had to change manufacturing or sourcing processes and can you explain any good examples of how your business has pivoted effectively?
Last season we had to place 3 additional bulk order batches with our factory partner. Since we had all raw materials in stock, turn around time was only 4 weeks from order until delivery, which was incredibly fast. Since nobody knows what's happening, we are ready again to react quickly for higher demand.
Carry-over was a hot topic for 21/22 boards. Where did your brand sit on the matter and has this changed for 22/23?
The concept of 2-season carry-over models has been introduced in our range already a year before covid. It turned out to be a very positive thing both for retailers and brands. It helps avoid price death matches at the end of the season, keeps the value of the product high and retailers can sell a carry over model at full margin one year later.
The bricks and mortar model is changing rapidly. How are you working with retailers and your ecommerce channel to ensure as little conflict as possible?
Amplid has been experiencing a very good growth in the online segment, but somehow our brick and mortar growth is even way higher. We simply avoid discounts, and prioritise retailer orders over our own online channel. Being faithful to these rules avoids any conflict.
What's your company doing to improve its carbon footprint/eco consciousness?
Wood cores are one of the most important materials in our snowboards. This is why we purchase all our snowboard cores from FSC –certified suppliers. These cores are made from responsibly harvested wood that meets the standards of the Forest Stewardship Council™ (FSC). FSC wood is verified to not be harvested illegally, in violation of traditional and civil rights, forests where high conservation values are threatened, forests being converted to plantations or non-forest use, or in forests where genetically modified trees are planted.
Another step we took was to stop using UV-Gloss finish. Due to solvents being used in gloss lacquer, we simply banned it completely. Silk matt is the new luxury finish. Our boards with top sheet graphics are printed on new Kodak printers, which comply with AZO certification and meet the Oeko-Tex Safety Standard. Colours are solvent-free and UV bonding. We also use water-based lacquer (with a maximum of 6% solvent) on our snowboards in order to reduce worker- and rider exposure to hazardous chemicals. Note that 100% solvent free colours need more solvent to clean the screens than the actually print. As of today, these 6% ensure the use of solvent is kept to a minimum.
Using Basalt Fiber Stringers is another measure we have taken towards sustainability. This is similar to fiberglass, but has better physio-mechanical properties than fiberglass, that makes significantly more ecological than carbon fiber.
Also our metal edges are made of 20% recycled steel and side walls are made of 20% recycled ABS
Are you using any new materials in your hardware for 22/23? If so, what, and why?
We stick to our homegrown clip and hook philosophy.
Any big advancements in functionality? Skinning, transitions, etc, as well as riding?
On our Milligram and Millisurf we dialed our STRATOPSHERIC TOPSHEETS to a new level.
Plus we added a so-called STICK WALL along the board center to avoid the unnerving creaking sound when descending and add additional stability between the 2 halves of the board.
For skins we added holes into tip and tail to allow the skins to be fixed when the board halves are mounted.
Which area of the market do you primarily cater to, price-wise? Has this changed at all in recent times, or is it pretty consistent?
Amplid is catering to the mid and high end market.
Please tell us about the dominant visual themes in your 22/23 gear, including any interesting artist collabs you have lined up?
Clean and tech, this is what Amplid stands for. We are doing all our graphics inhouse.
Most brands tell us that selling in store is really important for splitboard gear, as it's where you can get good advice. Can this be maintained post-COVID, or will you be looking to find more customers online?
Amplid has been experiencing a very good growth in the online segment, but somehow our brick and mortar growth is even way higher. Collabing with the right retailers is the key for growth. Splitboards need a dedicated shop with the right experience, we feel this segment is something retailers can successfully specialize in.
What are your three biggest European markets for splitboard hardware?
DE, AT, CH
Best Sellers/Hero products?
Milligram
Amplid changed the game with the Milligram, proving that not only can splitboard weight be dramatically reduced, but that it can be reduced while simultaneously delivering charismatic board-feel, all-conditions versatility and durability. Long days in the skin track or a quick after-work dash from the trail head, no matter the scale of an adventure, you'll soon feel the weight advantage. The experience only gets better in ride mode: Flowing, reactive and light as a feather, it's easy to forget you're on a splitboard. Beneath its raw, but sexy carbon exterior is Amplid's top-secret BBP core, a jigsaw of ultra-light wood varieties which cuts weight and tames carbon's nervous character. Glass Impact Pads is a highly targeted, life extending technology which protects your shred without a weight penalty. In touring mode, you can feel confident in Amplid's custom board clips. We removed catchy hardware from the base of the board making servicing easier.
Millsurf
The decision to fuse the Surfari's floaty fish-tail geometry with the Milligram's weightless construction was easy. Amplid's highly evolved BBP core and carbon laminate strips so much weight off that the Millisurf literally sprints up the skin track like a pedigree greyhound. Then scrawl the perfect bottom turn into a virgin wind lip and make the most of your hard work! Weaving through pine forests at breakneck speeds, the Millisurf is simply breath-taking. Its tapered shape and negligible swing-weight heighten agility and responsiveness to new, mind-expanding levels. Deep, crusty and chopped-up snow get slaughtered by its unique, spooned nose and spat out by its swallow-like tail. Amplid's custom board clips create a solid connection between the two split halves and allow base-side hardware to be hidden, for snag-free riding and maintenance.
FREEQUENCER
Taking its design cues from the best in the business, The Freequencer is baked in the mould of the infamous Milligram Split but built to appeal to a broader spectrum of shredders. Though more affordable than the Milli, no corners have been cut: it's lightweight but can take a licking and keep on ticking so you can trust it to get you the pow pow far away from the crowd. Whether it's blitzing blower or blasting crud, the Freequencer's versatile shape means it's perfectly tuned to whatever you're riding. BTW: This split deck also comes complete with Amplid's home grown split hardware.