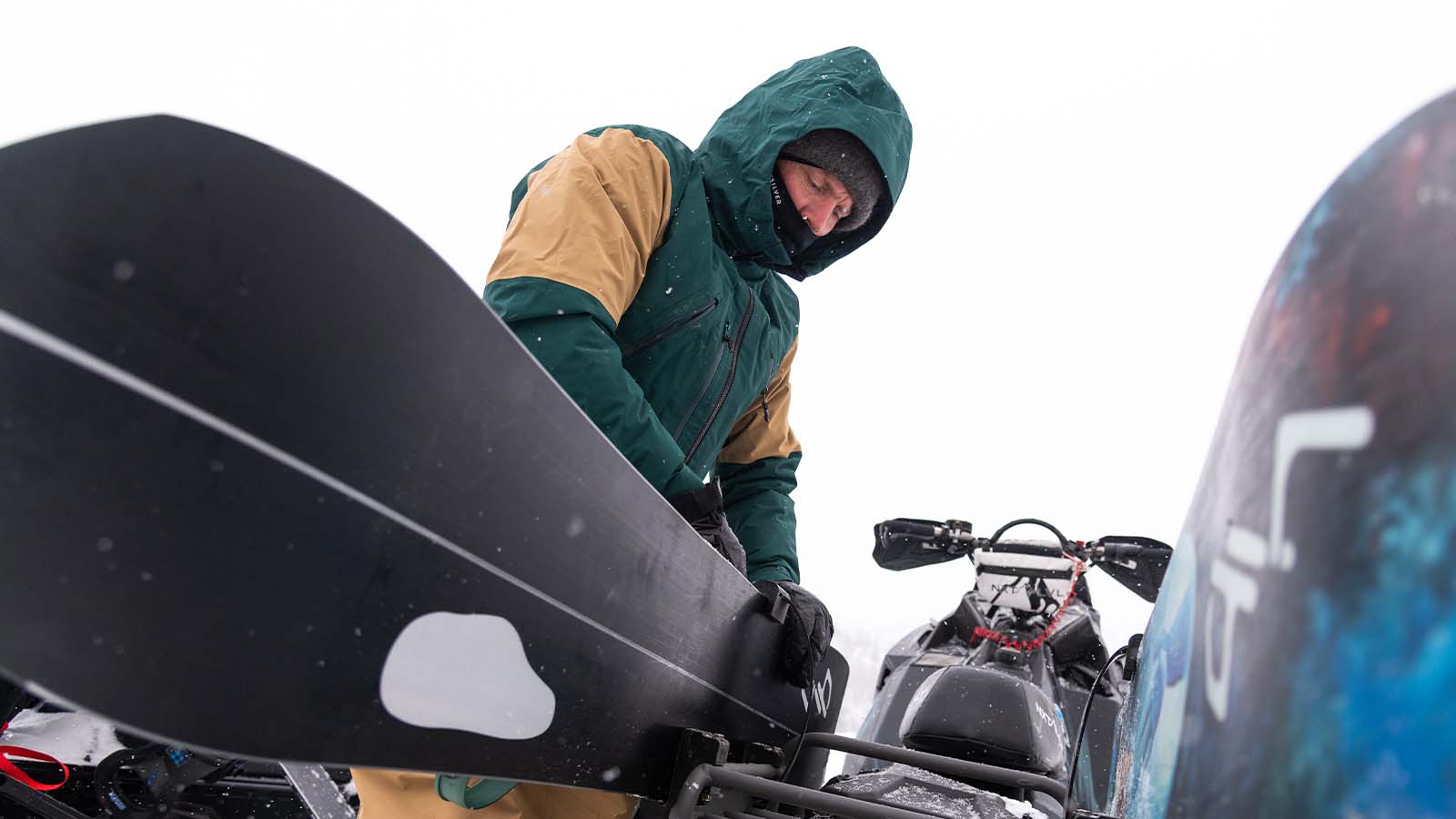 Lib Tech 2022/23 Splitboarding Preview
Retail Buyers Guide: Splitboarding 2022/23 Retail Buyer's Guide
Brand: Lib Tech
Interviewee: Barrett Christy Cummins
Please provide an overview of how 2022/23 is shaping up for your brand.
THE 22/23 Dreamscape:  The wild ride continues!  We were fortunate to have a great season here in North America and snowboarding and board design was a great escape and mental health tool.  We couldn't go to Canada and Australia and Europe struggled with amazing conditions but restricted travel…from what I hear the locals in Canada and Austria scored big time.  Our local resorts were as busy as I have ever seen and with social distancing being part of life we did a heck of a lot of split boarding and plenty of DIY side country shovel build games.
Whenever things get challenging, we dive back into what we love most…playing with design and technology in our full spectrum of boards across snow, ski and surf. The demand for splitboards has increased and last year we were able to introduce an Orca Split with Travis Rice. With more people following their dreams and heading into the great outdoors, we are excited to be following our dreams… and building the boards of your dreams.
Everyone has been affected by impacts from Covid-19 in one way or another. Have you had to change manufacturing or sourcing processes and can you explain any good examples of how your business has pivoted effectively?
Whether riding mountains, waves, cement or creating works of art with new technologies and environmentally friendly craftsmanship, we've dedicated our lives to this. Building up from nothing but a dream we are now bringing dreams to reality with our equal opportunity, high tech / zero hazardous waste board building facility Mervin MFG.  We are committed to handcrafting the best boards for every season and every condition for you, me and all our friends. We have continued to innovate and experiment and with an increase in demand our business has been expanding and finding new ways to increase our production capacity.
Carry-over was a hot topic for 21/22 boards. Where did your brand sit on the matter and has this changed for 22/23?
We launched a special early release Orca split in 2021 that will carry through the 22/23 season. Our Split BRD has been a carry-over in previous seasons but it is all new for 22/23. Our splitboards across all our brands have typically been 2-year graphics that we build all year due to the multi-season demand for splitboard equipment.

The bricks and mortar model is changing rapidly. How are you working with retailers and your ecommerce channel to ensure as little conflict as possible?
This season Mervin added quite a few B+M dealers. In N.Am we saw a 9% increase in dealers across all our brands. Mervin remains committed to our valued specialty retailer partners. Our most successful dealers have a multi-channel strategy, using their websites as a backstop to their physical stores. As the #1 premium supplier in the category, it's important to us that we're represented fairly across all our customers' channels, so unnecessary discounting is discouraged. We have the industry's best MAP policy (where enforceable) and we never go off price on our own websites, where our strategy is to be the most expensive place on the internet you can buy our products. We hold ourselves to the highest standard, to drive sell through and margin dollars at retail. It's a symbiotic relationship where Mervin and our partners see the benefit of creating value for our brands.   … Maxx Von Marbod, Mervin Sales Director.
What's your company doing to improve its carbon footprint/eco consciousness?
We have always been building boards in a zero waste, eco-friendly facility here in WA State, USA… even before it was trending to have an eco-conscience. The Mervin factory sits at the base of the Olympic Mountains, is wind and water powered, uses non-toxic materials, fast growing woods, water-based inks, we recycle our wood and plastic off-cuts and we continue to source emerging earth friendly materials while improving our production processes. This is our business model for snow, ski, and surf. We are the largest US based board manufacturer (snow and surf) and we take our carbon footprint seriously. Not just because it's trending but because our friends work here, our children are growing up in this community, and we want to protect our environment so we can continue to work/play/grow in this place without destroying it.
Are you using any new materials in your hardware for 22/23? If so, what, and why?
The Travis Rice Orca Split is getting the Karakoram Ultraclip 2.0. These are lighter weight, with a smaller footprint and active joining to spring load the seam of your splitboard, eliminating the rattling, shearing and rolling inherent to passive slip-fit connections. Aspen structure beams are built into the core to ensure stability in all conditions and a fiber reinforced insert array with integrated 3-D clip inserts that allow us to avoid any drill through interruptions to the speedy TNT bases.
Any big advancements in functionality? Skinning, transitions, etc, as well as riding?
The Orca has been a game changing board for all of snowboarding. The Orca split takes the Orca chassis and refines it for splitboarding. A long floaty nose and wide body floats in pow efficiently and effortlessly. The powerful, poppy, contact maximizing "Whale Tail Technology" maneuvers with agility in steep or tight technical terrain and hooks up solidly when things get tight and icy. Magne-Traction provides effortless edge-hold for tricky ascents and critical descents.
Prices: Which area of the market do you primarily cater to, price-wise? Has this changed at all in recent times, or is it pretty consistent?
We are catering to a more premium market with our USA made boards built with eco-friendly processes and materials. We have exceptional quality, unique proprietary tech, and performance product…made by us (snowboarders, surfers, skaters, and skiers) in our own zero hazardous waste factory. Since Day One.
Please tell us about the dominant visual themes in your 22/23 gear, including any interesting artist collabs you have lined up.
Split BRD board art by Mike Parillo (@mikeparillo)
Magical mirrored prismatic refractory Orca interpretations as seen through the mind and hands of Mike Parillo. This year's Orca eye patch base is that of our beloved local K-Pod resident "K-12 Sequim" mother of last years "K-37 Rainshadow" Orca.  Mervin is located in Sequim in the "Rainshadow" of the Olympic Mountains so these Apex salmon eaters are near and dear to us.
Our split BRD is a low-key black top with our custom LibTex topsheet made from bio beans. With a bright blue eco sublimated TNT base, this BRD is ready to fly.
Most brands tell us that selling in store is really important for splitboard gear, as it's where you can get good advice. Can this be maintained post-COVID, or will you be looking to find more customers online?
We fully support the specialty retail buying experience. Our dealers have made important adaptations to their physical retail space which has improved the purchase experience from a safety perspective as well as merchandising and shopping space for a fun educational time in the store.  Those customers who also wish to find product online will find more informative product videos, explaining product features & benefits, with engaging team-driven action. The lines have blurred between pure Brick & Mortar and pure Internet. Most customers, particularly those looking for premium product, are doing their homework online, then shopping in-store to make a final decision.
What are your three biggest European markets for splitboard hardware?
Our biggest market for Splitboards is Germany, then followed by strong sales in Switzerland.
Best Sellers/Hero products
Split BRD:
Our Split BRD features a Lightweight all Paulownia core and ultra-light tips and tails. It has a directional shape with a floaty early rise nose for effortless descents. Tapered C3 camber body for efficient climbing and stability in technical terrain at speed. 3-D integrated clip inserts and high-tension Karakoram Ultra clips. Our fast-running eco sublimated base is TNT and the rugged top material is made from bio beans.
Orca Split:
Your favorite power fish has been filleted into a fast-climbing adventure vehicle. A long floaty nose and wide body float powder efficiently and effortlessly. Whale Tail Technology maximizes contact length and maneuvers with agility in steep or tight terrain. Built in our ultralight SC construction with FSC certified aspen and paulownia core, a fast sintered eco-sublimated base and updated lightweight Karakoram Ultraclip 2.0 with a smaller footprint and active joining.