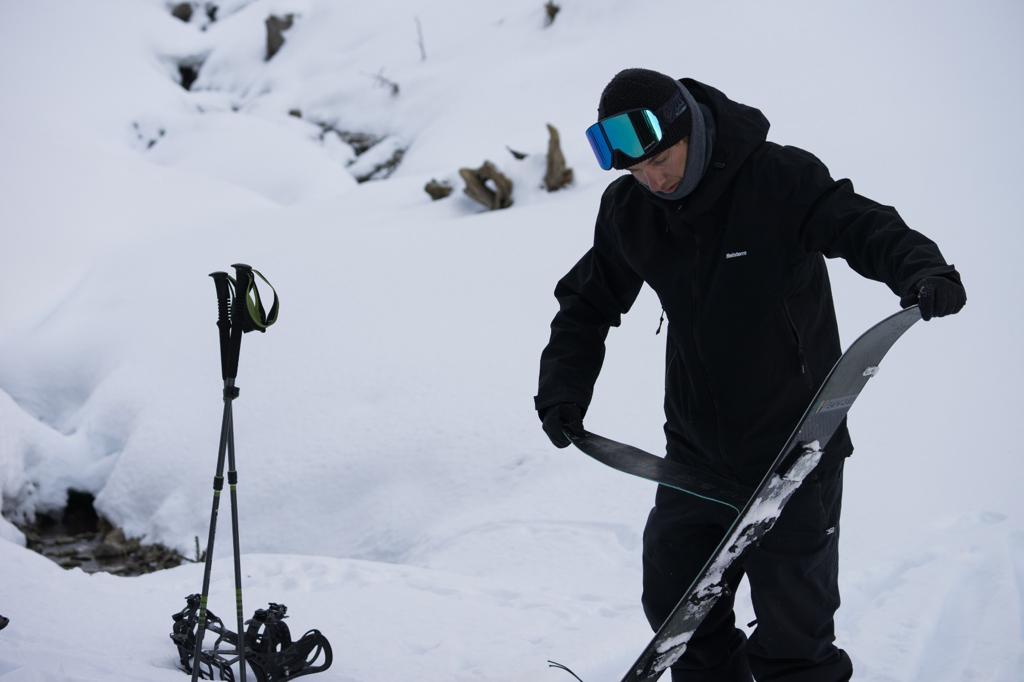 Nidecker 2022/23 Splitboarding Preview
Retail Buyers Guide: Splitboarding 2022/23 Retail Buyer's Guide
Brand: Nidecker
Interviewee: Antoine Floquet, Product Line Manager
Everyone has been affected by impacts from Covid-19 in one way or another. Have you had to change manufacturing or sourcing processes and can you explain any good examples of how your business has pivoted effectively?
Oh man, we're still strongly feeling the effects today with global plastic shortage that have hugely impacted our base, top & sidewall manufacturers as well as our snowboard factory partners. And on top of that we're all doing our best to handle the challenges created by the current worldwide logistics chain struggling.In these hard times, we've had to be nimble and maneuvere to anticipate, split and arrange our production timeline & distribution to make sure W23 samples are delivered on time, and we're confident that because of this, there will be little to no impact on the ordering season.
Carry-over was a hot topic for 21/22 boards. Where did your brand sit on the matter and has this changed for 22/23?
Balancing our collection in between carry-over models, color changes & exciting novelties has always been our policy to help retailers sell products at full price as long as possible. We pushed this even further by creating the Extended Lifespan program and locally help retailers to keep past season models alive alongside new ones.
The bricks and mortar model is changing rapidly. How are you working with retailers and your ecommerce channel to ensure as little conflict as possible?
We definitely care about the distribution network we've put in place over the years which is a good balance between traditional brick & mortar, off & on-line retailers and pure webshops. This mix works well as each offers a different service and reaches different type of customers.
What's your company doing to improve its carbon footprint/eco consciousness?
We're a proud member or 1% for the Planet and support the Summit Foundation through that partnership. Surrounded by nature and by the Leman lake, it's in on DNA to care about our playground and to give back where we can. Being part of these organizations is something we've never questioned and our whole team are invested into growing the partnership.We created the Stash The Trash litterpick event this summer which was a huge success which went far beyond our expectations. We  cleaned up around our local spot (either home, office, chilling or riding spot) and 100% of our employees and riders took part. But more than that, our  distributors a bunch of shops and and most of our factories & suppliers took part in this effort too. The covid period helped us to manage to turn our HQ 100% solar powered, drastically reducing our CO2 footprint, too.Finally, we're encouraging our people to work remotely when possible and car pooling when they have to drive to the office. Half of us use public transportation on a daily basis. Basically, it's in our nature to individually care about each tiny action we can achieve.
Are you using any new materials in your hardware for 22/23? If so, what, and why?
We are introducing a new splitboard in our collection. It took us years to get to this point because we didn't want to "just" put out another splitboard onto the market, but really add something unique which doesn't exist yet. And the team is so, so stoked with what we achieved with our Escape Split. It's a high-performance and super versatile all-mountain splitboard featuring our Master Core boosted with Pop Carbon, N-7000 base and Karakoram Ultraclips 2.0 for ultimate lock precision, and we managed to put it all together at a very affordable price. It comes with a real premium finish : flush base tip to tail, no bolted clips, aluminum tail plate and our tried-and-tested, bulletproof Absorbnid top sheet. To make your life even easier we've partnered with Pomoca to build out precut skins with an easy installation system.
Any big advancements in functionality? Skinning, transitions, etc, as well as riding?
Thanks to the Karakoram Ultraclip 2.0, clipping the board together can't be any safer and doesn't get any easier. The addition of camber underfoot was key to provide grip on the way up.
Prices: Which area of the market do you primarily cater to, price-wise? Has this changed at all in recent times, or is it pretty consistent?
Right now we're focused on bringing out a single model at the highest quality for the most affordable cost available. There just isn't a better value splitboard out there than the Escape Split. We're aiming at the rider who's looking for a modern premium split as a first purchase, or maybe upgrading from an older model or second-hand board and wants a step up in ridefeel.
Please tell us about the dominant visual themes in your 22/23 gear, including any interesting artist collabs you have lined up.
Our Escape Split's graphic concept is technically made of parametric pattern and gradient that let you see its core and carbon stringers inside.
Most brands tell us that selling in store is really important for splitboard gear, as it's where you can get good advice. Can this be maintained post-COVID, or will you be looking to find more customers online?
Two part answer here. First, we're fully committed to snowboarders buying snowboards in snowboard shops when that's a viable option. With splitboards, even more so, since there are always more questions and uncertainties on the customer side when considering the purchase of a technical product like a split.Next, we push our customer to get as much information as they can before making this kind of purchase. We feel it's our responsibility that everyone buying a splitboard fully understands the risks of going into the backcountry first, then secondly that they feel trained and confident about how to use the gear.
What are your three biggest European markets for splitboard hardware?
Swiss, France, Germany-Austria are the top countries for Europe for sure, especially last season where most of the resorts were closed. We feel splitboarding will continue to trend this season, let's see how it'll develop after that.
Best Sellers/Hero products
Escape Split : Based on the Escape's new shape, it'll handle anything the off-piste can throw at you, from mellow spring touring days to getting spicey in the steep and deep. But it goes further than that, this is our vision of a splitboard: quality design and materials at an affordable price, making the whole mountain accessible for all people.