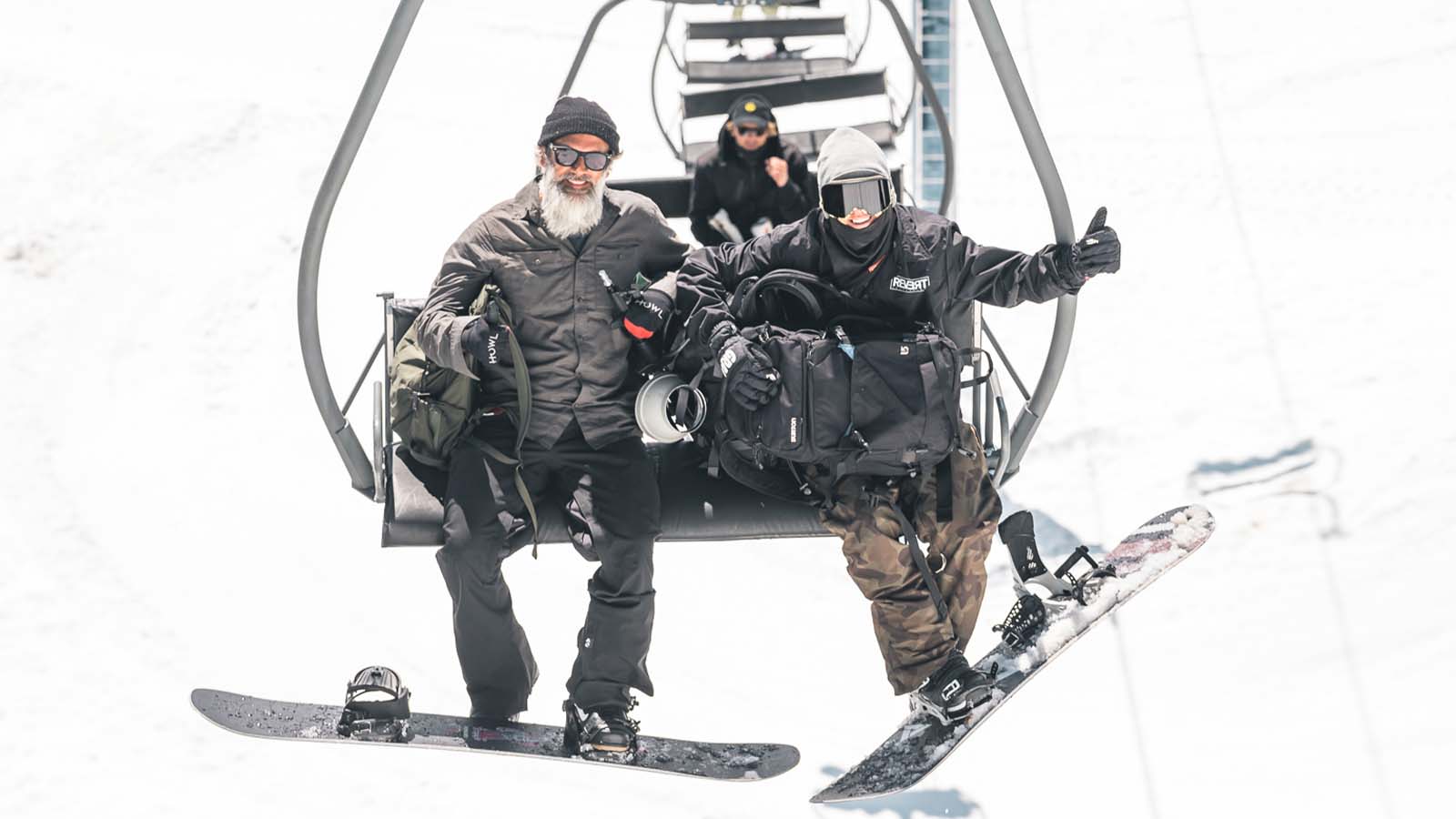 Academy 2022/23 Snowboards Preview
Retail Buyers Guide: Snowboards 2022/23 Retail Buyer's Guide
Brand: Academy
Interviewee: Paul Kelly, Sales Manager
Please provide an overview of how 2022/23 is shaping up for your brand.
Like so many brands, Covid has impacted our industry in a unique way. Academy however, was positioned well with a lot of energy and support coming from the 2021/22 season and being manufactured domestically, we were able to position ourselves well to meet the needs of current and new customers. We work hard to ensure our customers get their orders in full and on time. We are committed to making the best snowboards on the market, ensure our retail customers have the support and resources they need to be success, and we are excited about the growth and momentum we have moving in the 22/23 season.
Everyone has been affected by impacts from Covid-19 in one way or another. Have you had to change manufacturing or sourcing processes and can you explain any good examples of how your business has pivoted effectively?
Luckily, we are fortunate enough to have an amazing partner in Never Summer. While there are always challenges, NS and Academy work closely to ensure that our products are built to our standards and expectations, and orders are able to go out the door. Similar to all companies in the industry, we did have to increase prices slightly. We have gotten nothing but support from our retail customers and the understanding of the environment we are in, was very humbling. We take pride in providing quality snowboards that are priced reasonably. Our retail partners understood these challenges and we continue to grow year over year.
Carry-over was a hot topic for 21/22 boards. Where did your brand sit on the matter and has this changed for 22/23?
Our line is very consistent year over year. We carried over all 5 models, the Propaganda, Propacamba, Team, Graduate and Master. We believe in simplicity when it comes to board selection. We are streamlining our sizing options to make sure our customers have the correct sizes but trimmed down some of the sizes that were redundant. We are positioned well to expand our line in seasons to come.
The bricks and mortar model is changing rapidly. How are you working with retailers and your ecommerce channel to ensure as little conflict as possible?
Brick and Mortar will always be at the heart of Academy. That being said, many of our retail partners are moving towards a ecommerce channel in addition to the brick and mortar location. We have adapted to this model by ensuring our customers have the educational information they need to direct their customers who may not be coming into the shop physically. We also work closely with the buyers to ensure that the volumes they purchase reflect the growth they expect through the ecommerce channel. Additionally, we are working to better direct customers who reach out to us directly for purchase, to find a dealer that is located close to them. We believe that supporting our retail customers first provides a valuable relationship with our brand.
What's your company doing to improve its carbon footprint/eco consciousness?
Working with Never Summer and made in the US we reduce our footprint in several ways. First, we ensure that we use the right amount of products in our boards possible. We don't use unneeded materials that ultimately produce waste, added weight and increased cost to produce and to ship. Our factory hires locally and works with the largest raw material producers in the world to ensure our materials are used to the furthest extent possible with as little waste as possible.
Are you using any new materials in your hardware for 22/23? If so, what, and why? We're interested in anything new in inserts / edges / cores / sidewalls / glue / resin/ wood types / base material etc here.
Having access to the mad scientists at Never Summer is something we are so proud to be part of. We use a bi-lite fiberglass to ensure structural integrity while reducing overall weight of the boards. All of our boards use the NS Superlight Wood core which is a proprietary custom blend of wood species that creates the lightest weight yet most durable core on the market. Our sidewalls are all sintered P-Tex to absorb chatter and be durable to side impacts in the park or around the mountain. We've added the Vario Power Grip Sidecut in previous seasons, and will be carrying that into this coming season. We feel you don't need added bumps to the edge but strategic variable radiuses on the sidecut that allow for constant contact and control through your turn. The result is a smooth and eftless yet powerful turn, everytime regardless of snow conditions.  We keep our tips and tail low profile to ensure the least swing weight possible. Tips and Tails are reinforced with our Harmonic Tip/Tail Damper to ensure a smooth ride everytime. Each board has our RDS 2 Dampening System that is strategically placed through each model to ensure a chatter free and smooth ride regardless of conditions without sacrificing weight or performance. To enhance the ride, each board features our Elastromeric Underfoot Stabilizers. These are located directly under the inserts to ensure a stable and vibration free ride. Each board is wrapped 100% in stainless steel edges and a matte top sheet for added style.
What about shapes? Anything new for 22/23? Does anything remain unexplored, or are there still advances to be made in shaping specifically?
Academy Snowboards has a tride and true shape that our customers love. We've taken our skateboard style shapes and adapted them to the snow. These shapes have been consistent for the last several seasons and we continue to showcase their performance for 22/23. The Masters series is our most unique directional freeride shape with a large nose, flat tail, early rise nose and our micro camber technology under foot. The board is a unique shape that rides pow just as well as the park.
What new items do you have that are specifically aimed at entry level? Has this increased/decreased due to COVID-19? Please also mention anything new that'll be aimed at the youth market.
Academy Snowboards are unique in that our boards are progressive throughout the line to better match the customer's needs as their skills and interests change. For beginners, the Team series with its multi camber shape, provideas a forgiving shape that allows beginners to learn their first turns without worrying about catching their tip or tail. The Team also is versatile enough for those looking for an aggressive multicamber board can also take it into the park or all over the mountain. The Propaganda is our zero camber board that is soft and forgiving for first turns on snow. It is playful and skate like in ride but also is a great board for those who are looking for a board that rips the park, handrails and jumps. These two boards are where we direct customers the most and ultimately becomes the board that they can truly progress with and won't outgrow as their skills progress.
Prices: Which area of the market do you primarily cater to, price-wise? Have you revisited this after the uncertainty of this past winter?
We try to control our prices to be something that is affordable regardless of your financial situation. We make the highest quality boards on the market and are prices in the $450-500 market. With the quality you get with our decks, whether you're making your first turns or you've been around the block a while, you could be riding the same board 5 or 10 years down the road and still have it hold up to whatever you put infront of it. We understand that buying a snowboard is an investment and we want to make sure that you spend more time on snow season after season than sitting waiting for repairs or warranties.
Please tell us about the dominant visual themes in your 22/23 gear, including any interesting artist collabs you have lined up.
Academy takes the approach of the timeless skate style influence for our graphics. We believe in a less is more approach. Each graphic is clean, crisp, easy to understand and fits a broad range of rider. From our wood grain themes, matte top sheets, full color Masters series or our minimalistic skate inspired Propaganda and Propacamba, each model in the line has something for everyone.
Park? Freeride? All-mountain? where will your primary focus be in 22/23, and how much has that changed since 21/22?
With 5 boards in the line, we have a board for everyone. The Propaganda and Propacamba are our true twin zero camber or micro camber boards. These are fantastic all mountain park focused boards that will handle jumps, rails, the pipe or just ripping groomers with your friends. The Team is our multi camber twin board for all mountain destruction. Park to Pow, this board does it all. The Graduate is our hard charging Chad Otterstrom promodel that is our most advanced board in the line. Chad requires a lot out of his boards, whether it's in the pipe, the backcountry or in the park. This board is an all mountain directional twin with zero brakes and the hard charging board in the line. Finally, the Masters series is our powder board that performs well on groomers, switch or in the park. A forgiving medium flex, early rise nose and micro camber allows it to float through pow or be super playful in the park. Legend Chris Roach developed this board to truly ride it all but also incorporate the surfy playful style he has always been known for,
Best Sellers/Hero products
Since 2002, we have always stayed true to our foundation of quality, progression and individuals. We are a rider owned and operated, no gimmick snowboard company focused on making the best snowboards in the world. We have now partnered with never summer manufacturing to ensure our long term production quality, durability, and consistency. We know each and every employee that makes and touches our product so we know we will always deliver the best to our customers. With close proximity to our offices, we can constantly develop and create better snowboards and introduce new technologies. We keep our line simple and understandable ranging from freestyle park boards to all mountain freeride boards. our progressive profiles, functional camber shapes and high end materials do all the talking when you bring the boards out on the hill. Being manufactured at Never Summer Industries gives us the confidence we need to make the best, most consistent, long-lasting boards year after year so you always know what you're getting. 2 year warranty, quality and made in the USA!