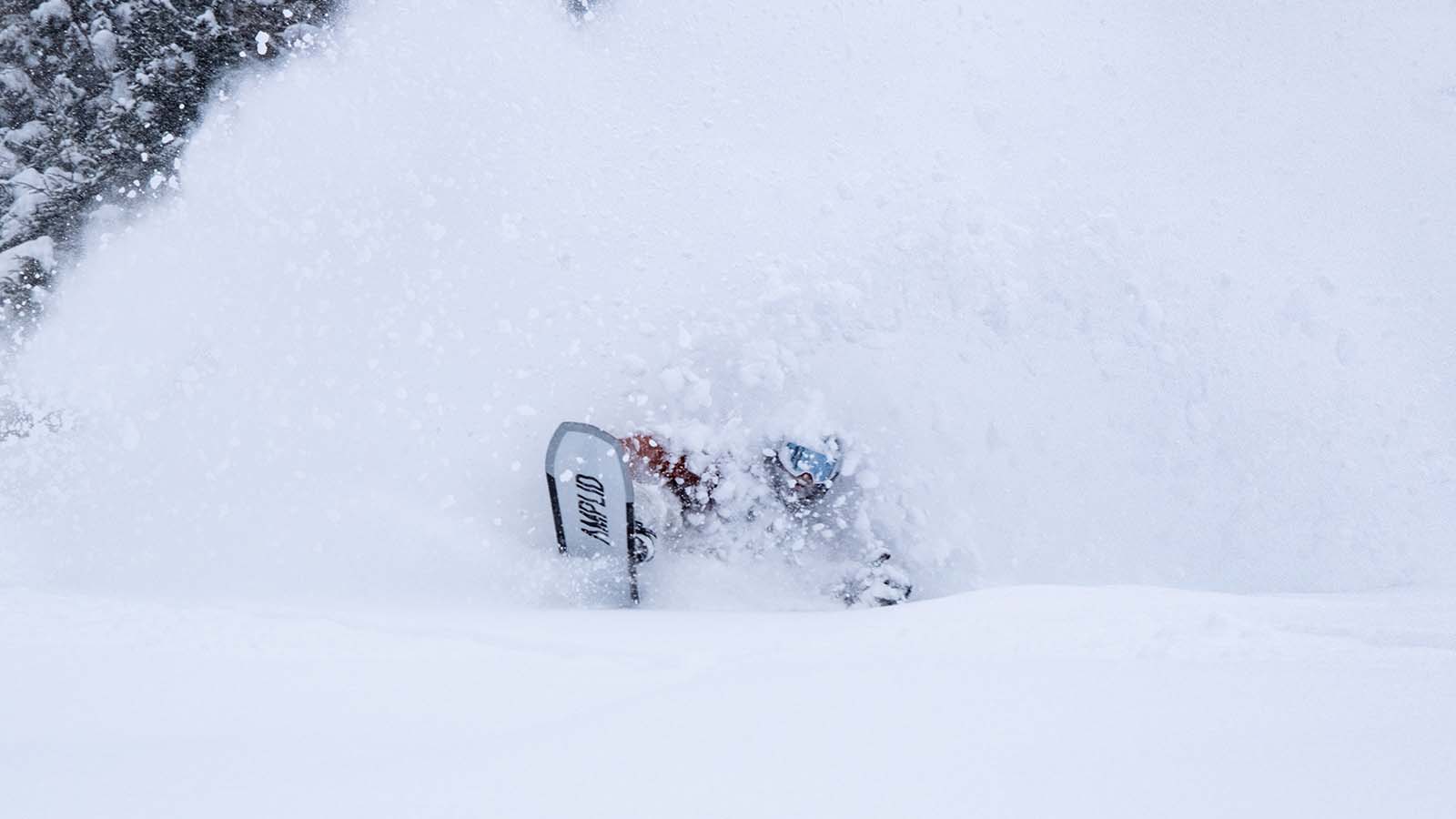 Amplid 2022/23 Snowboards Preview
Retail Buyers Guide: Snowboards 2022/23 Retail Buyer's Guide
Brand: Amplid
Interviewee: Peter Bauer, Owner, Chief of RnD
Please provide an overview of how 2022/23 is shaping up for your brand.
There is one really big thing for Amplid: Design tasks are welcome challenges. We love to develop snowboards for specific riding styles and terrains, but we also accept the challenge to create the perfect "one for all" board geometry. Following the search for the "perfect daily driver", we feel it is our obligation to create the real swiss army knife for the true all mountain performance, with the smallest compromise losses.
Our "Playful Allmountain Line", which existed of 5 different board models, went through a big consolidation process. Before we had 2x WMN-specific boards – 1x directional and 1x twin – plus 3 Unisex boards from  twin to directional twin to directional taper. With our "Amplid Singular Project" we have been working for the last two seasons to melt all these mentioned boards into one category, in order to create the ultimate one-board-quiver. By crunching lots of numbers, from the average boot size and body weight in 2021 until what people actually want for an all-mountain swiss army knife. And the result is a new board category, called the SINGULAR. Available in a true twin and a directional version, gender-fluid, in many different lengths and widths.
On the other hand we added new shapes to our very successful FUTURE SHAPE RANGE: An intriguing family of experimental, unique riding powder snowboards designed to bring new sensations to riding in deep snow. Oversize widths and wacky shaping make these backcountry shreds surfy and playful beyond your wildest dreams. New on the block are: The BIG KAHUNA, an new geometry for people with really big feet. And the WASABI, a short and nimble piste- and pow-slashing swallow tail. Our CENTRIFUGAL COLLECTION remains identical, as they are 21/23 two-season models. Our entry-level products – the TICKET and TICKET TWIN – are getting new graphics and some fine tuning in the flex.
Carry-over was a hot topic for 21/22 boards. Where did your brand sit on the matter and has this changed for 22/23?
The concept of 2-season carry-over models has been introduced in our range already one year before Covid. It turned out to be a very positive thing both for retailers as well as for brands. It helps avoid price death matches at the end of the season, keeps the value of the product high and retailers can sell a carry over model at full margin one year later.
The bricks and mortar model is changing rapidly. How are you working with retailers and your ecommerce channel to ensure as little conflict as possible?
Amplid has been experiencing a very good growth in the online segment, but somehow our brick and mortar growth is even way higher. We simply avoid discounts, and serve retailer orders with a number 1 priority before our own online channel. Being faithful to these rules ensures there is no conflict.
What's your company doing to improve its carbon footprint/eco consciousness?
Sustainably Harvested Wood:

Wood cores are one of the most important materials in our snowboards. This is why we purchase all our snowboard cores from FSC –certified suppliers. These cores are made from responsibly harvested wood that meets the standards of the Forest Stewardship Council™ (FSC). FSC wood is verified to not be harvested illegally, in violation of traditional and civil rights, in forests where high conservation values are threatened, in forests being converted to plantations or non-forest use, or in forests where genetically modified trees are planted.
No more UV-Gloss Finnish: Due to solvents being used in gloss lacquer, we simply banned it completely. Silk matt is the new luxury finish.
Digital Printing Technologies: Our boards with topsheet graphics are printed on new Kodak printers, which comply with AZO certification and meet the Oeko-Tex Safety Standard. Colours are solvent-free and UV bonding.
Silkscreen: We use water-based lacquer (with a maximum of 6% solvent) on our snowboards in order to reduce worker- and rider exposure to hazardous chemicals. Note that 100% solvent free colours need more solvent to clean the screens than you would need to actually print. As of today, those 6% ensures the use of solvent is kept to a minimum.
Non-Toxic Sidewall Finishing Solution: Used on all Amplid board models.
Basalt Fiber Stringers: This is similar to fiberglass, having better physico-mechanical properties than fiberglass, but being significantly more ecological than carbon fibre.
Flip-Flop Base Graphic Colors: Reduces material waste by offering two die-cut base graphic colorways.
Metal edges: Are made of 20% recycled steel.
Side walls: Are made of 20% recycled ABS
Energy: Currently our production partner is setting up a photovoltaic system which will be active by March 2020. This system will provide an average of 710.000 kW/h and will feed, in addition to the production facility, 150 households in the area. Savings will be approx. 456.000 Kg of CO2.
Are you using any new materials in your hardware for 22/23? If so, what, and why? We're interested in anything new in inserts / edges / cores / sidewalls / glue / resin/ wood types / base material etc here.
Too secret. 😉
Prices: Which area of the market do you primarily cater to, price-wise? Has this changed at all in recent times, or is it pretty consistent?
Amplid is catering to the mid and high end market.
Please tell us about the dominant visual themes in your 22/23 gear, including any interesting artist collabs you have lined up.
Clean and tech. This is what Amplid stands for. We are doing all of our graphics in-house.
Park? Freeride? All-mountain? where will your primary focus be in 22/23, and how much has that changed since 21/22?
Amplid's focus is mainly on directional freeriding and boards for the simple joy of turning.
Best Sellers/Hero products
 1. SINGULAR and SINGULAR TWIN
Following the intrinsic search for the "perfect daily driver", we feel it was our obligation to create the top notch swiss army knife for the true all mountain performance, with the smallest compromise restrictions (a.k.a. "close to none").Carving early morning groomers at mach 5, attain freestyle cred in the park or plowing effortless through waist deep powder – the habitat of this new wonderboard is simply in every terrain and all snow conditions. Sounds highly promising, almost too high to be true. But it's true. The Singular is simply the best One-For-All choices for the rider who want to conquer the entire mountain with one directional snowboard.
What do you get if you add steroids to turbocharged technology? All of Amplid's flagship technology is hard-wired into The Souly Grail to deliver a riding experience like no other. This new addition to our Centrifugal collection is everything that demanding turn connoisseurs could want, and more. It carves like a butcher, with an even more cranked sidecut than the Surfari, yet Antiphase technology guarantees chatter-free charging.
Big feed, big fun. But: From raiser plates to posi-posi stances – tons of different remedies have been invented to avoid the almost lethal effects of unnerving toe and heel drag. We finally found the only universal antidote: Width! The pumped up waist with 27.6 cm width will bring boot drag finally to an end. It's as simple as that. The Big Kahuna's tapered shape, its soft elliptic nose scoop and the accentuated sparrow tail transform this deck into a powder float machine. The smooth sidecut provides perfect grip on groomed piste and carves trustworthy a big range of arc sizes. Last but not least: Its tailkick lets you shred switch with a peaceful mind.