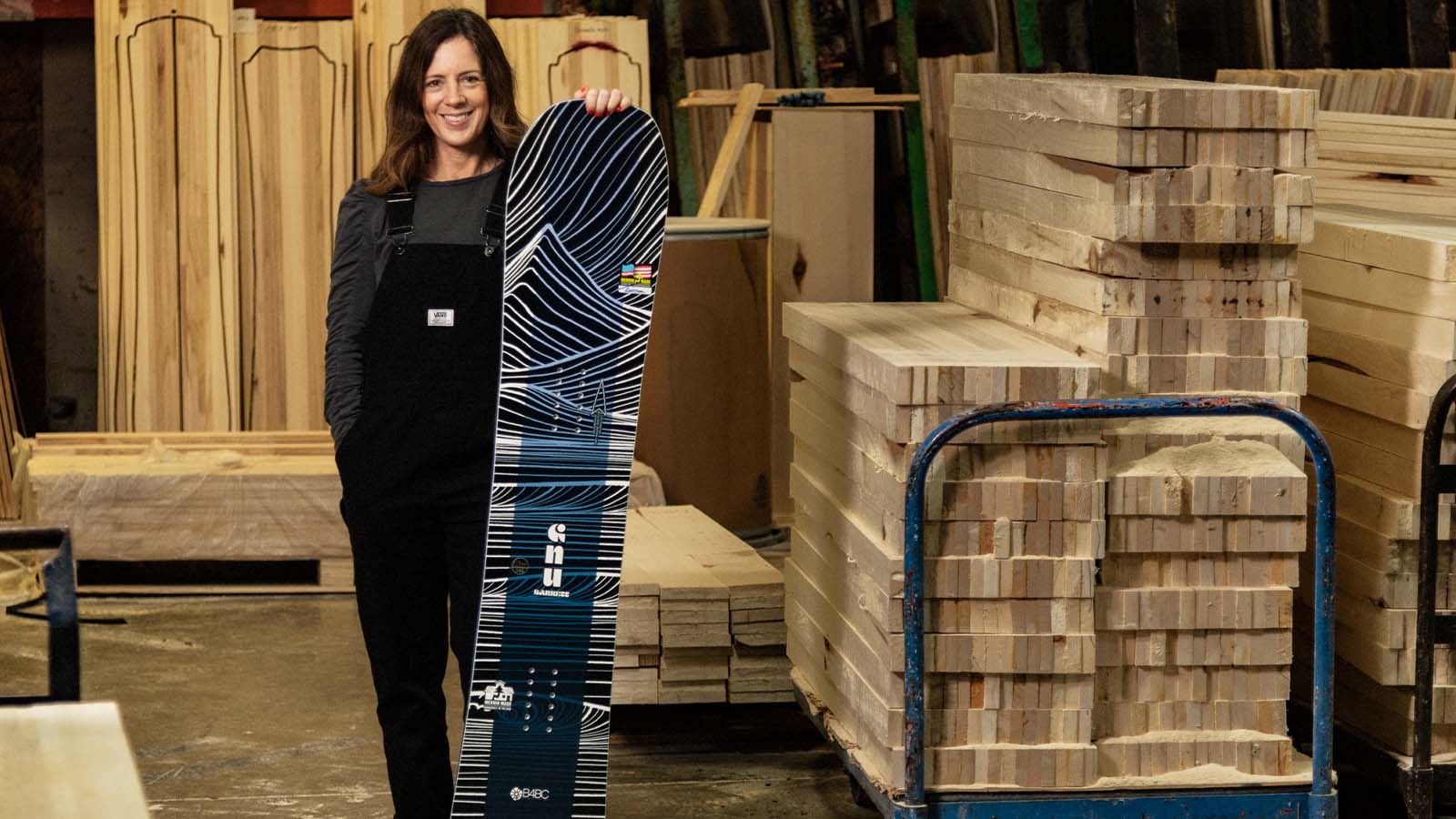 Gnu 2022/23 Snowboards Preview
Retail Buyers Guide: Snowboards 2022/23 Retail Buyer's Guide
Brand: GNU
Interviewee: Barrett Christy Cummins, Product Manager
Please provide an overview of how 2022/23 is shaping up for your brand. 22/23 is shaping up to be a live one!  GO LIVE! We build our own damn boards, here in WA state at the world's most environmentally friendly board building facility. At Gnu ideas and artistry are free to bloom in real time in our own little petri dish of radical scientists, retro fools and weird wild magicians. Snowboarding is what we do and what we love. It's happening now and it's not in the palm of your hand, GO LIVE!
Everyone has been affected by impacts from Covid-19 in one way or another. Have you had to change manufacturing or sourcing processes and can you explain any good examples of how your business has pivoted effectively?
Gnu snowboards are made in WA at our zero hazardous waste facility. Covid-19 lockdown and factory closure set us back at the beginning of the pandemic but we have been making up for lost time since then. The demand is high but our production costs have increased also, so we are cranking to build to capacity at our factory here in the USA and get as many boards out in the market as we can to meet demand.
Carry-over was a hot topic for 21/22 boards. Where did your brand sit on the matter and has this changed for 22/23?
We haven't changed our carry-over strategy for 22/23. We have the kids board the Recess on its 2nd year, it's a carryover from 21/22 through 22/23. The remainder of our GNU line features all new graphics and some fresh designs and geometries for the new season.
The bricks and mortar model is changing rapidly. How are you working with retailers and your ecommerce channel to ensure as little conflict as possible?
This season Mervin added quite a few B+M dealers. In N.Am we saw a 9% increase in dealers across all our brands. Mervin remains committed to our valued specialty retailer partners. Our most successful dealers have a multi-channel strategy, using their websites as a backstop to their physical stores. As the #1 premium supplier in the category, it's important to us that we're represented fairly across all our customers' channels, so unnecessary discounting is discouraged. We have the industry's best MAP policy (where enforceable) and we never go off price on our own websites, where our strategy is to be the most expensive place on the internet you can buy our products. We hold ourselves to the highest standard, to drive sell through and margin dollars at retail. It's a symbiotic relationship where Mervin and our partners see the benefit of creating value for our brands.   … Maxx Von Marbod, Mervin Sales Director.
What's your company doing to improve its carbon footprint/eco consciousness?
We have always been building boards in a zero waste, eco-friendly facility here in WA State, USA… even before it was trending to have an eco-conscience. The Mervin factory sits at the base of the Olympic Mountains, is wind and water powered, uses non-toxic materials, fast growing woods, water-based inks, we recycle our wood and plastic off-cuts and we continue to source emerging earth friendly materials while improving our production processes. This is our business model for snow, ski, and surf. We are the largest US based board manufacturer (snow and surf) and we take our carbon footprint seriously. Not just because it's trending but because our friends work here, our children are growing up in this community, and we want to protect our environment so we can continue to work/play/grow in this place without destroying it.
Are you using any new materials in your hardware for 22/23? If so, what, and why? We're interested in anything new in inserts / edges / cores / sidewalls / glue / resin/ wood types / base material etc here.
For 22/23 we are continuing our mission to build our boards with the most advanced eco-friendly materials and processes. We have revamped our core constructions performance levels for all of GNU. Our G Lite 1 construction uses FSC certified Aspen/Paulownia cores and co-ex bases. G Lite 2 uses FSC certified Aspen/Paulownia cores and sublimated sintered bases. Our G Lite 3 uses FSC certified Aspen/Paulownia cores with carbon power beams and sintered knife-cut bases. Jamie Anderson's full collection also features clear bio beans topsheets that show through to the sustainably harvested wood cores. We have elevated our material stories with sintered bases on more models than previous seasons across the men's and women's lines.
What about shapes? Anything new for 22/23? Does anything remain unexplored, or are there still advances to be made in shaping specifically?
We introduced Progressive Magne-Traction® in 21/22 with the Banked Country. This is a unique edge-hold feature pioneered by Gnu that has progressive directional strategically located edge serrations that provide smooth entry at the nose and increasingly powerful edge hold toward the tail. Temple approached our engineer with the idea and the magic makers at Mervin brought it to life. For 22/23 this tech will be on or Gnu splitboards and the Barrett board as well as the Banked Country. The Forest Bailey 4 x 4 is a directional C3 camber dominant all mountain freeride shape without taper so it can be easily ridden switch in powder without losing it's float. It's a freestyle focused directional ATV. We are constantly innovating with input from our team, so there is always more to explore with shapes, materials and technology!
What new items do you have that are specifically aimed at entry level? Has this increased/decreased due to COVID-19? Please also mention anything new that'll be aimed at the youth market.
We have not added new product aimed at entry level or youth for 22/23 but we have a complete line with entry level product in the all mountain categories. The models best suited for entry level are the hybrid contours with Original Banana and C2. The GWO is an all mountain freestyle board with a twin shape and our original banana contour. This type of hybrid is the best to learn on because it's catch free and has a friendly medium soft flex pattern. We also have the Money and Young money models with a friendly flex and a C2e hybrid contour for easy riding all terrain progression. The Young Money is offered in youth sizes from 130-135-140. Our Recess board is a unisex youth model with a hybrid contour and asymmetric sidecut, making it easier for responsive and catch free turning in the 100-125 size range. The women's Gnu line has a progression in the twin and directional all mountain categories from Banana to C2 and C3 contours. The boards best suited for beginners would be the B-Nice, a soft flexing twin Banana hybrid contour and the Chromatic, a friendly flexing directional board with the Banana hybrid contour. All of these models also have Magne-Traction which helps beginners and pros alike with effortless edge hold.
Prices: Which area of the market do you primarily cater to, price-wise? Have you revisited this after the uncertainty of this past winter?
We are catering to a more premium market with our USA made boards built with eco-friendly processes and materials. We have exceptional quality, unique proprietary tech, and performance product…made by us (snowboarders, surfers, skaters, and skiers) in our own zero hazardous waste factory. Since Day One.
Please tell us about the dominant visual themes in your 22/23 gear, including any interesting artist collabs you have lined up.
For 22/23 we have continued to work with our team on product designs and graphics. We have some signature product in the line that is tied to riders, bringing their artwork to life with our eco-friendly sublimation processes and materials. Forest Bailey contributed his artwork to his Headspace and 4×4 boards as well as our Essential Service board and the Riders Choice series. His talent in the artistic realm is parallel to his incredible skills on his board and we are fortunate to have team riders who contribute to the overall brand visual themes, not just their own. The Finest features detailed artwork by Max Warbington that deserves to be hanging in a gallery. The Banked Country board is designed in partnership as a "father/son" board with Temple and Cannon Cummins. Cannon did the resin artwork featured on the Banked Country and Banked split. It was inspired by the storm maps that track the snow and swell that are central influences on life in the PNW. The artwork on the Barrett and Barrett split features art by Jonas Claesson with a surfy mountain to wave piece that beautifully illustrates the riding style these boards are made for. A very special collaboration is 11 years and running with Sarah King working on the Jamie Anderson full collection with the Ladies Choice, Pro Choice, and Free Spirit. In addition to the pro models, we have exciting artist collaborations with Corinne Weidmann (Chromatic), Amber Vittoria (B-Nice), Hannah Eddy (Velvet), and photographer Meg Haywood Sullivan (Ravish) in our women's line.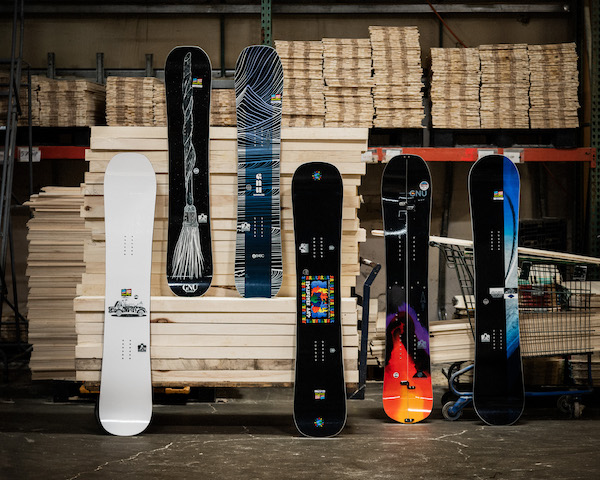 Park? Freeride? All-mountain? where will your primary focus be in 22/23, and how much has that changed since 21/22?
The bulk of our Gnu line is focused on the Freestyle/All Mountain categories. In addition to freestyle twin boards, we have a variety of boards that are directional and designed to charge big mountains but they are ridden by our team with a freestyle approach to all terrain. The categories are broad but we continue to focus on board designs that meet the needs of the consumers as well as our team, and most people want to ride the mountain like a playground. With our technologies and innovations we don't want to put anyone into a 'box' to limit their terrain or riding style options. With our contours, Magne-Traction, taper angles, sidecut and flex patterns we have developed a collection that riders can progress on in all mountain terrain and at all levels, whether they are riding twins or directional boards, forward or backward, fast and loose or slow and steady.
Best Sellers/Hero products 
Barrett:
25+ years of women's snowboarding heritage has culminated in the Barrett, a pinnacle of all mountain design. Camber perfection for stability and control, Carbon power bands for light-weight snap and edge-to-edge torsional precision. Progressive Magne-traction because edge-control is the foundation for everything awesome in snowboarding. A portion of sales from this board is donated to Boarding for Breast Cancer (@b4bc).
Board art by Jonas Claesson (@jonas_draws)
Headspace:
From his beautiful mind. The C3 cambered Head Space is Forest's asym twin freestyle mind expansion tool. A proven street slayer, rips any freestyle situation you might encounter at your home resort or out there with the crew. Magne-Traction edge control, FSC certified eco-core, sintered eco-sublimated base. Find your feet with a board that knows anything and everything is possible.
Board art by Forest Bailey @forestbailey
Banked Country:
The ultimate resort shred stick for advanced rippers designed by legendary Billy Goater Temple Cummins and his skateboard influenced son Cannon. This fantasy father-son project is a refined high-performance ATV with a big floaty nose, a powerful responsive construction, directional camber set-back 1.5", mild taper angle, a nice switch-friendly tail and all new directional progressive Magne-Traction. Banked Country is what you want to ride and where you want to be.
Board art by Cannon Cummins @cannon_cummins