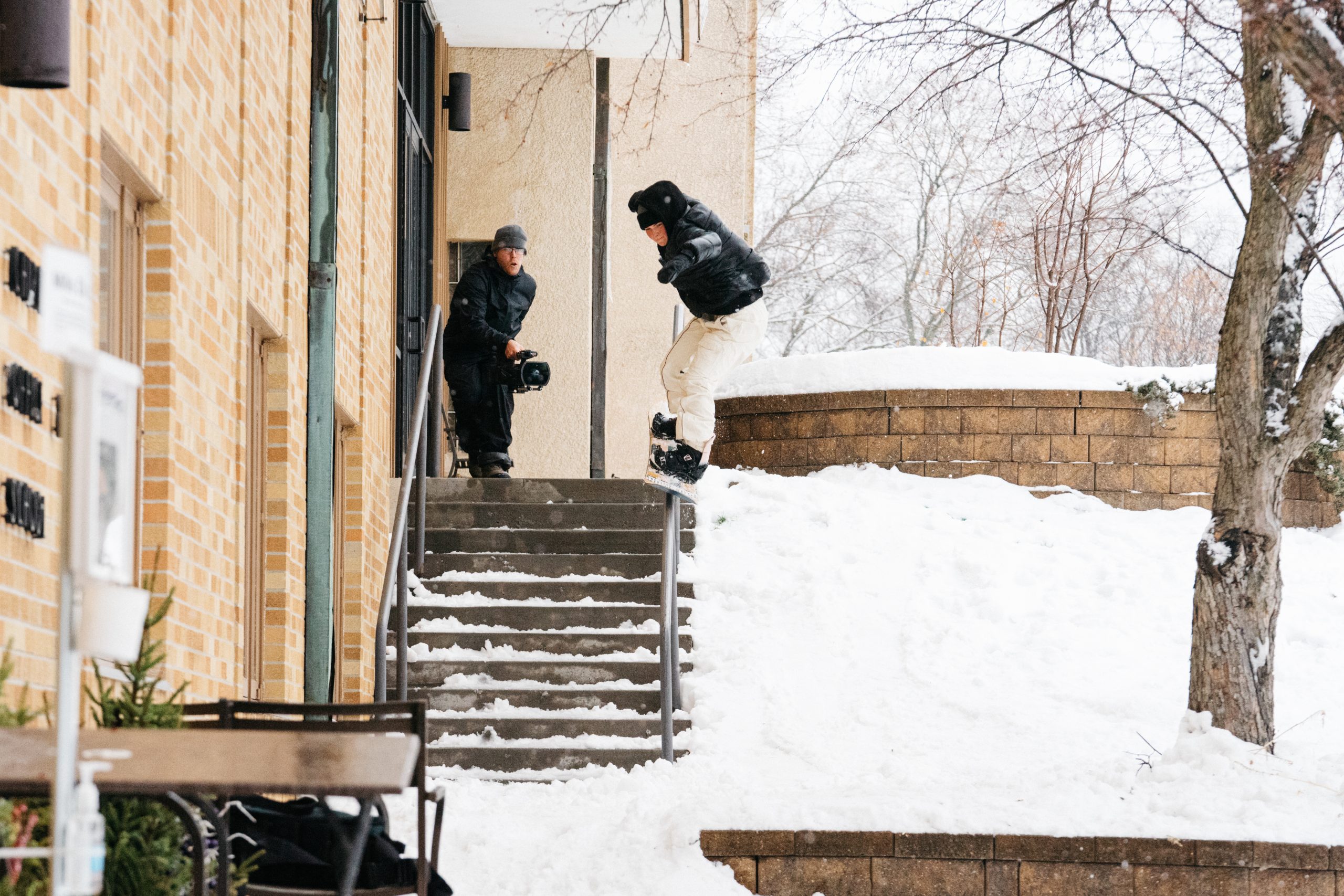 Salomon 2022/23 Snowboard Preview
Retail Buyers Guide: Snowboards 2022/23 Retail Buyer's Guide
Brand: Salomon
Interviewee: Baptiste Chaussignand – Product Marketing
Everyone has been affected by impacts from Covid-19 in one way or another. Have you had to change manufacturing or sourcing processes and can you explain any good examples of how your business has pivoted effectively?
As we were experiencing an amazing FW21/22 sell-in season and as our vendor could absorb and deliver in time the production with our highest quality standards, we had no other choice to keep working with the same process.For sure, labor costs, material costs and transportation costs are higher. But this is a general situation that all industries are facing.
Carry-over was a hot topic for 21/22 boards. Where did your brand sit on the matter and has this changed for 22/23?
Board line is the only one which is the less impacted by carry over strategy. Each season we aim to offer a fresh and positive update of our board line. Only the Hillside collection, some kids boards and our rental program are carried over.
The bricks and mortar model is changing rapidly. How are you working with retailers and your ecommerce channel to ensure as little conflict as possible?
Managing our Channel Right Assortment with basic fundamentals helps us reducing conflicts between distribution channels. We also made efforts to harmonize our price strategy across Europe. And we are committed to not discount our products on our own eCommerce platform during the hot season.And for sure being close to our local organizations and managing our business with a sweet dose of common sense is the right way to go.
What's your company doing to improve its carbon footprint/eco consciousness?
Designing high quality, timeless product is one of the best ways we can reduce our impact. Quality and durability have been, and will continue to be, the cornerstone of our products. Without this foundation, sustainable features and technologies become less relevant.15 years ago, with the Sickstick we've already started our journey of improving our impact. Back then we introduced the bamboo topsheet which provides to the board a lot of snap but also help us to reduce by 40% petroleum-based materials.
In FW22/23 we are accelerating this process. Here is a list a what we introduce in our board line :
95% of our woodcores are FSC certified
Introduction of GREENPOXY bio-based resin
Introduction of Castor Bean bio-based topsheet
Introduction of a 100% and 50% recycled sintered bases
All our board will be factory waxed with a natural PFC eco wax
All our edges are 20% recycled
Utilization of more and more bio-sourced materials like cork, flax
Replacement where it makes sense of carbon by basalt
Our sustainability pinnacle products will be the all new HIGHPATH board and the full Splitboard collection. They will use our most advanced sustainable constructions and are giving us the direction for the future of our board constructions.
Are you using any new materials in your hardware for 22/23? If so, what, and why? We're interested in anything new in inserts / edges / cores / sidewalls / glue / resin/ wood types / base material etc here.
See answer above 😊
What about shapes? Anything new for 22/23? Does anything remain unexplored, or are there still advances to be made in shaping specifically?
At Salomon Snowboards we have probably one of the best team of rider and a true group of passionate people developing and designing our boards. We constantly commit our riders and start all board project with them.We think that there are still so room for shape improvement and innovation.
You will see some new shape from us in FW22/23. For example, the HIGHPATH is a new all mountain tapered directional shape designed by Nils Mindnich and Victor Daviet. The concept was to shape a board which is even more versatile than an Assassin, a board that carves perfectly, that floats and charge is the steeps. But with a friendly and positive personality. Meaning it is a board for everyone men, women, intermediate riders to pro riders.
We are also releasing a fish shape in the Hillside collection. Wolle wanted to explore how we could this legendary type of shapes. Here is few words from Sensei Wolle Nyvelt :
"The HPS Fish was shaped with that heritage in mind and focused on creating a modern feeling snowboard which shares the same DNA of the Hillside Quiver. The key ingredients of the flat rock out camber bottom curve which is completed through a modern progressive Side cut and Flex.Although being directional the waist of the Board is designed in a balanced way to let the Freestyle abilities and shine through."
What new items do you have that are specifically aimed at entry level? Has this increased/decreased due to COVID-19? Please also mention anything new that'll be aimed at the youth market.
We took the opportunity to explore new way to shape versatile all mountain board (with the Highpath) to renew one of our best sellers the SIGHT. This entry price point board is your perfect board to progress in all terrain, learn of to carve, do your first slashes on wind lips, without forgetting side hits or park if you want.
So the new SIGHT utilizes a take down of the Hipbath shape to maximize snowboard progression in all types of terrains.
We are also releasing a DANCEHAUL GROM for the young rippers looking for a fun, accessible pow board with a freestyle mindset !
Prices: Which area of the market do you primarily cater to, price-wise? Have you revisited this after the uncertainty of this past winter?
Balancing the product mix stay our focus. Investing in entry price as well as premium boards is important to us. We aim to welcome all riders to Snowboarding and make sure our offer is aligned with this goal.
We observed that the core of Snowboarding was resistant. But not only. We saw so many young rider trying snowboarding in closed resorts hiking all day and learning how to turn or even jib some rails.So we are confident that keeping investing from entry to higher price zones is the way to go.
Please tell us about the dominant visual themes in your 22/23 gear, including any interesting artist collabs you have lined up.
Our brand conveys the joy and excitement of snowboarding, through positive imagery, colors and thematic. Light-hearted graphics with brighter and vivid colors. We also aim to create long and sustainable graphics stories. Building strong product franchises like the Assassin or the Huck knife. FW22/23 highlights are the new Highpath and Abstract boards.
The Highpath is a very poetic approach of all-mountain freeride riding. Bringing a very positive and inspiring graphic theme which also magnify the wood construction of the borad.
The Abstract is a collaboration with Desiree Melancon. This new unisex freestyle jib board has been designed to remove limitation on style and expression, intent on forging a connection among all of us. Key words were : connection, expressive, progressive, proximity, attachement.
Park? Freeride? All-mountain? where will your primary focus be in 22/23, and how much has that changed since 21/22?
Re-focusing on all mountain freeride and being more inclusive is the main direction in FW22/23. Hammering our freestyle leadership is also is also one of our big focus. Investing in competitive snowboarding and extending our consumer reach is new for us. But we will keep investing in the core of freestyle/street riding and the best expression of this is the all new Abstract board.
Best Sellers/Hero products
HIGHPATH : The Highpath is a culmination of our efforts to design a high performance, all-mountain snowboard that paves the way for a more sustainable future. Built with eco-friendly materials and Rock Out Camber, the tapered directional Highpath is the pinnacle of all-terrain performance from the backcountry to the frontside, through side hits and wind lips.
ABSTRACT : The Abstract is a consolidation of years of freestyle board development and team feedback, designed to remove limitations on style and expression. Loaded with features, this mid-flexing unisex board is equipped with our most popular camber profile and sidecut pairing for versatility, pop, and playfulness in the park, streets, or wherever you ride.
HPS – WOLLE NYVELT FISH : The HPS Wolle Nyvelt Fish is a celebration of Wolle's profound expertise in shaping powder snowboards. Focused on craftsmanship using the finest materials, the tapered directional HPS Fish features Powder Camber and a precise torsional flex for a playful board with superior control, float, and maneuverability. Wolle's crystal magnifying device.