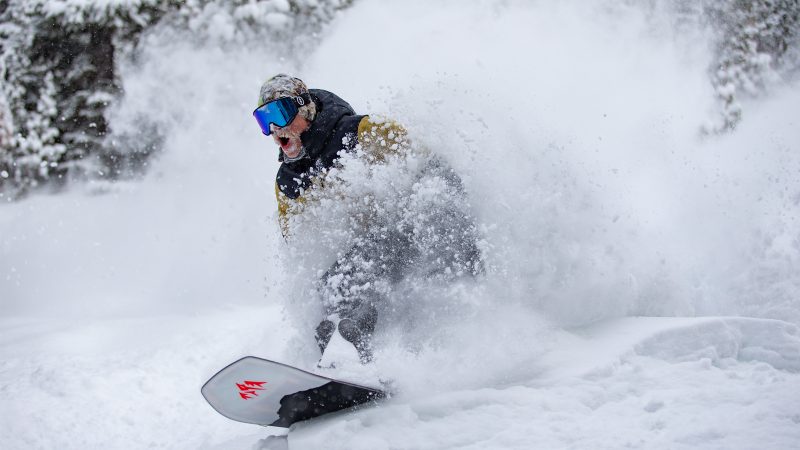 JONES 21/22 Snowboards Preview
Retail Buyers Guide: Snowboards 21/22 Retail Buyer's Guide
Brand: JONES
Interviewee: Seth Lightcap, Global Marketing Manager
Please provide an overview of how 2021/22 is shaping up for your brand. Has COVID-19 affected your line? If so, please explain the changes you've made, and how you came to these decisions.
COVID-19 has affected our line in that we are carrying over more models than previously planned. This decision was made out of support for our dealers who will face another very challenging retail season again this winter.
How much of your new line (pre-COVID) is normally dedicated to new models and artwork, and how has this changed, percentage-wise, for 21/22?
We are introducing four new models for 21/22. This is a bit more than average for us. We usually debut 2-3 models every season. Nine current models will also have new graphics for 21/22. All of these models traditionally get new graphics every season so nothing changed here for 21/22.
If you will be carrying over a larger proportion of your products than normal, how do you hope this will be received by retailers?
We think retailers will be understanding and enthusiastic for the carryovers as it gives them more time to sell our boards in the event that 21/22 is another tough year for snowboard retail.
If you're pressing ahead with new items, what are the top three most important products of next year's line, and why? Please refer specifically to new products here, and not just new marketing stories.
We are fired up to debut two new Surf Series models and a completely redesigned Aviator 2.0:
STORM WOLF –
The new Storm Wolf is a high powered swallowtail that blends the all-mountain versatility of a directional freeride board with signature Surf Series turn performance. Surfboard shaper Chris Christenson and Jeremy Jones designed this new model by combining the shape and profile of the Storm Chaser and Lone Wolf, hence the name. The Storm Wolf features a Christenson Surf CAMBER profile, long sidecut, mid-stiff flex, 3D Contour Base 3.0 and Traction Tech 3.5 edges. The Surf Camber profile, long sidecut and Traction Tech Edges keep you locked in railing turns at speed while the 3D Contour Base and tapered swallowtail shape help you break loose slashing gullies and transitions. To absorb chatter and punch through rough snow patches, the Storm Wolf construction includes Carbon/Innegra reinforcement and an ECO-Plastic topsheet.
MIND EXPANDER TWIN –
The new Mind Expander Twin is a hybrid Surf Series model that blends the playful, easy going board feel of the Mind Expander with the freestyle performance of a directional twin shape. The Mind Expander Twin's fun loving personality is defined by it's friendly flex, tight sidecut, Christenson Surf CAMBER profile and 3D Contour Base 3.0. The blunted, twin shape and 3D Contour Base make riding switch and buttering pow extra easy while the narrow sidecut and Surf Camber profile offer snappy turn response. For a damp ride and confident edge control on chop or ice, the Mind Expander Twin also features Flax/Basalt Stringers and Traction Tech 3.5 edges. Riders who live to bounce down the mountain hitting every terrain feature in sight will love this new alternative freestyle board.
AVIATOR 2.0 –
The completely re-designed Aviator is a hard charging directional twin built for expert all-mountain riders who like to rail turns and stomp airs anywhere on the mountain. This new edition of the Aviator was designed in collaboration with Jones team riders Victor de la Rue and Jimmy Goodman. What sets the Aviator apart is its FULL CAMBER profile. Victor and Jimmy swear by the power of full camber for edging on steeps and landing tricks on the tail. The Aviator also features a 3D Contour Base 2.0, Triax Fiberglass, Carbon/Innegra Reinforcement, an ECO-Plastic topsheet and Traction Tech 3.5 edges. The 3D Contour Base starts after the contact point and helps eliminate edge catch and improve turn fluidity while the Triax fiberglass and Carbon Innegra layer under the Eco-Plastic topsheet suck up board chatter and offer supreme pop and lightning fast response to your every movement.
Are you using any new materials in your hardware for 21/22? If so, what, and why? We're interested in anything new in inserts / edges / cores / sidewalls / glue / resin/ wood types / base material etc here.
We are using a composite material called Koroyd in the wood core of the Aviator 2.0. Koroyd is the lightest, dampest core material we've ever tested. Koroyd absorbs vibrations and adds response at a fraction of the weight which enhances control and confidence. It's also not affected by temperature and will absorb chatter, rebound and return to form down to -50 C.
The 21/22 Hovercraft will be the most sustainable board we have ever produced. It is built with Bio-resin, features recycled edges and sidewalls plus an FSC engineered veneer topsheet, and new for 21/22, it has no ink anywhere on the board. All the markings on the board have been etched with a laser.
What about shapes? Anything new for 21/22? Does anything remain unexplored, or are there still advances to be made in shaping specifically?
There will always be room to make advances in shaping. We're now focused on making our turn-focused Surf Series models more versatile for everyday riding. Our two new models, the Storm Wolf and Mind Expander Twin, are designed with that in mind. They have nose, tail and sidecuts tuned for slashing, matched with camber profiles that can handle all-conditions, not just pow.
What new items do you have that are specifically aimed at entry level? Has this increased/decreased due to COVID-19? Please also mention anything new that'll be aimed at the youth market.
We do not have any new entry level or youth boards for 21/22.
Prices: Which area of the market do you primarily cater to, price-wise? Have you revisited this after the uncertainty of this past winter?
We remain focused on mid-level to premium price points. This will not change for 21/22.
Please tell us about the dominant visual themes in your 21/22 gear, including any interesting artist collabs you have lined up.
We will continue to feature artwork from renowned graphic artists on eight of our solid models – Mountain Twin, Twin Sister, Ultra Mountain Twin, Ultracraft, Frontier, Dream Catcher, Aviator 2.0 and Airheart. The visual theme for the rest of our line will also remain the same – wood veneers for the Flagship and Hovercraft line, plus tie dye for the Surf Series. The new Aviator 2.0 features graphics from our long time artistic collaborator, RP Roberts.
Park? Freeride? All-mountain?; where will your primary focus be in 21/22, and how much has that changed since 20/21?
We strive to be a well rounded brand that makes high performance boards for every rider and riding style. This will not change for 21/22. Our 21/22 line is our best yet and more diverse than ever.