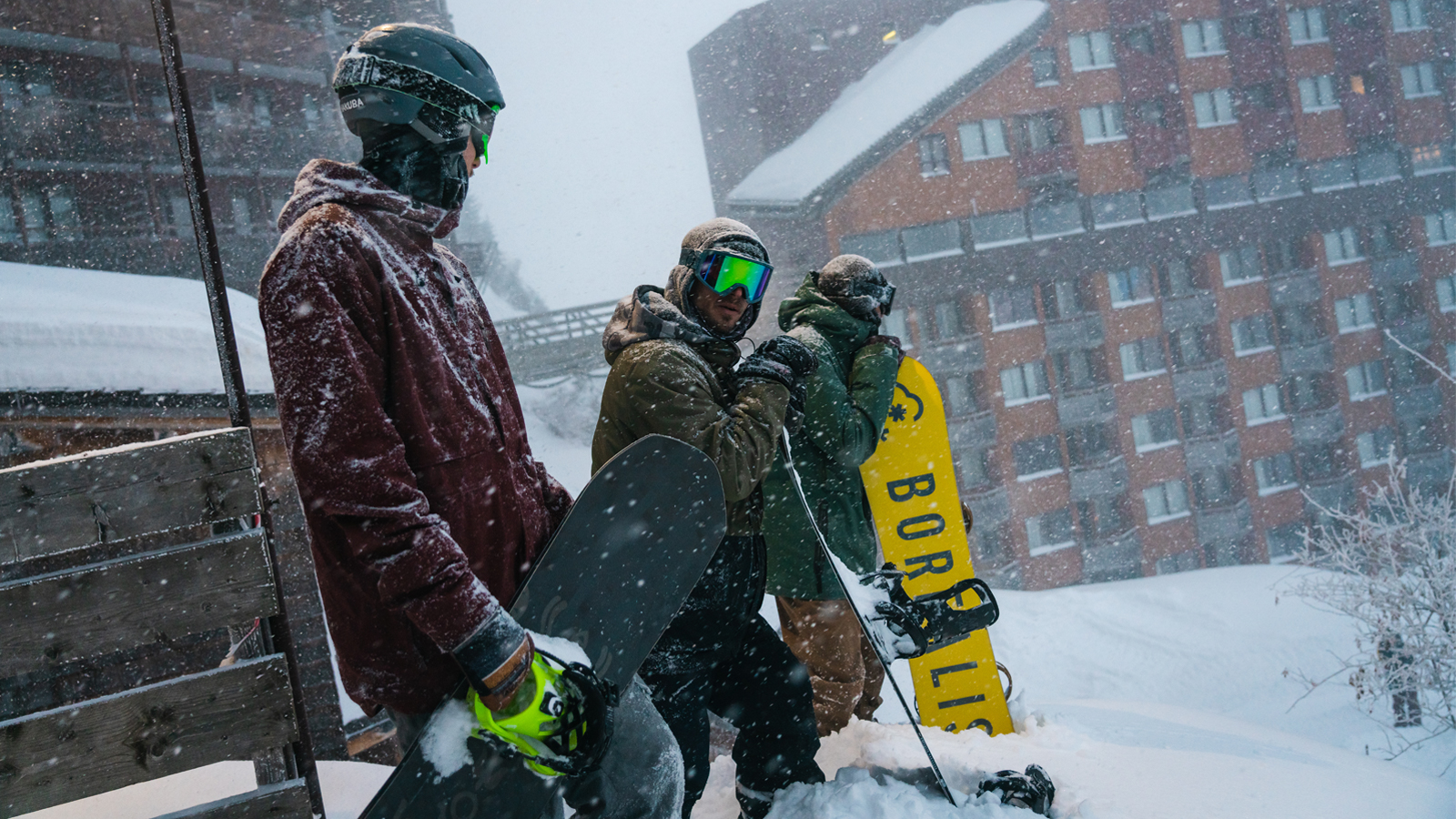 BOREALIS 21/22 Snowboards Preview
Retail Buyers Guide: Snowboards 21/22 Retail Buyer's Guide
Brand: Borealis
Interviewee: Ben Hall, Owner
Please provide an overview of how 2021/22 is shaping up for your brand. Has COVID-19 affected your line? If so, please explain the changes you've made, and how you came to these decisions.
After last season was cut short in March and with a new season that hasn't started yet in France, we decided to do carry-over on many of our snowboard models. Nonetheless, we still want to offer shops and snowboarders around the world some cool new gear to look upon to for 2021-2022.
How much of your new line (pre-COVID) is normally dedicated to new models and artwork, and how has this changed, percentage-wise, for 21/22?
In a typical non-COVID year, we usually keep the same graphics on models for 2 seasons. 50% of our line's graphics changes one year, the other 50% the other (more or less). In terms of new models, we try to create at least 1 new model each year. With the pandemic, we decided to change graphics on only a few boards but we are still releasing new stuff.
If you will be carrying over a larger proportion of your products than normal, how do you hope this will be received by retailers?
Yes, roughly 75% of carry-over. I think shops are very happy with this as for instance in France (our biggest market), no resort shop has really opened yet as lifts are still closed (12/01/2021). Shops would clearly not be happy if the gear they bought and which they haven't had a chance to sell was heavily discounted next season.
If you're pressing ahead with new items, what are the top three most important products of next year's line, and why? Please refer specifically to new products here, and not just new marketing stories.
For 2021-2022, we are releasing a brand new model, the Alpine Pro Model (also available in split version). Created in collaboration with Chamoniard and ex-FWT rider Clément Bochatay, the Alpine is the honorable successor of the Arcane. This next-gen board carries everything that made the Arcane a brilliant big-mountain deck whilst keeping a playful, versatile side, allowing most riders to enjoy it in most conditions.
Our award-winning Artefact will see its construction evolve but also beautiful new graphics.
The women-specific Botanica will be updated from flat to camber profile and will carry a new bamboo topsheet.
Are you using any new materials in your hardware for 21/22? If so, what, and why? We're interested in anything new in inserts / edges / cores / sidewalls / glue / resin/ wood types / base material etc here.
We are replacing carbon stringers with basalt on a few models, introducing recycled ABS sidewalls and of course, continuing with our recycled biomass Greenpoxy bio resin, FSC©-certified wood cores, DNA bioplastic topsheet (now offered in a textured version on all splitboards and on the solid Alpine), latex-based inks; carbon-neutral development, etc. that make Borealis a leader in snowboard production sustainability.
What about shapes? Anything new for 21/22? Does anything remain unexplored, or are there still advances to be made in shaping specifically?
Our brand new Alpine model has a unique exclusive shape which offers amazing float and the flawless edge grip needed for big mountain riding combined with specific sidecut radii, carefully shaped contact points and flex to offer a truly unique experience, allowing riders to move from a steep gnarly environment such as the icy couloirs of Chamonix, to more open terrain allowing to play freely with natural features, and last but not least, ultra-solid carving on piste.
We are experiencing a shaping renaissance and I think this has a lot to do with a will to return to the essential side of snowboarding which, in my opinion, is riding powder in the wilderness. Satisfying a need to spend more time with nature. These news shapes are human attempts to follow naturally-occurring features such as a bird's tail or a fish's head, enabling us to glide weightlessly and mindlessly freely within nature. I'm positive more will come, the imagination has no limits!
What new items do you have that are specifically aimed at entry level? Has this increased/decreased due to COVID-19? Please also mention anything new that'll be aimed at the youth market.
As since day one, our more versatile all-mountain boards, which represent a big chunk of our sales are set at competitive prices allowing the modern 21st Century rider to acquire a one-board-quiver for pretty much any day out on the mountain. In an effort to "recenter" our line, we decided to stop producing The Origins and Pillow models which we believe did not truly fit anymore in our collection.
Prices: Which area of the market do you primarily cater to, price-wise? Have you revisited this after the uncertainty of this past winter?
We offer boards for people looking for quality gear at a competitive price. Our boards vary from I would say middle of the range to top of the range in terms of pricing.
Please tell us about the dominant visual themes in your 21/22 gear, including any interesting artist collabs you have lined up.
Our visual themes are nature, mind-pleasing patterns, harmonious shapes, bamboo and wood, simple but efficient minimalism, often inspired by Japanese art/culture. For 2021-2022, we continue with this idea. The new Artefact's graphics were actually created by my talented cousin Sam Card-Hall who through his artwork wanted to symbolise the continuous cycle of nature – water, wind, snow and back to water.
Park? Freeride? All-mountain?; where will your primary focus be in 21/22, and how much has that changed since 20/21?
We've always been a more freeride-specific brand but we introduced this winter our first purely freestyle deck, the Taiga. For 2021-2022, the Taiga will continue as a carry-over.