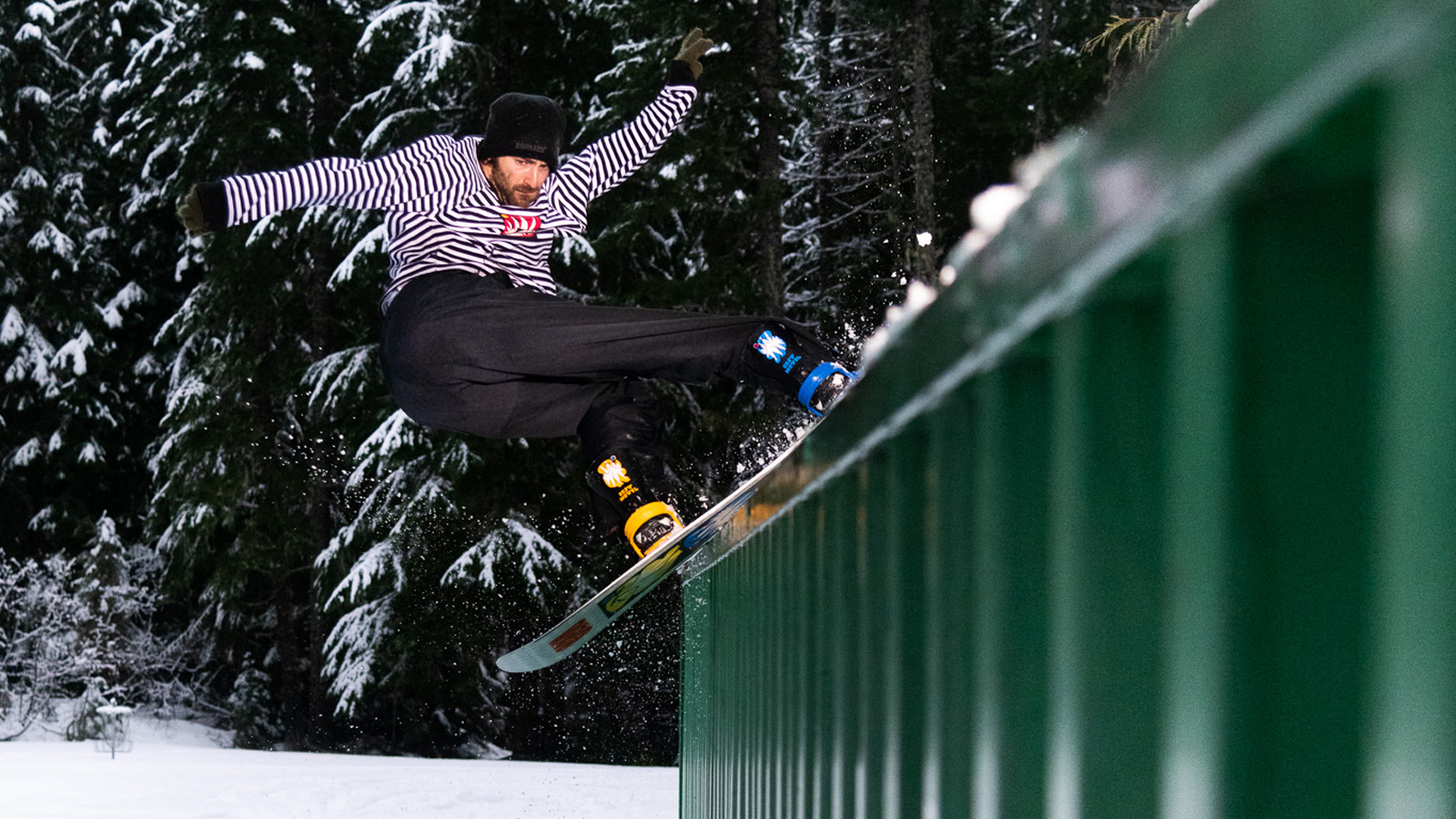 GNU 21/22 Snowboards Preview
Retail Buyers Guide: Snowboards 21/22 Retail Buyer's Guide
Brand: GNU
Interviewee: Barrett Christy, Product Manager
Please provide an overview of how 2021/22 is shaping up for your brand. Has COVID-19 affected your line? If so, please explain the changes you've made, and how you came to these decisions.  
At Mervin Mfg. we manufacture all our boards in the world's most environmentally friendly board building facility. Our factory was shut down for 10 weeks during out line planning finalization months due to Covid restrictions.
That was stressful for our design team but we transitioned to working remote seamlessly and finalized all of our lines with excitement about the future! We made some revisions to our line, like we would any year, with input from team riders, sales, consumers, and our snowboarders with jobs internal team. We have consolidated some models/categories and expanded on others. We were also able to add some exciting new models to the line and shift prices down on some of our premium models.
We are in the premium market with USA production and eco friendly materials but we are also committed to accessibility and we want snowboarders to have access to our boards at the best price possible.
How much of your new line (pre-COVID) is normally dedicated to new models and artwork, and how has this changed, percentage-wise, for 21/22?
We haven't adjusted our carry-over plan for any Covid specific needs. We don't usually carry over many models in our GNU line, and that is the case for 21/22. The only model that is carrying over is the GNU GORP splitboard model. That was the plan with or without Covid.
If you're pressing ahead with new items, what are the top three most important products of next year's line, and why? Please refer specifically to new products here, and not just new marketing stories.
The three top product stories for Gnu in 21/22 are going to be the following:
Banked Country – A really excited new All Mountain C3 model designed by father/son duo Temple and Cannon Cummins. A new progressive magnetraction is a game-changing tech that has a radial entry with a progressive increasing mag grip toward the tail that assists with power turns and control where you need it the most.
Temp and Cannon combine high-performance, make-it-look-easy freeride finesse with freestyle prowess and skate/surf influence to create this directional freestyle minded all terrain ATV with a floaty nose, set-back camber, and mild taper angle, and a sintered base.
Essential Service – An all new design on our Essential Service is for ripping the entire resort and floating in the pow with ease. Our user-friendly C2 perfect camber hybrid contour, magne-traction, and a set-back stance with taper angle makes this board a versatile easy riding one board quiver.  The Service Board mission is to mentor teens to conquer personal and cultural challenges through public service and outdoor adventure like snowboarding. A portion of proceeds from the ES supports @theserviceboard
Ravish – The Ravish is a new board in the Gnu Girls line, that rounds out our all mountain collection. The C2 perfect camber hybrid contour, magne-traction, and medium-soft flex makes it easy to float in pow, catch-free and stable. It's an approachable board, comfortable on any terrain with a sense of adventure.
Are you using any new materials in your hardware for 21/22? If so, what, and why? We're interested in anything new in inserts / edges / cores / sidewalls / glue / resin/ wood types / base material etc here.
Mervin Mfg. will be staying consistent with the materials we build our boards with for 21/22. The most eco friendly building materials and processes in snowboarding.
What about shapes? Anything new for 21/22? Does anything remain unexplored, or are there still advances to be made in shaping specifically?
Our shapes range from twin pill, to asymmetric twins, directional with taper, blunt nose, round nose, and everything in between. Several boards have a volume shifted design that is ridden 3-6cm shorter than your average daily driver.
The GORP is a fun C3 volume shifted board that floats the powder and rails at the resort, the Free Spirit is Jamie Anderson's unconditional all mountain C3 spirit board, floating in pow and stomping landings with a wider, set-back geometry. The introduction of our progressive magne-traction with a shifted camber is taking all mountain freestyle/freeride to a new level on the Banked Country.
What new items do you have that are specifically aimed at entry level? Has this increased/decreased due to COVID-19? Please also mention anything new that'll be aimed at the youth market.
We have several boards in GNU that are aimed at easy riding and entry level progression. The B-Nice has had a long histroy in the Gnu Girls line and this continues to be a favorite hybrid entry level choice. For 21/22 we made this board a true twin, without asymmetry, and have lowered the price to make it more accessible.
The Chromatic is an entry level, cruisy directional board that has a softer flex and a hybrid contour for catch-free all mountain fun. In the mens line the new GWO is an easy riding true twin with Original Banana hybrid contour, an approachable flex and a price as nice as the B-nice.
The full size range of these boards accommodate youth and the young at heart. Our Gnu Recess is our youth board starting at a 100cm size. It's packed with tech, asymmetry for quick edge-to edge control, magne-traction to turn ice into powder, and it's priced right for parents who love their kids and want them riding the best
Prices: Which area of the market do you primarily cater to, price-wise? Have you revisited this after the uncertainty of this past winter?
Gnu is a premium brand in the market and we mostly play in the mid-high price range. For 21/22 we have introduced some lower price points, and we are focused on making our USA made eco-friendly boards accessible to snowboarders.
While some prices came down our best sellers aren't necessarily the lower priced boards. People invest in Gnu for technologically advanced quality performance boards with eco friendly construction and water-based ink sublimation that brings our featured artists and gnu art department masterpieces to life.
Please tell us about the dominant visual themes in your 21/22 gear, including any interesting artist collabs you have lined up.
Forest Bailey @Forestbailey continues to elevate his art while expanding his mind and his snowboarding. The Headspace model is designed by Forest Bailey and decorated with his art.
We have continued our partnership with Jay Howell @punksgitcut and the Money/Young Money series is a park focused freestyle board with his signature style. It's guaranteed to appeal to the tortured beasts and dragon slaying shero-loving slayers.
In the women's line we are excited to have an Aaron Chang @aaronchang photo featured on the Barrett board. Aaron is a legendary surf photographer credited as the creator of modern surf photography, but he has a deep love for the mountains and snow. The graphic is a dramatic image of the backside of a wave in Tahiti. A reminder of the power and magnificence of water in all its forms.
Jamie Anderson's series features more amazing artwork by Sarah King @sarahkingart on the Free Spirit, Pro Choice and Ladies Choice. The detailed snowflakes and cozy winter mountain scenes are brought to life with our sustainable materials and bio beans topsheets. Jamie's unconditional love for the earth and it's elements are always illustrated perfectly in collaboration with Sarah King. We are celebrating 10 years of the Jamie Anderson Ladies Choice in 21/22 so this one is special.
Park? Freeride? All-mountain? Where will your primary focus be in 21/22, and how much has that changed since 20/21?
We have a good balance in this new line. A progression of freestyle and all mountain boards in multiple price points and contours. Our rider team is involved in board design, graphic development, and our whole product team is passionate about snowboarding.
Every year we look at the whole line with open minds, take into consideration sales and consumer feedback, and this year was no different. Gnu is youth driven but that doesn't always mean the park. Our boards are performance ready for whatever terrain you choose to ride. All Mountain sums up the majority of our line because our snowboards don't discriminate on the basis of terrain features or snow texture. They are unreal everywhere.