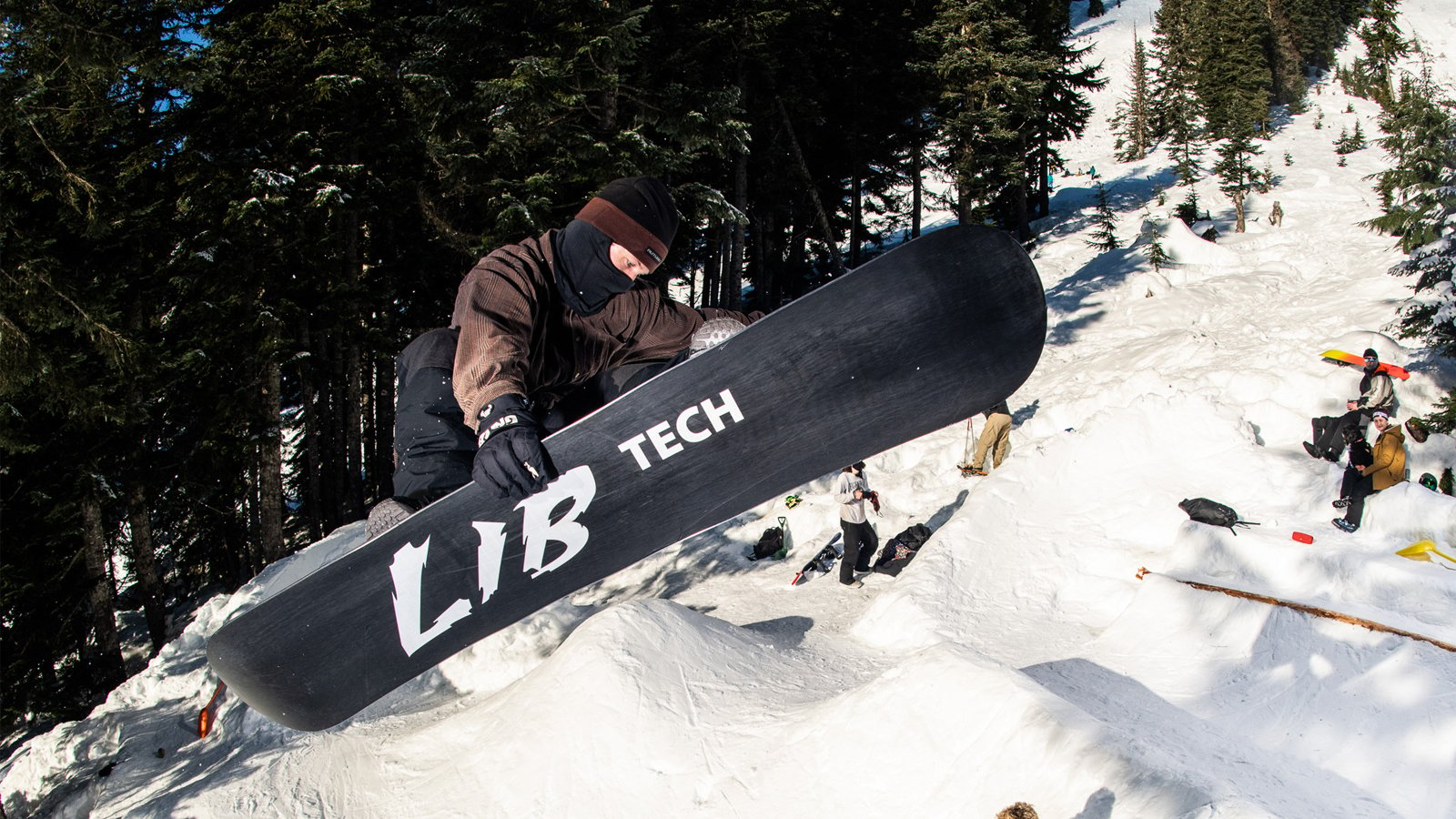 LIB TECH 21/22 Snowboards Preview
Retail Buyers Guide: Snowboards 21/22 Retail Buyer's Guide
Brand: Lib Tech
Interviewee: Pete Saari, VP of  Radical Rascals 
Please provide an overview of how 2021/22 is shaping up for your brand. Has COVID-19 affected your line? If so, please explain the changes you've made, and how you came to these decisions. 
Covid had a huge impact on us. Our factory was shut down for 10 week and we received no government aid…we worked from home and kept split boarding, hiking, surfing and working on our line. The added challenge  and uncertainty created by Covid reminded us how much we love building boards, snowboarding and our business and industry friends.  We put our lives on hold, focused and dedicated all our energy into on building the best line we have ever created. 
How much of your new line (pre-COVID) is normally dedicated to new models and artwork, and how has this changed, percentage-wise, for 21/22?  
Not sure if anyone in our business measures percentage of new models vs existing each year, that's not how we think. We kept boards we love, trimmed a little here and there to keep the SKUs in check and make sure we could manage the work load in the Covid challenged work environment and added some great sticks to the line. 
If you will be carrying over a larger proportion of your products than normal, how do you hope this will be received by retailers?  
We are not carrying over a significantly larger proportion of our line this year…we do some carry over models every year especially with split boards that are expensive and tend to be longer term purchases for people and some of our youth models. We hope dealers view this as a benefit knowing a model has a long shelf life. 
If you're pressing ahead with new items, what are the top three most important products of next year's line, and why? Please refer specifically to new products here, and not just new marketing stories.  
We have been having fun working with Travis on his line and it has quite a bit that we are excited about this year.  
We are introducing an Orca split model which should be a great stick for the directional minded backcountry shredder. All the fun of an Orca with the ability access to the terrain it loves the most. 
Travis and our ExperiMental division have been working on a brand new model called the Golden Orca. The concept was to make a board that had all the best components of an Orca;  float, response and powerful tail that also worked well switch in pow for freestyle landings and takeoffs. The results are amazing the board eats up resort terrain and loves the pow in both directions. The Golden Orca is Travis's Natural Selection secret weapon.   
Another fun add is our "Ultra Wide Skunk Ape 173 for the big fellas, at 28cm under foot its guaranteed to keep toes from scraping when the knuckles are dragging. 
Are you using any new materials in your hardware for 21/22? If so, what, and why? We're interested in anything new in inserts / edges / cores / sidewalls / glue / resin/ wood types / base material etc here.
We have a new lightweight smoothing riding Apex Orca model that incorporates quite a bit of lively responsive carbon that is balanced and dampened by a significant amount of our new recycled plastic bottle PET core. Our new core component is a blend of recycled bottles of all colors and we mix it with Aspen, Paulownia and end grain balsa to create a light weight precise feeling board that has a quiet magical ride…this is the ultimate Orca experience.  
What about shapes? Anything new for 21/22? Does anything remain unexplored, or are there still advances to be made in shaping specifically?
We have some new shapes for 21/22…we work hands on in our factory building and designing boards every day and we love experimenting.  This year we combined what has traditionally been two shapes on the amazing T-Rice Pro series (a pointy on the longer sizes and a blunt on the more freestyle parky sizes) and created one new "blointy" shape for all sizes that looks and works beautifully.  The chassis of the T Rice pro remains the same perfect C2 Hybrid that we all love.  Travis's Golden Orca is a brand new shape and contour for us that works amazingly well on the average resort day and then absolutely rips pow in both directions. 
What new items do you have that are specifically aimed at entry level? Has this increased/decreased due to COVID-19? Please also mention anything new that'll be aimed at the youth market.
Our BTX (Original Banana) Hybrid contour is an absolutely amazing entry level contour that pros love too.  BTX It was first introduced on the revolutionary effortlessly easy riding, floaty, carvy, jibby fun Skate Banana model and its still there today as arguably the best board to learn and progress on that has ever been made. We also incorporate BTX (Original Banana) on our womens Glider model and our Banana Blaster youth model both of which will put smiles on your face the first day and still be exciting in your quiver for life. 
Prices: Which area of the market do you primarily cater to, price-wise? Have you revisited this after the uncertainty of this past winter?
We are primarily a middle to higher end brand. We handcraft every board ourselves in our zero hazardous waste Mervin MFG facility.  We study the entire market every year and work to improve our materials, builds and process and offer our high quality at the best prices we can possibly offer it.  
Please tell us about the dominant visual themes in your 21/22 gear, including any interesting artist collabs you have lined up.
We work with  amazing snowboarder artists each and every year.  The amount of passion, creativity and joy they bring is quite a treat.  This year we spent a lot of time working with Mike Parillo…he took on Travis's line and we think it might just be the most beautiful collection of snowboards ever.  He also applied other variations of his magic to our Dynamo and Glide. 
Ryan Davis our NW rep worked with Tim Zimmerman our photographer to collaborate on this years easy on the eyes Skate Banana.  Jamie Lynn spent his summer in an outdoor art studio outside of Nelson and took his art to beautiful new places on his two models and our Dynamiss directional C3 womens All mountain model. Son of Cobra did some amazing work on Matt Biolos's Lib X Lost Quiver Killer and Rocket models.  NW Native artist James Johnston did our Double Dip Model.
Pika Burtner made some amazing Man vs Nature magic with Jesse on his Box Scratcher and Knife Models.  Schoph brought darkness and light to our Terrain Wrecker model. Aaron Fredrickson, Quincey Quigg and Nick Russian all added their incredible talents to the line. Erik Jacksons relationship with Alaskan fun, fish and fossil artist Ray Troll continues to flourish. Our own inhouse Bent Metal designer/artist/skater Ben Lardy took the TRS power freestyle model into a sea of darkness with his interpretation of the three hearted, nine brained,blue blooded, bonless, shapeshifting beast from the deep. 
Park? Freeride? All-mountain?; where will your primary focus be in 21/22, and how much has that changed since 20/21?
We have always been a resort based power freestyle brand that believed good snowboarding means doing it all everywhere on the mountain.  We currently focus on making great boards in the park, freestyle all mountain and all mountain categories.  Our specialty park boards like the Box Scratcher, Box Knife and our womens Ryme love the park but are very versatile and enable you to bring that jibby / park mindset anywhere on the mountain.  Boards like the T Rice Pro, TRS, No 43, and Skate Banana, Glider are amazing freestyle focused models that have no limits on the mountain in either direction.  The Cold Brew, Dynamo, Dyamiss, Jamie Lynn, Ejack, Terrain Wrecker and Orca family represent some of our amazing All Mountain directionals.