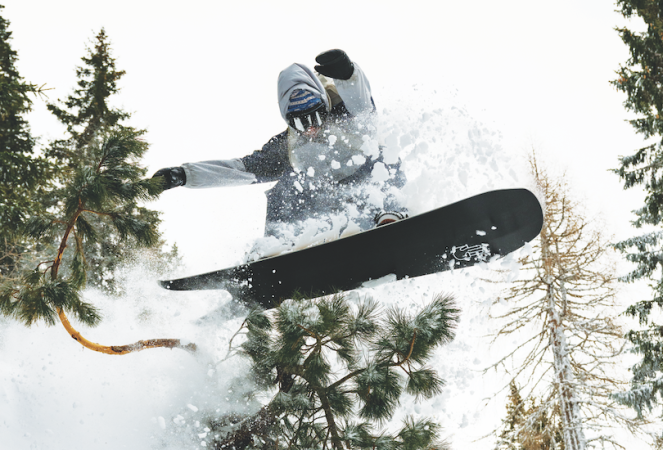 Bataleon Snowboards 2023/24 Preview
Retail Buyers Guide: Snowboard's 2023/24 Retail Buyer's Guide
Brand: Bataleon
Interviewee: MICHAEL CHILTON, DIRECTOR OF PRODUCT
How would you describe the current state of the snowboard market? What big developments, changes, challenges, and/or opportunities are you seeing and how is your brand navigating them?
The snowboard market is going through a sort of renaissance at the moment. Increasing interest in the sport is driving companies to try out new and different ideas that appeal to an ever-growing and diverse demographic of new and old riders. Designers are combining new age tech with retro-inspired shapes, focused on functionality and style. 
Entering its 20th year in business, Bataleon is navigating this growth by continuing to build upon its patented and industry-leading Triple Base Technology. Offering new shapes in 23/24 that deliver unique experiences on-snow for new and returning riders of all sizes and abilities, while reinforcing its commitment to making snowboarding fun for everyone. 
Everyone has been affected by raw materials and shipping price increases and transport issues. Have you had to make any significant changes with regards to manufacturing, sourcing, or logistics? Are there any examples you can share of how your business pivoted effectively? Any positive developments with regards to these issues and the changes you've made?
While not significantly impacted by global supply chain issues, we have made efforts to streamline the design process for 23/24, focusing our energy on the creation of new, existing shapes that maintain existing technology and materials. This strategy minimises our exposure to any potential supply issues going forward by allowing us to better manage extended lead times and unforeseen changes to MOQs, while still being able provide a wide range of new product within the line. 
Continuing towards our goal of simplifying supply chains and managing risk, we've expanded an already successful partnership with Titan Sports Co, shifting the bulk of our production in 23/24 to their state-of-the-art facility. We're excited to build on this relationship with a commitment to innovation, quality, and efficiency. 
After two years of heavy carry over in the industry and more of a return to normalcy last season, what's your overall sales and production/inventory strategy for 23/24?
Because of strong growth and high demand, Bataleon has been able to avoid significant impacts to sales/inventory as a result of carry-over product. Our overall strategy for 23/24 is to maintain this strong demand by continuing to offer exciting products with standout designs. Streamlining our supply chain and development process for 23/24 has also allowed us to get started on production earlier than ever, improving overall confidence in on-time deliveries and reliable inventory. 
Do you anticipate any shifts in the ratio of e-commerce sales vs. brick-and-mortar sales now that most Covid-19 restrictions are gone?
Our Bataleon snowboards have special 3D shapes and this is best explained, showed in a store. Our e-com has been growing the past years but not at the same rate as our brick and mortar presence. E-com sales allowed us to invest more into digital marketing and we see a great deal of improved sell-thru in brick-and-mortar stores.
Does your brand have any new developments concerning sustainability and/or how you are positioning any environmental messaging?
We are continuing our work towards creating long-term sustainability solutions both with our material suppliers and manufacturing partners. Our commitment to sustainability has always been driven by long-term solutions focused on performance, durability, and transparency and less about marketing and using sustainability to increase sales. We work closely together with the Nidecker Group (Jones, Yes, Now) on this subject.
What trends or developments are you seeing with regards to board construction, shapes, and general innovation? How is this shaping your 23/24 range?
We continue to see a need for unisex product in the market and are responding to this by merging our Men's Thunder and Women's Storm to create a unisex model called the Thunderstorm. Further supporting this need, we have increased the size offering on both the Wallie and Whatever so that each model can accommodate riders of all sizes and genders. 
In terms of shaping, we are seeing a call-back to retro-inspired outlines built with modern-day design techniques. Our all-new shape with Beyond Medals follows this methodology, combining timeless design elements with modern aesthetics and, as always, triple base technology. 
Are you using any new materials in your hardware for 23/24? If so, what and why? We're interested in anything new in inserts / edges / cores / sidewalls / glue / resin/ wood types / base material / top sheet / etc. here.
As mentioned previously, we made the decision to focus 23/24 development on creating new shapes with existing materials and technology. With uncertainty about logistics and ever increasing lead times, this direction allows us to best serve our customers by providing brand new designs with the highest confidence in delivery and price stability. 
Does any new design or pattern approach in your 23/24 gear? Any collabs on the line?
Our all new Moodboard delivers a shape and flex designed for fun in the park and building freestyle skills across the whole mountain. We partnered with local design agency, Glitter Studio, to create a graphic that compliments and communicates the on-snow attitude of the board. 
What product range or offerings are you focusing on the most for 23/24 and what aspects of the market are getting the most interest?
Alongside a large array of new shapes added to the line, a main focus of 23/24 will be celebrating our 20-year anniversary by releasing a special edition Goliath showcasing every board graphic we've ever produced.  Comprising two decades of design and 400 different graphics, the 20yr Anniversary Goliath showcases Bataleon's rich history of timeless and provocative design. 
Are you placing any focus on entry-level products? If so, why and how does this compare to previous years? What
is your assessment of the youth market?
We have always focused energy on entry-level products by maintaining a competitive offering with high value. Since 22/23, our entire line has used sintered base including our entry-level and youth product. The kids are the future and we feel they deserve the have the best gear possible to not just learn the basics but also progress. The Stuntwood and Surfer Mini showcase our commitment to this market and our commitment to the future of snowboarding.
Pricewise, which area of the market do you cater to? What developments are you seeing with regards to product pricing? 
With the goal of making high-quality products for every rider and building value into every design, we've typically catered more to the high-end of the market. Our customers look for quality in their gear and we want to provide that to them by using the best materials possible.