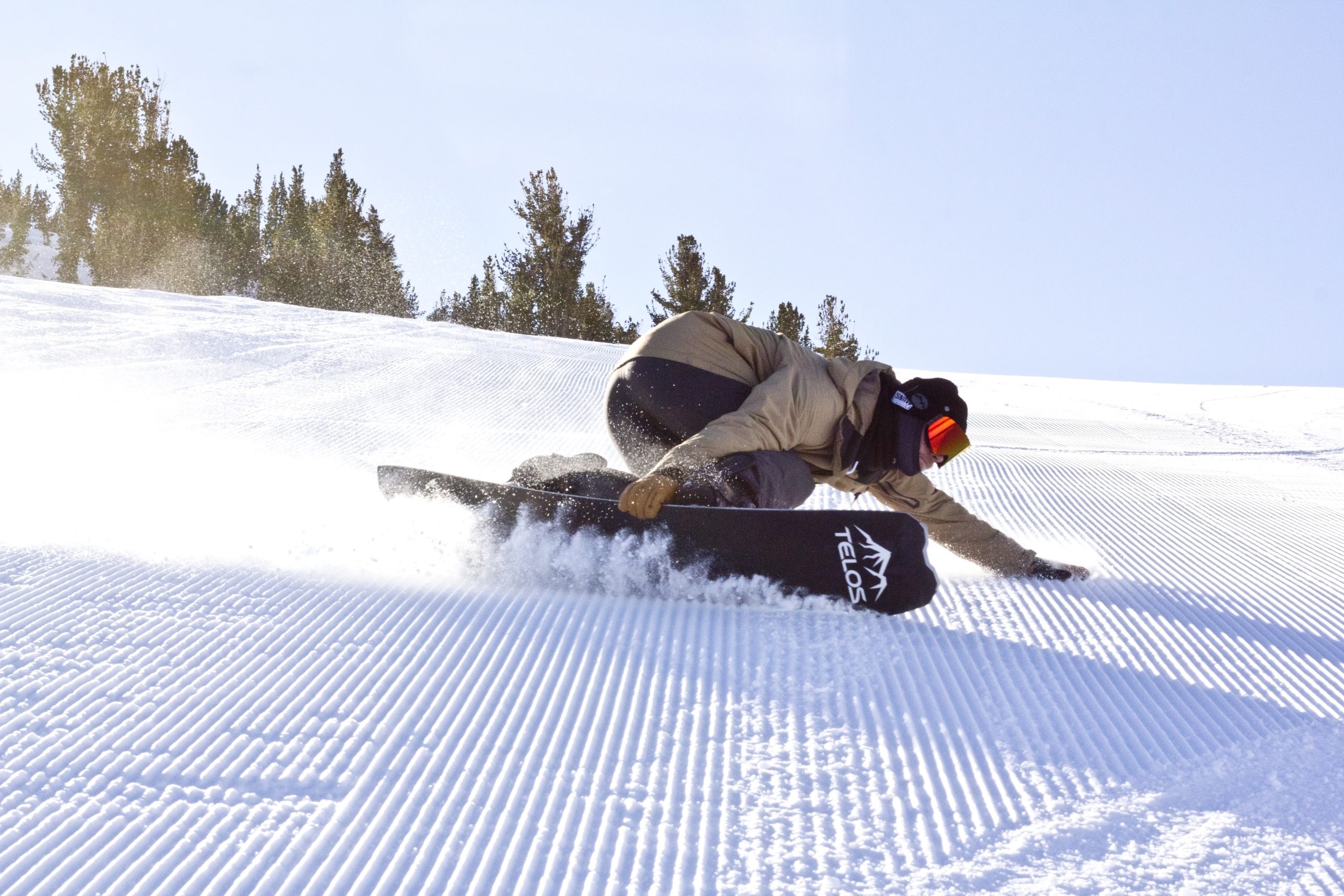 Telos 2023/24 Snowboards Preview
Retail Buyers Guide: Snowboard's 2023/24 Retail Buyer's Guide
Brand: Telos
Interviewee: Kolja G. Keetman, European Sales and Marketing Manager
How would you describe the current state of the snowboard market? What big developments, changes, challenges, and/or opportunities are you seeing and how is your brand navigating them?
Due to very warm weather and a lot of uncertainty regarding the energy situation and the Ukrainian war we've had a very late start into the sales season. On top of that we've been in troubles with our resin delivery which affected our own deliveries on top of the general situation. Nonetheless we decided to go progressively into the on snow demo season and so far we've had a very positive start. The Subai Zoo premiere and the Kaunertal Testival and Park days were really successful events for us and we've had a lot of very positive feedback and were also able to generate some sales for our retailers. We're sure that the actual situation opens a lot of opportunities for us and that we'll be able to open some great new doors.
Everyone has been affected by raw materials and shipping price increases and transport issues. Have you had to make any significant changes with regards to manufacturing, sourcing, or logistics? Are there any examples you can share of how your business pivoted effectively? Any positive developments with regards to these issues and the changes you've made?
Our lead times for some raw materials went up and we're actually talking about 7-12 months including shipping. We've had to adopt those new lead times in our processes and have to take decisions earlier. The good thing is, that we're already producing some of our 23/24 models within the next weeks which means that we'll be back in time for deliveries next winter. We can actually keep pricing on the same level for 23/24 as in 22/23.
After two years of heavy carry over in the industry and more of a return to normalcy last season, what's your overall sales and production/inventory strategy for 23/24?
Our inventory strategy is in general defensive. We make sure that we're able to fulfill some reorders and plan to have 30-35% stock in Europe compared to our preorders. We're in the lucky position to produce our products ourselves and we're able to react if the demand for a certain product is way higher than our stock. We've had that situation in the US the past seasons and were always able to produce some restock. We want to keep the market healthy and prefer a lower inventory!
Do you anticipate any shifts in the ratio of e-commerce sales vs. brick-and-mortar sales now that most Covid-19 restrictions are gone?
At the moment we've got the feeling that some of the few good brick and mortar stores are doing a very solid business at the moment and we're definitely focusing on the right brick & mortar partners. We definitely also need some presence in the online market but at this moment our higher focus is on local stores with high expertise. We're also step by step strengthening our salesforce all over Europe to make sure to deliver the necessary service for our retailers.
Does your brand have any new developments concerning sustainability and/or how you are positioning any environmental messaging?
We're constantly looking for more sustainable raw materials and ways to produce. In general we're not greenwashing and we know that producing a snowboard isn't really sustainable but we built our boards as sustainable as possible with recycled metal edge, base material, locally farmed woods, NO VOC epoxy and solvent free inks. Our biggest goal is to deliver the longest lasting boards with a very constant flex over a long time.
Nothing in our sport can be more sustainable than making sure that your board lasts easy for a second, third or even fourth hand.
What trends or developments are you seeing with regards to board construction, shapes, and general innovation? How is this shaping your 23/24 range?
We're still seeing more different and even crazy shapes – which proofs us right if you take a look at our whole line. Our entry level board is our only standard shape with a rounded nose and tail. All other boards are "TELOS"-like – edgy, different and special. We'll keep our signature boards Back/Slash, DST, Chillum and their little "borthers and sisters" – we even keep the designs as a carry over for most of them. On top of those already known TELOS shapes we added a deep swallow tail with our DNA which is called the Deros.
Are you using any new materials in your hardware for 23/24? If so, what and why? We're interested in anything new in inserts / edges / cores / sidewalls / glue / resin/ wood types / base material / top sheet / etc. here.
In our super light Carbon boards we just started using D3O for dampening and the carbon board with the "smoothest ride". We always aim to generate smooth riding, forgiving fun creating snowboards – they have to be easy to ride and in the same moment powerful and engaging. The D3O adds just as much dampening as we wanted. The new technology is called DFD™ and is featured in our all new Back/Slash Carbon solid board and in the DST Carbon Split as well as in the Lemurian Carbon Split.
Any new design or pattern approaches in your 23/24 gear? Any collabs on the line?
With this new line for 23/24 we're proud to point out that the TELOS story is the first time visible in all boards and the graphics are all related to the TELOS saga. The all new Legend, Legend Massif and Adit designs were created by french graphic designer Nicolas Thomas.
What product range or offerings are you focusing on the most for 23/24 and what aspects of the market are getting the most interest?
We're enjoying every aspect of snowboarding ourselves and even though we still have a concentrated line of boards we're able to deliver every kind of board – from twin to pow surf, from Jib to Big-Mountain, from touring to crashing the park. We want to focus with our retailers and partners on the boards they need for their resorts and their consumers.
Are you placing any focus on entry-level products? If so, why and how does this compare to previous years? What is your assessment of the youth market?
As a young brand we're not yet too deep in the youth market. We do have a lot of models starting at 140cm, 143, 146cm and we're able to sell those unisex and down to 10/11 years depending on the kids size. Our Adit is an affordable board with a very high value for the buck. We'll see what the future brings – there are some more ideas in the pocket.
Pricewise, which area of the market do you cater to?
What developments are you seeing with regards to product pricing?
We're in the higher medium price level with the technology of a premium price point.
This means that we put a lot of technology and quality in our boards and try to keep them affordable for a wider audience. Some of our boards would have to be way more expensive looking at the materials and technologies we use. Thank god we're producing ourselves.
What are your top product marketing stories for next season?
For Europe we're concentrating on our new Legend Massif which is the big foot version of our Legend and we'll launch this in 155 and 159cm and on the Deros Swallowtail – which is an amazing all mountain really do it all swallowtail board.
Best Sellers
The all-new Legend Massif is an extra-wide all-mountain twin re-engineered with plenty
of foot room to let you have a blast while lapping the entire mountain without any heel or toe drag . Mini Dual Camber under foot with mild tip rockers plus the extra board volume makes the Legend Massif great for floating and carving pow at the top of the mountain and once you get to the trees, the RAD BUMPS in the sidecut kick in to help grip and give maximum edge to edge control while you slalom through to find your line.
DEROS, A term coined in 1945 referring to the Detrimental or Deranged Robots of the
Lemurians, inspired this Directional Swallowtail Surfer with setback camber and long
nose rocker and is the ultimate every-day powder chasing board. Float effortlessly
through the deepest white rooms while surfing edge to edge on the multi-radial sidecut
designed to give you the feel of surfing a big mountain wave.
Our Women's Freeride ultimate all-mountain shredder now makes it easier to chase the deep stuff into the backcountry. Directional with mild twin camber and enlarged tip & tail rockers lets you easily ride regular or switch as the terrain or situations may dictate. The setback stance helps you float effortlessly through the deepest powder and yet absorbs bumps and provides stability through any variable, icy or hardpack conditions you may encounter on the mountain.