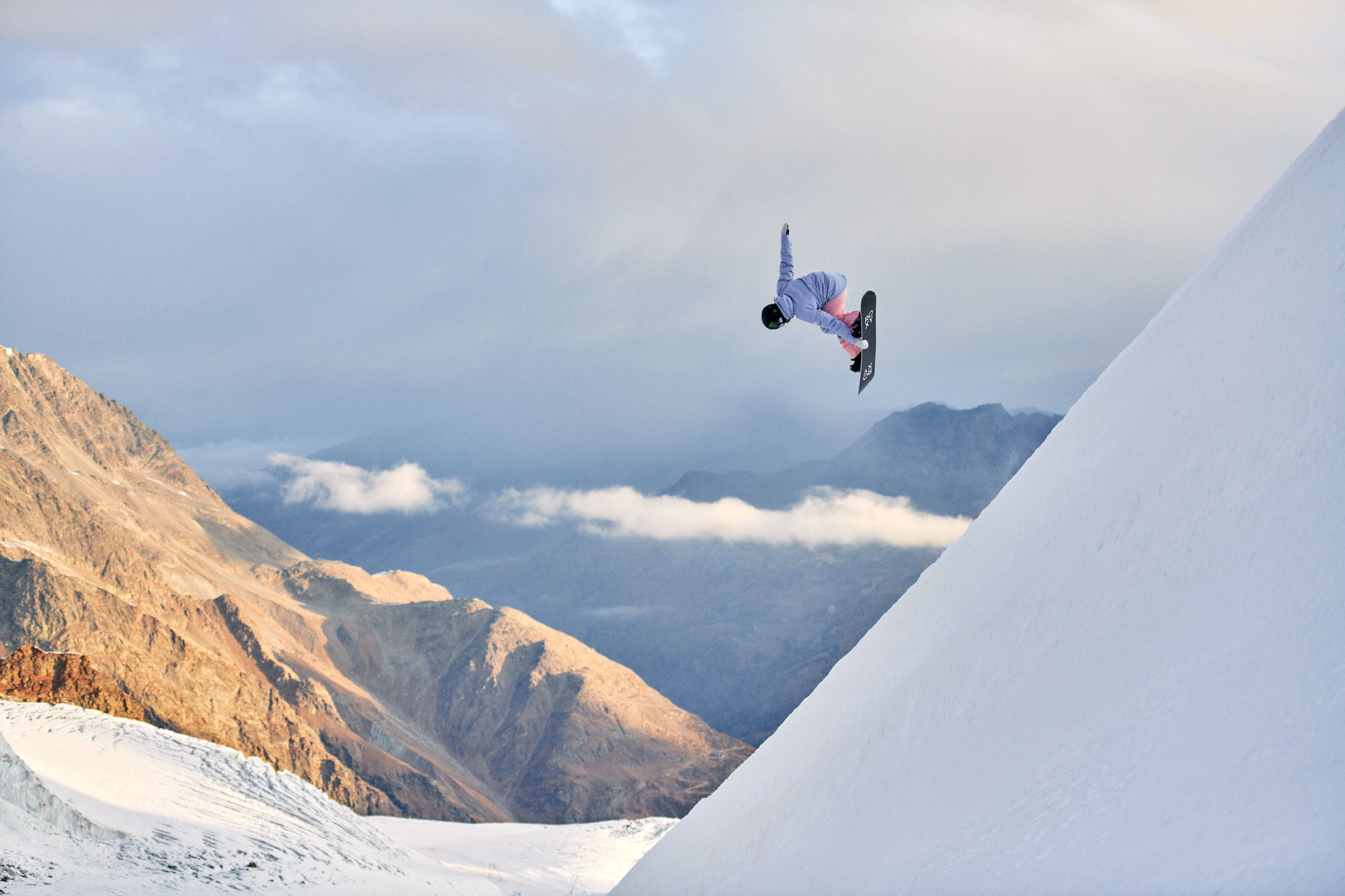 Roxy 2023/24 Snowboards Preview
Retail Buyers Guide: Snowboard's 2023/24 Retail Buyer's Guide
Brand: ROXY
Interviewee: Barrett Christy Cummins, Mervin Mfg Women's Product + Marketing Director
How would you describe the current state of the snowboard market? What big developments, changes, challenges, and/or opportunities are you seeing and how is your brand navigating them?
The current snowboard market still has potential to grow, with people prioritizing more outdoor adventures in their lifestyles. We bring 30 years of women's hardgoods design experience together with Roxy, the first action sports brand exclusively dedicated to women, to produce the Roxy snowboard and bindings line. We are focused on product that supports increased participation and accessibility to snowboarding with hardgoods that meet the needs of everyone from beginners to enthusiasts to the best riders in the world. We have developed a line that includes affordable boards designed with premium proprietary technology and environmentally sustainable materials for riders at all levels.
Everyone has been affected by raw materials and shipping price increases and transport issues. Have you had to make any significant changes with regards to manufacturing, sourcing, or logistics? Are there any examples you can share of how your business pivoted effectively? Any positive developments with regards to these issues and the changes you've made?
Our most premium Roxy model, the XOXO Pro is made in the USA at Mervin Mfg. We use environmentally friendly materials and production techniques at the largest board building facility in the US. We did pivot prior to COVID to produce other Roxy models at a partner factory. This move has been very successful as it's allowed us to bring our proprietary designs to a facility that can build these boards for less cost. We designed these models and worked with the factory to integrate our technology, unique contours, flex patterns and magne-traction edges to ensure that our full Roxy hardgoods collection is Mervin Designed. This has allowed us to offer a Roxy line that is accessible with a wider range of price points and for all ability levels.
After two years of heavy carry over in the industry and more of a return to normalcy last season, what's your overall sales and production/inventory strategy for 23/24?
We continue to develop a full line of Roxy hardgoods that align with the creative direction of the Roxy outerwear collection. Our production/inventory strategy for 23/24 was to produce a collection that merchandises with the Roxy designs. The one model in the line that is a carry-over is the Poppy kid's model. That is and has been on a 2-year schedule with a new graphic every other year.
Do you anticipate any shifts in the ratio of e-commerce sales vs. brick-and-mortar sales now that most Covid-19 restrictions are gone?
Mervin remains committed to our valued specialty retailer partners. Our most successful dealers have a multi-channel strategy, using their websites as a backstop to their physical stores. As the #1 premium supplier in the category, it's important to us that we're represented fairly across all our customers' channels, so unnecessary discounting is discouraged. We have the industry's best MAP policy (where enforceable) and we never go off price on our own websites, where our strategy is to be the most expensive place on the internet you can buy our products. We hold ourselves to the highest standard, to drive sell through and margin dollars at retail. It's a symbiotic relationship where Mervin and our partners see the benefit of creating value for our brands. … Maxx Von Marbod, Mervin Sales Director.
Does your brand have any new developments concerning sustainability and/or how you are positioning any environmental messaging?
Mervin Mfg has always built our boards (snow/ski/surf/wake) in a zero waste, eco-friendly facility in WA State, USA. Our factory sits at the base of the Olympic mountains, is wind and water powered, uses non-toxic materials, fast growing woods, water based inks, and we recycle our wood and plastics while we continue to improve our production processes and source emerging earth friendly materials. We take our carbon footprint seriously. Our production partners are also committed to eco friendly processes and materials with solar power, zero C02 emissions, solvent-free printing and FSC certified woods.
What trends or developments are you seeing with regards to board construction, shapes, and general innovation? How is this shaping your 23/24 range?
Roxy snowboards has incorporated the most progressive design, tech, and construction innovations from Mervin Mfg into the hardgoods collection. We have worked with Roxy and Chloe Kim to develop the XOXO Pro utilizing our most premium technologies and materials to perform at the highest levels. We have positioned that board as the pinnacle model that influences the rest of the boards in the collection. We have focused on weaving features such as Magne-Traction and hybrid contours throughout the line to provide a user-friendly experience for Roxy girls at all levels of the progression spectrum.
Are you using any new materials in your hardware for 23/24? If so, what and why? We're interested in anything new in inserts / edges / cores / sidewalls / glue / resin/ wood types / base material / top sheet / etc. here.
New for 23/24 The XOXO PRO is using Carbon strips to add stability and pop to the board while keeping it light. This model is made in the USA with eco friendly materials, FSC certified woods, water base inks, bio solvents, and low VOC resin systems. The materials and processes throughout the line remain the most advanced and sustainable in the industry.
Any new design or pattern approaches in your 23/24 gear? Any collabs on the line?
Our Roxy snowboard collection features graphics inspired by the 23/24 Roxy winter outerwear collection with a focus on style, femininity, performance and sustainability. The XOXO Pro is influenced by and merchanised with the Chloe Kim signature collection and it blends her playful style with her fearless performance. We also worked with Roxy and Cynthia Rowley on a collaboration for our DAWN model. A bright, fun, easy to ride board that is a perfect pairing with the statement prints and vivid colors of the full Roxy Cynthia Rowley collection that confidently bridges the worlds of fashion and adventure.
What product range or offerings are you focusing on the most for 23/24 and what aspects of the market are getting the most interest?
The XOXO Pro is a focus for us with Chloe Kim riding that board around the world. We love the challenge of building boards for the most progressive riders on the planet. Her dominance in competition and her power and grace in everything she does makes her the perfect ambassador for Roxy and the XOXO Pro. Some of the same technologies that helped Chloe climb the Olympic podium are trickled down to every board in the line. The Raina is a directional twin model, with a hybrid C2 contour and a directional twin shape and Magne-Traction® that offers a progression boost for riders who want to cruise the mountain with confidence. The all mountain boards that inspire more participation in the outdoors are getting a lot of interest with Roxy hardgoods.
Are you placing any focus on entry-level products? If so, why and how does this compare to previous years? What is your assessment of the youth market?
For 23/24 we added an additional Dawn model with the Cynthia Rowley collaboration. We've also added a smaller size in this model with a 135cm for Roxy Girls and smaller riders. This model is a perfect entry-level board with a soft flex, twin geometry and Magne-Traction® for predictable edge control. It's forgiving and playful and a perfect board to learn on. We felt that this is the model best suited to bridge the worlds of fashion and adventure with, so we are excited to offer it in 2 graphics with our Cynthia Rowley collab.
Pricewise, which area of the market do you cater to?
What developments are you seeing with regards to product pricing?
Roxy snowboards sits across a wide range of price points. Because we are committed to using materials, technologies and production facilities that align with our eco-conscious sensibilities we don't play in the very low end of pricing. We do offer high quality boards and bindings in the mid-low price range and are committed to increasing accessibility to snowboarding.
What are your top product marketing stories for next season?
At both ends of the spectrum we'll be highlighting the most premium board in the line, the XOXO Pro and the most entry-level friendly model the Dawn which includes the collabration graphic option with Cynthia Rowley. The product technology is premium accross the line, and the graphics and colors merchandising with the full Roxy winter 23/24 collection is a story we will continue to tell through our channels.
Best Sellers
Olympic gold medalist Chloe Kim takes snowboarding to new heights with a hi-tech collection that blends her playful style with her fearless performance. The XOXO Pro is Chloe Kim's choice for progressive freestyle fun in any terrain. It has a new high-performance construction with our responsive C3 camber dominant contour and carbon power strips for a snappy flex with added pop and stability. Magne-Traction provides precision edge control for power moves wherever you choose to play. Chloe's chosen playground might be in the superpipe, but the XOXO Pro is a Roxy team favorite in any freestyle setting.
The XOXO has been a Roxy premium choice for decades and it continues to evolve as a freestyle favorite. New for 23/24 the C2 contour is the perfect hybrid of camber and rocker for all terrain fun. The snappy flex comes to life with the right amount of power and give for park prowess and all mountain progression. Magne-Traction provides the precision edge-control in all conditions With the perfect balance of comfortable control and confident performance, anything is possible. The XOXO turns the whole mountain into a freestyle playground, with love.
The Roxy Dawn is a Mervin Designed board with a friendly soft flex, twin geometry,
and Magne-Traction for predictable control. The Easy Rise contour is flat between the
feet with a mellow rocker to the nose and tail for catch-free progression at any level.
Perfect for beginners, enthusiasts and anyone who wants to enjoy the magic of the mountains with a board that is as inviting as it is exciting. Two graphic options offered in this model, including a special Cynthia Rowley collaboration!