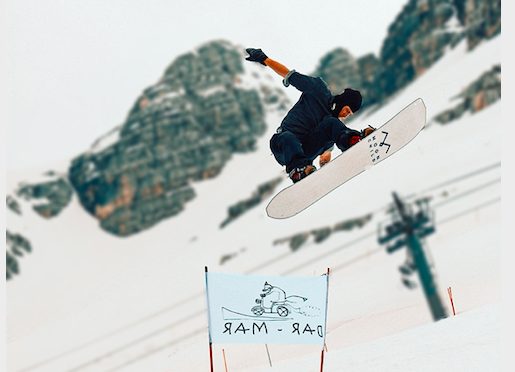 Moonchild Snowboards 2023/24 Preview
Retail Buyers Guide: Snowboard's 2023/24 Retail Buyer's Guide
Brand: Moonchild
Interviewee: Jure Sodja – Co- owner
How would you describe the current state of the snowboard market? What big developments, changes, challenges, and/or opportunities are you seeing and how is your brand navigating them?
Snowboarding is constantly evolving. From the first innovations coming out of the surf industry to the more skate-inspired golden era of the 90s and 2000s, the X-games, the Olympics. Coming full-circle, we're arriving back at the roots of the sport:  all-mountain and backcountry (as well as continued progression in park & pipe). Nothing is wrong or right anymore… almost.
As we went through all of these cycles, snowboarding became more diverse and accepted in so many different forms and functions that every rider can now own their own version of the sport and find joy in their own unique style of snowboarding. That's where Moonchild fits, with a focus on all-mountain, backcountry and specialty snowboards (although we have plenty of athletes ripping Moonchild in the park as well). While creative shapes and builds are what keep us stoked and progressing, we're always keeping an eye on performance outcomes (without building boards that are overly aggressive for the average rider). Holding a nice edge, on-piste, at speed, is still important for our customers and for us as riders.
With the market for park boards being totally saturated and reserved for bigger brands that can afford the best riders and marketing, we see our opportunity as primarily being outside of the park. That gives us an opportunity to push the envelope on the creative side of the sport and, as shapers at heart, engage directly and frequently with our customers. Those who came up in the golden era are increasingly turning to the backcountry and a broader set of lifestyle pursuits. They also tend to have a little more cash in their pocket than the average rider, as well as more patience in waiting for a board that has a little more craft applied to it. Every product has its place, that's just our sweet spot. 
Everyone has been affected by raw materials and shipping price increases and transport issues. Have you had to make any significant changes with regards to manufacturing, sourcing, or logistics? Are there any examples you can share of how your business pivoted effectively? Any positive developments with regards to these issues and the changes you've made?
We are producing our boards in multiple locations.  We have one factory overseas,  one model is produced in the Czech republic, all the customs are produced in Portugal, and experimental boards and some prototypes are built in Slovenia.  However, we have 50% of the market in the US and 50% in Europe. Shipping from Europe to the US is, at least for us, no cheaper than shipping from Asia. As materials and shipping costs went up, we raised prices slightly. We are also steadfast in maintaining our direct-to-customer model, which helps us keep costs low and there are also no distributors or shops to push back on higher production costs or materials. So, we aren't compromising to fit a price point and we think our customers appreciate that.
After two years of heavy carry over in the industry and more of a return to normalcy last season, what's your overall sales and production/inventory strategy for 23/24?
To keep inventories tight by continuing to lean on direct sales, demos, professional guides, online marketing, collabs, higher-end custom builds and most importantly, constant communication with our customers. This is important not only for our efficiency and viability as a company but also to understand our customers' needs and expectations as well as to temper them through soft education about the realities of producing a board that's high on quality and low on kitsch… or simply a new topsheet and base graphic. Being friendly and engaged with customers really helps us not to overshoot on production. We also don't subscribe to drastically changing a model or graphics just for some form of planned obsolescence or to keep consumers wanting by constantly making them (and their gear) feel out-of-date.
Do you anticipate any shifts in the ratio of e-commerce sales vs. brick-and-mortar sales now that most Covid-19 restrictions are gone?
People have gotten used to shopping online through C-19 more than ever before. By this point, it's cliché. Even though the lockdowns are over, a lot of people will keep buying online because it's such a superior research tool and more people are looking for bespoke or small-batch products and brands. We, as brands, just need to present every product in more detail online with added size charts, specs, technical drawings, videos, authentic reviews and yes… phone calls and emails with customers.  The younger generation, digital natives if you will, are especially used to buying online (and unfortunately, never experienced the camaraderie of the local snowboard shop). Brands that are lazy on social media and who rest on their laurels could have problems in the near future.  For sure, core snowboard shops are good for snowboarding culture and community– and there will always be riders who prefer buying in a shop. That said, even if they do trust the guy behind the counter at a core shop, they're still doing research online prior and that first touch point is arguably the most important. This is exactly why we're investing more in digital this year– we're just taking a more human-first approach to e-commerce by making it as frictionless as possible to reach us as owners and shapers through multiple channels.
Does your brand have any new developments concerning sustainability and/or how you are positioning any environmental messaging?
We believe that the best way to deal with this subject is to make quality boards that will last, with proven materials but which also stay relevant on the mountain and on the competition scene for a long time– so that people won't feel pushed to buy new boards every season. As mentioned above, we don't do seasonal graphics. We can have the same graphic for several years or we can even reuse graphics from the past on occasion. This has happened a few times with people who just want a nostalgic wall-hanger or who want a subtle nod to their past integrated into a totally new shape after getting two, three, five (or more) seasons out of their daily driver.
What trends or developments are you seeing with regards to board construction, shapes, and general innovation? How is this shaping your 23/24 range?
Shapes and construction are evolving pretty fast and there's definitely been a continued shift toward surf-inspired shapes and performance. However, there's also a hell of a lot of marketing driving that. For sure, innovation is always a good thing but a lot of times we see the same materials in snowboards being rebranded or given more technical-sounding marketing names. That's not okay. Our innovation comes more through insatiable experimentation and the thoughtful testing that comes with it, not by calling carbon fiber… whatever…
Are you using any new materials in your hardware for 23/24? If so, what and why? We're interested in anything new in inserts / edges / cores / sidewalls / glue / resin/ wood types / base material / top sheet / etc. here.
In keeping with the approach we just mentioned, we have pretty classic materials in our production boards which we know work perfectly for our shapes. On our custom builds, we experiment a lot more with shapes and materials.  We mill woodcore for balsa or PU inlays… We design the wood core for every customer individually, among other trade secrets.
Any new design or pattern approaches in your 23/24 gear? Any collabs on the line?
We are a small brand and are still fully focused on the 22/23 season and our customers more immediate needs. We make decisions and build very quickly, unlike the big brands that we worked at in the past  (Capita, Elan). Sorry for the flex there, but being more nimble than the big guys means we also can't really speak to the designs for 23/24 line quite yet. We will continue doing collabs with some of the legends who were our heroes when we started snowboarding. We've done collab boards with Tarquin Robbins, Jeffery Fulton, Johan Olofsson, Tina Basich, Ali Goulet, PJ Gustaffson and others. Even if we don't offer all of those boards as production boards, we are happy those legends see us as a solid brand with a unique methodology.
What product range or offerings are you focusing on the most for 23/24 and what aspects of the market are getting the most interest?
We'll continue our focus on powder boards & splits, custom builds, womens-specific snowboards and more experimental development and testing of our shapes for the 23/24 season.
Are you placing any focus on entry-level products? If so, why and how does this compare to previous years? What is your assessment of the youth market?
We always try to build boards which are easy to rip for beginners but also fun to ride for more advanced riders– particularly when it comes to our production line at lower price points. We are building some softer twins for more entry-level women & girls, however those boards are still good for more advanced riders who want to jib and ride less consequential park features.
Pricewise, which area of the market do you cater to? What developments are you seeing with regards to product pricing? 
Our pow boards and splits tend to land in the middle of market. Our customs are definitely at a higher price range but still approachable. Our women's snowboards tend to fall in the lower price range but not for lack of thought, craft or material quality, these boards just tend to take less abuse and (not to generalize), also see slightly fewer days on the mountain, especially when conditions are poor.
What are your top product marketing stories for next season?
We are a snowboarder and super-driven brand, through and through. We embrace the fact that we're small and customer-focused, although our boards do get recognition amongst brands that have been in business for a long time– thanks to publications like this who give smaller brands much needed visibility. Our Malibu, for example, was chosen as one of the best pow boards by Whitelines. Really, everyone who tried the Malibu was pleasantly surprised by its riding characteristics. It's our flagship production board. Outside of that, our Skunkworx/Advanced Development Program is also a major part of our story.
Best Sellers/Hero/Key products:
MALIBU
The Malibu is a volume-shifted board with a tapered shape, this board is made for surfing the snow. The larger surface area distributed closer to the center makes the board more maneuverable and at the same time stable when charging the pow, trees, and groomers.
The tapered outline will make you quick going from edge-to-edge. The smooth side-cut transition at the nose area will prevent you from catching an edge, even when riding a flat base.
LIVE WIRE
Live Wire is a directional freeride board targeted to please the advanced level snowboarder. V-carbon stringers at nose and tail to increase the edge-to-edge response, combined with a middle carbon stringer to add snap to the turns and ollies.
This board offers a blend of stability and float in the powder with the power and response needed on groomers.
POPSICLE
Designed to be the most fun women's snowboard on the market, from the deepest pow days to the exciting groomer days. The Popsicle has been an instant favorite with our team riders and customers since its release last season.
A directional all-mountain shape with a camber/early rise rocker profile.