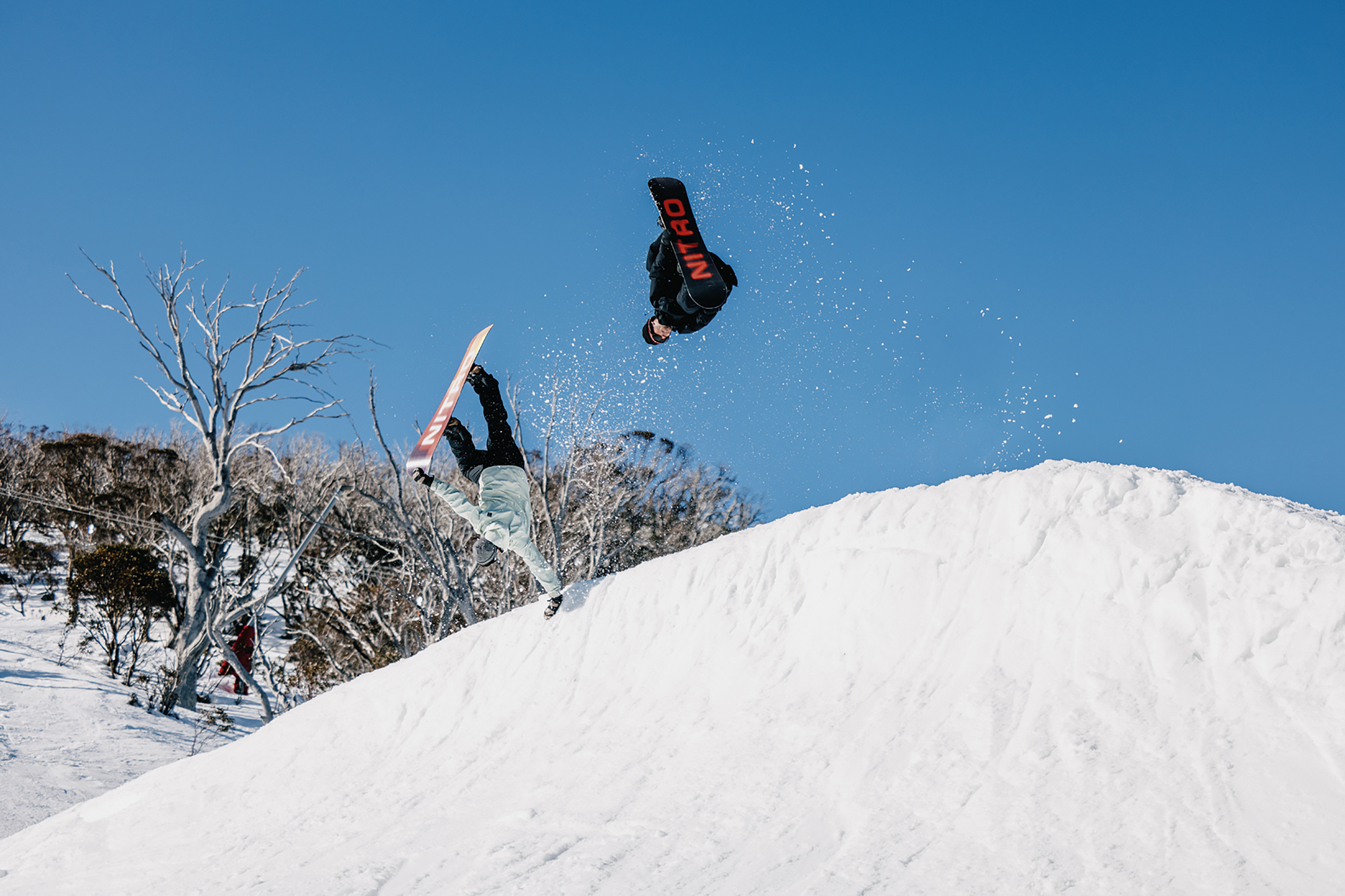 Nitro Snowboards 2023/24 Preview
Retail Buyers Guide: Snowboard's 2023/24 Retail Buyer's Guide
Brand: Nitro
Interviewee: Tommy Delago, President
How would you describe the current state of the snowboard market? What big developments, changes, challenges, and/or opportunities are you seeing and how is your brand navigating them?
The most relevant challenge for the 22/23 season was definitely the overall growth in sales, resulting in production and shipping bottlenecks. We expect this to be temporary though, and numbers will balance out to me easier to manage for 23/24. We have long-term relationships and agreements with our vendors that help working through these issues of course. Our general approach of mutual respect leads to open communication about this kind of problems and their solutions.
Everyone has been affected by raw materials and shipping price increases and transport issues. Have you had to make any significant changes with regards to manufacturing, sourcing, or logistics? Are there any examples you can share of how your business pivoted effectively? Any positive developments with regards to these issues and the changes you've made?
Everyone felt the effects of increased cost on every level. While we also had to increase retail prices, we avoided any mid-season price adjustments or transportation surcharges vis-à-vis our distributors and shops. As a brand, we felt we must take responsibility to protect our sales channels an absorbed most of these additional charges. We did not make any general changes to our supply chain except for an adjustment in timing. The ordering/production/shipping process needs to start earlier to compensate any upcoming obstacles.
After two years of heavy carry over in the industry and more of a return to normalcy last season, what's your overall sales and production/inventory strategy for 23/24?
We took an approach of not carrying over too many products and keeping pour offering fresh and exciting already for 22/23. We will continue to strategically use carryovers on key models/SKUs in order to provide some late ordering possibilities for retailers and especially the rental operations.
Do you anticipate any shifts in the ratio of e-commerce sales vs. brick-and-mortar sales now that most Covid-19 restrictions are gone?
Many consumers have gotten used to the convenience of shopping at home and we don't expect a massive rush back towards brick-and-mortar stores. At the same time, we believe in the importance of physical stores and the general positive vibe and grass-roots work they represent in our industry. We therefore support them wherever we can with in-store events or on-snow demos.
Does your brand have any new developments concerning sustainability and/or how you are positioning any environmental messaging?
First off, we have to realize that snowboarding – like many other activities – is very complex in its environmental impact and that we as a brand need to do our part to reduce this impact as much as possible.
A few years ago, we started out on a quest to examine and optimize the many impact aspects of our various product groups. Our board factory is 100% solar powered, we use a closed and filtered water cycle for grinding, FSC™ certified wood cores, recycled raw materials, water based inks and either no or solvent-free finish coats. 
Whatever CO² impact during a board's lifecycle from cradle to cradle we cannot avoid (yet), we compensate to 100% through our partnership with ClimatePartner.
What trends or developments are you seeing with regards to board construction, shapes, and general innovation? How is this shaping your 23/24 range?
Ultimate Diversity has been our philosophy for many years now and we will not get tired of loving every type of rider out there! We try to avoid the chasing-trend game while striving to be relevant for our pro team as well as consumers from beginner to expert. 
Are you using any new materials in your hardware for 23/24? If so, what and why? We're interested in anything new in inserts / edges / cores / sidewalls / glue / resin/ wood types / base material / top sheet / etc. here.
It's all about refinement right now. We're not after the next buzz-word, but after functional and fun equipment for everyone.
Any new design or pattern approaches in your 23/24 gear? Any collabs on the line?
Like our models and shapes, our graphics offer an array of styles for every taste. Plus, there's collab heaven at Nitro for 23/24:
Nitro x Konvoi Pow Surfer
Alternator x Volcom (new all-mountain board)
Ripper x Volcom (kids)
Prime View x Markus Rohrbacher (entry level)
T1 x Fabian Fuchs FFF (Twin)
Cheap Thriss&Mini Thrills x Wigglestick (Twin)
What product range or offerings are you focusing on the most for 23/24 and what aspects of the market are getting the most interest?
It's all about respect for every rider & every budget. 
Are you placing any focus on entry-level products? If so, why and how does this compare to previous years? What is your assessment of the youth market?
In line with our philosophy of embracing the entire market, we are pushing hard to make our entry level boards the best we can. Offering two graphics options on the Prime, Lectra as well as graphics collabs on the Prime and Cheap Thrills shows that we are definitely putting a spotlight on this market segment.
As parents, we've always had a soft spot for the kids market and are offereing a large selection of models here. We're also making these boards not baby-like but rather give them the full cool-rider-treatment. Models like the Future Team or MiniThrills are adaptations of their adult counterparts, the Ripper x Volcom is in a coolness league of its own, while the Miniganger is the most comprehensive kids splitboard setup out there. 
Pricewise, which area of the market do you cater to What developments are you seeing with regards to product pricing? 
Even though we are trying to offer boards on every price level, the overall price increase is making it more and more difficult for riders on a budget to buy new equipment every year. Our focus on quality products is helping boards to stay in the market longer and at this point, we're stoked to see Nitro products sold second hand – it speaks for our quality and brand value, but also helps allowing more people to get out and ride.
Best Sellers/Hero/Key products:
ALTERNATOR
Introducing the most capable backcountry freestyle snowboard the mountain has ever seen, the new Alternator, designed for those looking to step up their game from the marked trails to the backcountry—the brainchild of all-mountain maniacs Jared Elston, Griffin Siebert, and Tommy Delago.
TEAM PRO Marcus Kleveland
The Team Pro Marcus Kleveland snowboard is a board built to do it all at a level above the rest, similar to Marcus Kleveland's riding style. This new board offers more pop, control, and speed allowing Marcus to take his creative riding from the knuckles at his home mountain to the slopestyle finals at X-Games. A blend of features offers the versatile response and performance needed from ground-breaking fun mini shred to mind-boggling airtime progression.
KARMA
It's time to get that season pass to your local resort because the Karma will give you the best carving experience you have ever had! The Karma's lightweight directional all mountain shape, sintered base, and responsive core will help you power through banked turns in the trees or groomers with ease and big energy, making it the most fun carving board in the Nitro line-up.