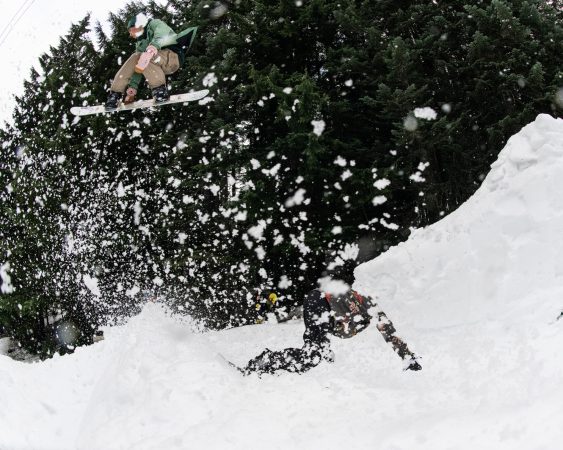 GNU 2023/24 Snowboards Preview
Retail Buyers Guide: Snowboard's 2023/24 Retail Buyer's Guide
Brand: GNU
Interviewee: Barrett Christy Cummins, Women's Product + Marketing Director
How would you describe the current state of the snowboard market? What big developments, changes, challenges, and/or opportunities are you seeing and how is your brand navigating them?
Snowboarding is, and always has been, an escape from life's biggest challenges. With major world events weighing heavily on the human population, most people could benefit from more time in the outdoors, more carefree adventure, and more fun. Snowboarding is that vehicle for action. It's fun, it (most often) gets people outside, and it inspires creativity and positive energy. GNU has a long history in snowboarding, 4 joyous decades of building boards for world champs, Olympians, resort heros, backyard bosses, enthusiasts and casual generalists. Whether it's providing a distraction or inspiring massive action, Gnu has a board that will encourage you to Go Live !
Everyone has been affected by raw materials and shipping price increases and transport issues. Have you had to make any significant changes with regards to manufacturing, sourcing, or logistics? Are there any examples you can share of how your business pivoted effectively? Any positive developments with regards to these issues and the changes you've made?
Gnu snowboards are made in WA at the world's most environmentally friendly board building facility. We are powered by over 90% renewable energy and we carefully manage our materials and process to create zero hazardous waste. Demand is high, so we have had to add production shifts and manage sourced materials effectively. We have absorbed some production and materials cost increases but we have also had to increase pricing on some models in the line. Despite some price adjustments we remain competitive and have control over our production from start to finish so we have avoided major setbacks in regards to sourcing and logistics.
After two years of heavy carry over in the industry and more of a return to normalcy last season, what's your overall sales and production/inventory strategy for 23/24?
We have not had to add carry-over models in the Gnu line for 23/24. The one exception is the Recess, our kids model. It is a new graphic for 23/24 but will carry over to 24/25. That has been our strategy for the kids models prior to Covid and will continue to be going forward as it allows us to keep a stronger inventory position to be sure parents who love their kids have the best boards available to put them on.
Do you anticipate any shifts in the ratio of e-commerce sales vs. brick-and-mortar sales now that most Covid-19 restrictions are gone?
Mervin remains committed to our valued specialty retailer partners. Our most successful dealers have a multi-channel strategy, using their websites as a backstop to their physical stores. As the #1 premium supplier in the category, it's important to us that we're represented fairly across all our customers' channels, so unnecessary discounting is discouraged. We have the industry's best MAP policy (where enforceable) and we never go off price on our own websites, where our strategy is to be the most expensive place on the internet you can buy our products. We hold ourselves to the highest standard, to drive sell through and margin dollars at retail. It's a symbiotic relationship where Mervin and our partners see the benefit of creating value for our brands. … Maxx Von Marbod, Mervin Sales Director.
Does your brand have any new developments concerning sustainability and/or how you are positioning any environmental messaging?
We have always been building boards in a zero waste, eco-friendly facility here in WA State, USA… even before it was trending to have an eco-conscience. The Mervin factory sits at the base of the Olympic Mountains, is wind and water powered, uses non-toxic materials, fast growing woods, water-based inks, we recycle our wood and plastic off-cuts and we continue to source emerging earth friendly materials while improving our production processes. This is our business model for snow, ski, and surf. We are the largest US based board manufacturer (snow and surf) and we take our carbon footprint seriously. Not just because it's trending but because our friends work here, our children are growing up in this community, and we want to protect our environment so we can continue to work/play/grow in this place without destroying it.
What trends or developments are you seeing with regards to board construction, shapes, and general innovation? How is this shaping your 23/24 range?
Gnu has a wide range of models carefully curated for creative, progressive, fun snowboarding at all levels. We have consistently innovated with contours, shapes, and materials. We developed Magne-Traction® for superior edge grip over a decade ago and that has inspired many variations from competitors over the years. Originating with Temple and Cannon Cummins we have added a progressive Mag tech for refined edge precision. Radial sidecut toward the nose for natural turn initiation and teeth in the tail, where you need it the most for grip and control to keep from sketching out. The Banked Country and Banked Country split feature this tech as well as the Barrett and Barrett split. We have also been innovators in asymmetric board designs and some of our top selling freestyle models continue to feature Asym tech for intuitive response and control.
Are you using any new materials in your hardware for 23/24? If so, what and why? We're interested in anything new in inserts / edges / cores / sidewalls / glue / resin/ wood types / base material / top sheet / etc. here.
For 23/24 we are continuing our mission to build our boards with the most advanced eco-friendly materials and processes. We have revamped our core constructions performance levels for all of GNU. Our G Lite 1 construction uses FSC certified Aspen/Paulownia cores and co-ex bases. G Lite 2 uses FSC certified Aspen/Paulownia cores and sublimated sintered bases. Our G Lite 3 uses FSC certified Aspen/Paulownia cores with carbon power beams and sintered knife-cut bases. Jamie Anderson's Pro Choice and Free Spirit also feature clear bio beans topsheets that show through to the sustainably harvested wood cores. We have elevated our material stories with sintered bases on more models than previous seasons across the men's and women's lines.
Any new design or pattern approaches in your 23/24 gear? Any collabs on the line?
Artist collabs have always been a part of our design plans. Some notables for 23/24 are rider
What product range or offerings are you focusing on the most for 23/24 and what aspects of the market are getting the most interest?
The bulk of our Gnu line is focused on the Freestyle/All Mountain categories. In addition to freestyle twin boards, we have a variety of boards that are directional and designed to charge big mountains but they are ridden by our team with a freestyle approach to all terrain. The categories are broad but we continue to focus on board designs that meet the needs of the consumers as well as our team, and most people want to ride the mountain like a playground. With our technologies and innovations we don't want to put anyone into a 'box' to limit their terrain or riding style options. With our contours, Magne-Traction, taper angles, sidecut and flex patterns we have developed a collection that riders can progress on in all mountain terrain and at all levels, whether they are riding twins or directional boards, forward or backward, fast and loose or slow and steady.
Are you placing any focus on entry-level products? If so, why and how does this compare to previous years? What is your assessment of the youth market?
For 23/34 but we have a complete line with entry level product in the all mountain categories. The models best suited for entry level are the hybrid contours with Original Banana and C2. The GWO is an all mountain freestyle board with a twin shape and our original banana contour. This type of hybrid is the best to learn on because it's catch free and has a friendly medium soft flex pattern. We also have the Money and Young money models with a friendly flex and a C2e hybrid contour for easy riding all terrain freestyle progression. The Young Money is offered in youth sizes from 130-135-140. Our Recess board is a unisex youth model with a hybrid contour and asymmetric sidecut, making it easier for responsive and catch free turning in the 100-125 size range. The women's Gnu line has a progression in the twin and directional all mountain categories from Banana to C2 and C3 contours. The boards best suited for beginners would be the B-Nice, a soft flexing twin Banana hybrid contour and the Frosting, a directional C2 hybrid with a friendly flex for float and flow. All of these models also have Magne-Traction which helps beginners and pros alike with effortless edge hold.
Pricewise, which area of the market do you cater to?
What developments are you seeing with regards to product pricing?
We are catering to a more premium market with our USA made boards built with eco-friendly processes and materials. We have exceptional quality, unique proprietary tech, and performance product…made by us (snowboarders, surfers, skaters, and skiers) in our own zero hazardous waste factory. Since Day One.
What are your top product marketing stories for next season?
The Gremlin is a one board quiver for advanced snowboarders looking to get more attention from the chair and in the bar. The floaty nose sniffs out powder, and the the camber body pops over skiers and ropelines. The strong sintered base scratches rocks and crushes people who didn't know you were racing them to the bottom. The only snowboard on the planet that tells the truth…lies are hard to remember when fire burns.
New 3-D Delight wood Asym Chip construction on proven Asym geometries distribute energy to your edges and elevate pop, power and performance. The Gnu squad had a heavy hand in this one combining asymmetry, slightly wider widths that rail and float with C2 Hybrid contours that pop, slide, carve and lift. All laminated into an eco-minded construction with poppy carbon that is built to blast and last. It's quite possibly the best snowboard we have ever made!
The Velvet is the choice of riders who approach the whole mountain like their park. Its snappy flex and hybrid C2 contour work in synergy for pop and stability. It features intuitive asym geometry and Magne-Traction so it is catch-free and responsive. The Velvet is comfortable in any conditions and as balanced in the park as it is in banked slaloms or street sessions. The eco sublimated plant-based graphics by Hannah Eddy give this ride a down to earth vibe.