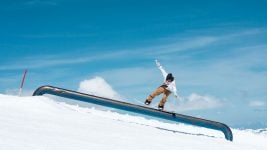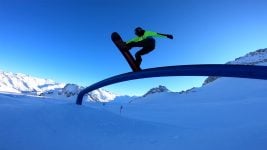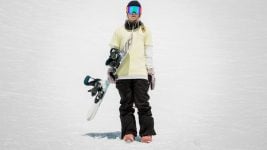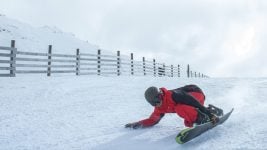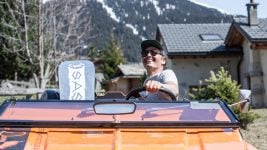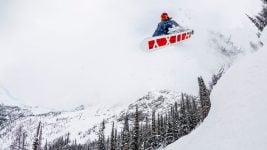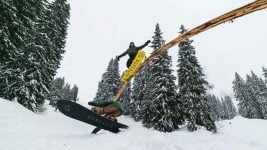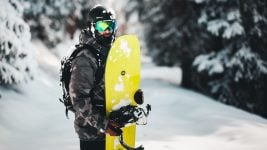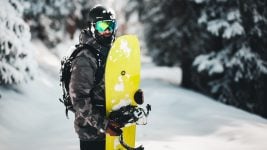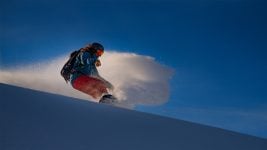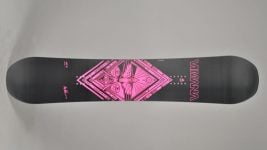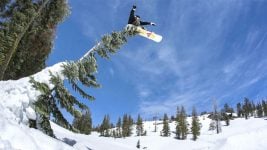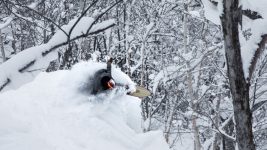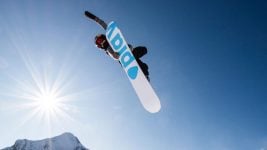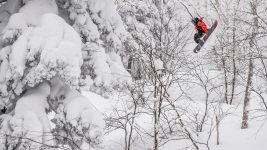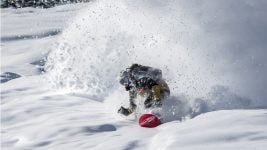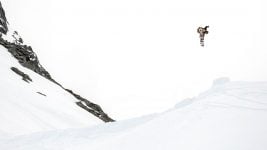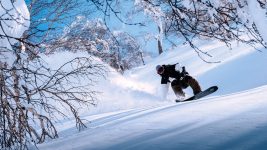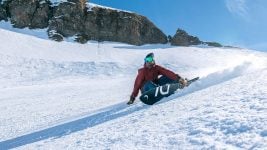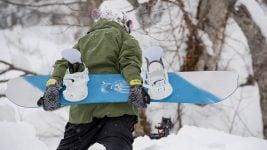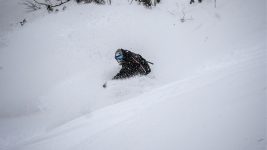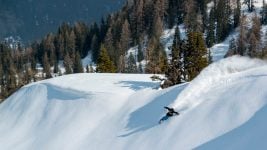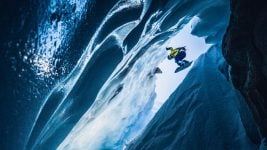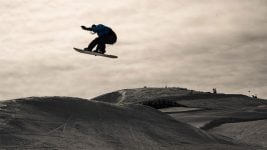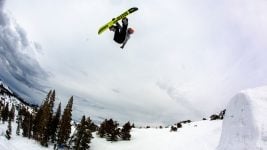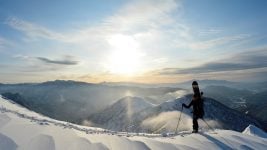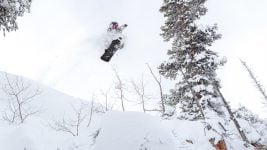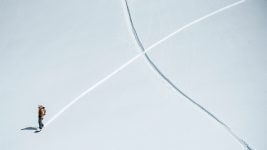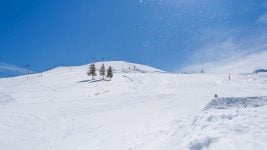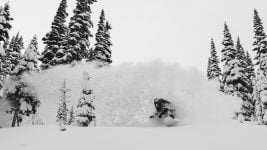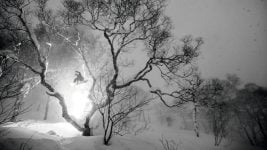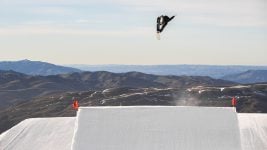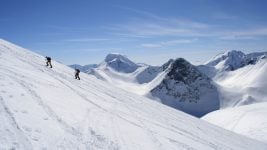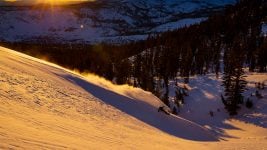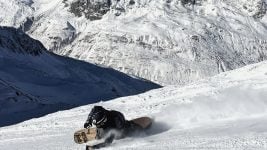 For obvious reasons, it's a lot easier to shift snowboards than boots or bindings. Be careful, though; customers might be lured in by the siren call of a pretty topsheet or eye-catching shape, only to have their dreams of epic shred days dashed on the rocks of disappointment. What can retailers do to steer them towards safe harbour? Andrew Duthie looks at what's coming, and separates the myths from the facts.
XX-citing times
Paying lip service to the women's market is something many brands have been guilty of in recent years, but 2020/21 is looking like a strong year for female-specific snowboards. For example, Salomon are focusing a lot of their marketing on team riders like Annie Boulanger and Desiree Melancon. Annie's getting her own model in the Hillside Project series of pow boards, while Desiree lends her expertise and distinctive artwork to the new Gypsy Pro.
After another year of Freeride World Tour dominance, Marion Haerty gets a fresh deck from Rossignol that's fine-tuned for backcountry freestyle. She's not the only pow-focused pro getting the treatment, though; over at Arbor, Marie-France Roy has helped bring the Veda – a new, tapered, high-end freeride design – to life. If the pipe's more your speed, there's Play Snowboards' upcoming pro model for Spanish veteran Queralt Castallet.
At the request of their team riders, Roxy have ditched the hybrid profile on the long-serving XOXO and replaced it with parent company Mervin's more aggressive C3 camber. Barrett Christy reckons that the new, improved XOXO "strikes the perfect balance between a casual park lapper and a pro performance influencer." You'll also find C3 camber on the Ryme, the latest addition to Lib Tech's relatively new women's range, and one that's similarly freestyle-focused.
Women's versions of some modern classics are also popping up, such as Rome's all-terrain vehicle, the Ravine. Nitro are also releasing a sister board for their high-end true twin, the Beast. It's called (you guessed it) the Beauty, and shares the same top tech. It's also worth noting that the Bataleon Storm, a modern classic of women's snowboarding, has inspired a new addition to the brand's men's range, the Thunder. "We believe this is the first time a snowboard brand has designed and built a men's board based on a women's board, as opposed to the other way around," says Marketing Manager Ryan Scardigli.
Park Life
There are a few twin-shaped weapons in the above list – and looking at the bigger picture, lots of brands are stepping up their freestyle offerings this year. After so many years of backcountry and carving dominance, we're seeing a swing back towards the booters-and-butters market.
A few old favourites have been tweaked, such as the Nidecker Sensor (now available in a higher-spec 'Plus' flavour) and the Rossignol Juggernaut (an evolution of the Jigsaw). Despite some big changes at Rome (more of which later), the Artifact remains, with new 'Double Kick' nose and tail for extra pressability.
There are quite a few newbies, too. "We have sat down with a group of our team riders who ride a lot of half pipe and discussed their specific needs for shape, flex and construction," explains Nitro boss Tommy Delgado. The resultant deck, dubbed the T3, will definitely be one to wave under the nose of stunt-ditch fans. At the other end of the scale is the Lowrider from Canary Cartel, an Innsbruck-based outfit that will be dropping their first line of boards next year. It's been especially designed for butters and other flatland tricks – an area of snowboarding that's surely due a renaissance.
Surprisingly, French brand Borealis are also getting in on the act. "Since its birth in 2013, Borealis has traditionally focused on the freeride and backcountry side of snowboarding, explains founder Ben Hall. "With the new Taiga, we show that true freestyle also runs in our veins." West, too, are better known for freeride boards like the Six Carro – but now there's the Nation, a new true twin. And if that's not all, even Capita's famously off-the-wall Spring Break collab range will revisit the twin shape (although with the name 'Powder Twin', don't expect this one to only show its face in the park).
Don't Forget Freeride
Of course, the need for directional boards isn't going away any time soon, and there's still much to draw in fans of powder or honest-to-goodness carving. The guys from Lib Tech raise a good point; given how often the average rider spends in their switch stance (that is to say, not very often), maybe we're looking at this all wrong, and it is in fact the popsicle-stick twin that is the true 'specialty shape'?
Burton remain tight-lipped about what exactly their 2020/21 line will look like, but they did make one thing clear; "it's all about freeride". The Family Tree line is going fully unisex, with each board built for terrain rather than gender, and they're also taking cues from the surf world by applying hydrodynamic shaping to the range. The result, according to the B, is "a collection that is unlike anything before."
What's absolutely nailed on is the fact that unorthodox shapes will still be easy to find across the industry. "One of the reasons why snowboard sales went down in the early 2000s was because all the brands were only focusing on freestyle and street riding," remembers Nidecker's Thierry Kunz, and with collections like their Snowsurf Series, we aren't likely to see such a detrimentally narrow focus again any time soon (see also: the equally head-turning Amplid Future Shapes series, Dupraz's evergreen line of pointy carvers, the 'Pig' family of stubby fun machines over at Ride, or 2-metre-plus models like the Rad Air Tanker and Good Longboard. If you haven't yet given one of these a blast down a freshly-groomed piste, make this the year that that changes! While they work across backcountry, freestyle and race, Nobile are focusing on the former for 2021, with three distinct tail designs available on some of their models.
There really is a size and shape for anyone these days, but overall we're seeing less of a 'suck it and see' approach to shaping. Seemingly wild designs that have worked in the past are getting carried over; Bataleon, for example are expanding the size range of their Surfer, laying to rest any idea that this chip-fork-shaped weapon was a flash in the pan. Elevated Surfcraft, too, continue to bring an ocean mentality to the mountains, with board lengths in feet and inches, and shapes for every possible 'wave' you might encounter.
For the most part, however,  new releases are fairly conservative by modern standards. Take Borealis, who have made a premium version of their popular Koi board. The Dark Koi uses better tech that will suit the more aggressive, demanding rider, but shape-wise it's a case of 'ain't broke, don't fix'.
Under The Hood
Indeed, most innovation for 2020/21 is about what you can't see, rather than what you can. K2's tech guys have clearly had a busy time of late; as well as sporting improved versions of the brand's bamboo core and fibreglass, the new Alchemist freeride board is the first to feature the same Carbon Spectral Braid that recently made its debut in K2 Mindbender skis. The angle of the fibres can be varied along the length of the board, so the nose and tail are more torsionally stiff than the waist.
Verdad have revamped their wood cores and carbon inlays for next year – and to celebrate hitting the 10-year milestone, they're also making every model in the range available either as a camber or a hybrid. Over at Bateleon ,Triple Base Tech still reigns supreme, and now features polyurethane placed along the "crease points" of the base to further reduce chatter.
German brand Templeton are also adding PU – in their case, under the inserts of their rocker boards to add strength. On those same boards, the nose and tail have been kitted out with a honeycomb structure to reduce weight, while their camber boards will feature additional carbon stringers to better fit that profile.
Jones are embracing 3D base tech more than ever in 2020/21, with the new versions of the Mountain Twin (for both men and women) featuring the brand's new '3D Contour Base 2.0'. Korua are also venturing into the third dimension with their upcoming Pocket Rocket, designed for mellower cruising at lower speeds (and with a narrower stance).
At their own factory in Colorado, Never Summer have been fine-tuning their signature hybrid camber profiles. It'll still be 'camber at the feet, rocker in between', but the camber sections have been lengthened. This now delivers what they're saying is "more camber per square cm than any other snowboard", and presumably delivers all the benefits in pop and power that that entails. Look out for it on the new Proto Synthesis, an updated version of their classic all-rounder, and the park-friendly Proto-Slinger. Their factory mates Academy are firm believers in the classic bend too, which given the pedigree of the folk involved (Co-Founder Chad Otterstrom, team rider Chris Roach, who lends his design eye to the Master model) is perhaps to be expected.
Endeavor have added pre-tensioned carbon rods to their cores, a step up from the standard strips they've used in the past. Rome were already down that path, and will be debuting their poppier 'Omega Hotrods' in 20/21. That's just one part of a major tech overhaul that's affecting the whole range of boards. "We feel this is our cleanest and most understandable board line in years", says Marketing Manager Matt Stillman.
Head continue to reduce weight wherever they can. "Lighter products help everybody from beginner to pro to perform better and have more fun on snow – for longer," says Max Thurner, International Marketing Manager. "This is why we use a mix of ingredients which bring down the board weight by up to 25%, resulting in a super light product line." Already present in a few of their models, the 'LYT' construction will be applied to the Day in 2020/21, making what was already a great value pow board even better.
Be sure to also keep an eye out for two revamped Slash boards, the ATV and the Straight. While the rest of the line will continue to be produced in the Meditec factory in Tunisia, Gigi Rüf has moved those two to the NBL facility in Poland. Says he: "it's part of a longed-for wish to update these two models".
Get What You Pay For
With so many brands pushing higher-end models, and seemingly ploughing plenty of cash into R&D, it's to be expected that the price points seeing the most action are creeping north. It's simple, says YES' David Pitschi: "People are willing to pay more for a better product". As of next year they'll be overbuilding their boards and then breaking them in with a process they're calling "Future Flex" which will add longevity to each deck. The more you can relay this information to customers, the more likely they'll see higher-priced gear as the sound investment that it so often is.
Despite focusing almost exclusively on that slice of the market for their entire existence, next year Amplid will be unveiling their first entry-level board, the Ticket. Sensibly enough, they've taken a tried-and-tested all-mountain model – in this case, the Paradigma – and stripped back the tech to bring the price down. For female riders, there's the new K2 Dreamsicle; with its extruded base, biax glass and directional rocker profile, it'll serve as a reliable progression weapon that leaves more in the wallet for lessons and liftpasses.
Green Shoots of Progress
Rule number 1: expect to be asked about a snowboard's eco-credentials, and do your homework. Today's consumer is more conscious of their indirect carbon footprint than ever. Rule number 2: manage expectations. As with all things, manufacturing processes and supply chains for snowboards still have a lot of room for improvement. There have been some positive developments worth highlighting, though, as long as you don't get carried away. Steven Daemen from Niche snowboards says it best: "We're certainly not perfect, and there is always an unavoidable footprint when making any product, but we firmly believe that even small steps lead to big differences, and we continually seek out more eco-friendly construction materials."
Let's start with factories; as of spring 2020, brands like Amplid who use Taiwan's Playmaker facility will get bonus green points from the new solar panel array. Meanwhile Capita's Mothership – also home to DC – remains the gold standard of sustainable manufacturing, with 98% of materials sourced either from within Austria, or one of its neighbouring countries.
"Sustainability is our red line," says BuddyBuddy's Rainer Soelch, and the brand continues to crank out high-performance decks at their own facility in Germany. Their unique manufacturing process means no need for carbon and such like, so only recyclable materials get used. Both Easy Snowboards and Fjell are also using greener resins and topsheets next year, and Sandy Shapes are making a real push towards creating as sustainable a product as possible. The goal, explains Maria Luisa, is "becoming a circular economy company". Given their artisinal, hand-shaped production and heavy focus on using natural materials (locally-sourced paulownia in the cores and bamboo in the sidewalls, for example) they're off to a good start. Finally, Rossignol deserve a fist-bump or two for recycling their factory seconds into NoK skateboards.
Topsheet tales
Brands like Bataleon, Nidecker, Jones, Gnu and YES have evolved their graphics over time without losing what makes them instantly recognisable. That approach is a no-brainer, argues Salomon's Baptiste Chaussignand: "If you like Peaky Blinders, you'll expect season 5 to build on season 4, telling you a new story but with a consistent art direction and personality. For example, our Assassin graphic direction is consistent year after year, building a narrative around deadly nature, animals and men, with a modern gothic aesthetic and a bright modern colour. The Assassin riders like it and recognise it, the retailers as well, everybody is happy…"
Vimana has a loyal following, so it's no surprise to see them retain the services of artist Peter-John de Velliers, aka The Shallowtree. "He always adds Easter eggs in the artwork," says boss Trond-Eirik Husvæg. "We discover new things in our graphics years after they were launched". If you're intrigued by that, be sure to check out his subtle scribblings for 2020/21 (and revisit some old ones too). If you want to keep things really simple and clean, however, then Fjell and Korua remain the go-to brands.
A couple of standout designs coming up include Drake's wise decision to collaborate with the Rusty Toothbrush crew on the Battle, and DC's new EMB ('Every Man's Board') which features a gallery of stills from skate photographer Tobin Yelland. They've dug through his archive of the famous Embarcadero plaza (also known as EMB – see what they did there?) in San Francisco – and the new Pure Liquid Technology topsheet promises to deliver a superior image quality.
There are also a couple of nice tribute models worth seeking out. Telos will be releasing veteran rider Mike Ranquet's 'Mystory Air', to mark thirty years since his buddy Craig Kelly put out the iconic Mystery Air after joining Burton. Last but certainly not least is the newest iteration of the Ride Burnout, which celebrates the memory of the late Dillon Ojo.
Free your feet
There's a lot to digest there, so we'll finish with a quick look at the bindingless market, where things tend to be a bit more constant. Not that there aren't some interesting developments happening, of course, and it's still where you'll find the boldest takes on base design.
Jones' Mountain Surfer now has a 152cm version joining the long-serving 142cm. Given how fat it is, that range has pretty much all shapes and sizes of rider covered. Konvoi has their asymmetrical Escal, and Grassroots are leading the charge on split versions. Over in the Ziller Valley, Wolle Nyvelt continues to tinker with his Asmo range, adding new topsheets and fibreglass.
In short, there's plenty of options capable of grabbing customers' attention in 2020/21. For a more in-depth look on this year's models, visit our website.
Conclusion
The sheer breadth and depth of what's on offer means that there's something for everyone – especially for your female customers. Brands are banking on the educated guess that customers aren't afraid of coughing up a bit more for the right product, and just about every manufacturer is moving in the right direction when it comes to sustainability (albeit some more quickly than others).
But if the market truly moves in cycles, then from what we've seen, the immediate priority is clear; the future is freestyle. Will this also mean a return of tall beanies, basketball jerseys, MC Hammer-esque pants, and stances wider than the Bering Strait? We wait with baited breath.