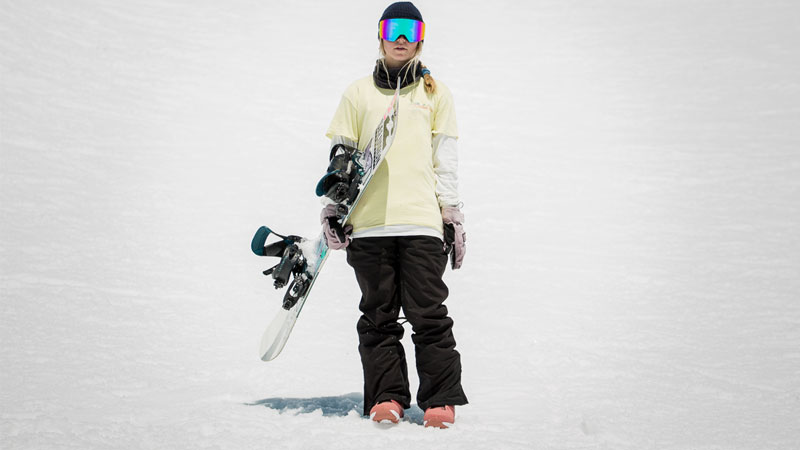 Salomon FW20/21 Snowboard Preview
Retail Buyers Guide: Snowboards FW20/21
Brand: Salomon Snowboards
Interviewee:  Baptiste Chaussignand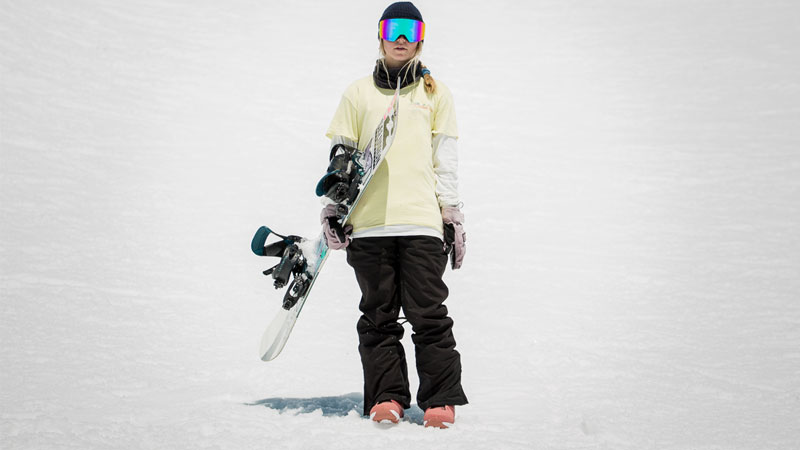 KEY PRODUCT FOCUS: Please pick the three most exciting boards from your new FW2021 line and tell us about them.
We always addressed women with specific shapes and designs on their range, but for FW20-21 we wanted to focus even more on them. We are dedicating a whole campaign to women riders, and this goes with the reinforcement of our range with new models and a new unisex board.
Gypsy Pro by Desiree – This freestyle board was fully designed by Desiree Melancon, one of our ambassadors who is particularly active in the Salomon WMN campaign. The design is very committed just like her and we also upgraded the tech on the board which makes it the pro version of the Gypsy. This is a great jib board but stable enough to handle the jump line which makes it a very playful ride!
HPS-Annie Boulanger – For the 4th installment of the Hillside Project, Wolle teamed up with a true pioneer of backcountry snowboarding, Annie Boulanger. Her passion for big lines and big waves was a driving force in collaborating on shape that would become an instant classic; taking cues from some of her favorite shape (live the legendary Derby) over the years and incorporating design elements inspired by her love of surfing.
The HPS – Annie Boulanger is a board made for tight turns in powder and imposing control in the backcountry. The moon tail sheds light on the influence it's had on Annie's life – steering the rhythm of tides, seasons, and weather.
Dancehaul – Worthy heir of the legendary Derby and of the playful First Call. This totally new tapered directional shape is the perfect board for riders looking for a board with a lot of personality. Carve, float, jib – the Dancehaul provides true fun, is amazingly agile and is designed to go fast and lock serious carves in all snow conditions. Extra width and Rock Out Camber with Popster core play as reminder that freestyle can happen anywhere, in pow, groomers and high in the air. The plus is that the Dancehaul has been designed for Men and Women. So the size run fits all riders. No cops, Haul Ass with the Dancehaul !
Construction. This is the place where you can talk to us about the new ingredients in your boards, and how you are building differently. We're interested in anything new in inserts / edges / cores / sidewalls / glue / resin/ wood types / base material etc here.
We at Salomon (not only Salomon Snowboards) have built a sustainability program. The project was launched in 2017 and is named the 'Play Minded Program'. It addresses the company's immediate and long-term objectives and intentions in several areas relating to operating a more sustainable business. There are 4 pillars with objectives for 2025. One of them is "Mind the toys" – meaning the products.
In developing a snowboard product, we strive to adopt more sustainable methods of production and continue to find alternative materials where sustainability is a catalyst for innovation. Some examples of what we're already doing include substituting petroleum-based materials like ABS sidewalls for cork and replacing fiberglass and resin with bamboo; resulting in a sustainable and superior alternative. We've also introduced these same bio-sourced materials into the construction of our cores. Last year, in partnership with key dealers, we reduced the number of plastic board bags by 40,000. We expect that number to grow as we move towards a goal of NO single use plastic in the future.
For sure this is just a beginning. We are not perfect, but the Play Minded Program is a clear glidepath that will help us delivering a more sustainable business. We, at Salomon, always put a lot of effort on innovation and this is the opportunity to drive real innovations for our future.
Fall Winter 2020/21 at Salomon Snowboard also means a complete renewal of our rental offer.
Here the innovation is concentrated on improving the durability of our product. New ways to layer the fiberglass / topsheet / sidewalls. We also improve the quality of the base and edges. Sidewalls are being rounded to eliminate the topsheet chipping. Small improvments that are very important for dealer and consumer perceived value.
The Unite program (our rental offer) in 20/21 is also addressing the premium rental distribution in a better way. Making sure our consumer can ride a rental ready board with a look close to inline models. Our goal is to provide the best snowboarding experience to shops and riders.
Where are you building, what factory in what country? No wrong answer here. What makes this production facility the best solution?
For our 3 product lines, our number one focus is the quality delivered to final consumer. When we say quality, it means the performance, the durability, and the look. So, we are closely working with our production partners to improve and deliver better products each year.
Also, the Salomon's Play Minded Program includes a "Mind the Playmakers" pillar – meaning the people who create the toys we use to play on snow. Thanks to Ethical Policy we've set standards and requirements for sourcing partners in respect to internationally recognized human rights. Social Compliance Policy defines how we implement a supplier monitoring program on documentation, labor laws, compensation, discrimination, and many other recognized social principles to ensure the safety and well-being of playmakers.
Which pricepoint is seeing the most action at retail? Premium, bottom or in the middle? What do the people want?
It depends on the region we are talking about. We are strongly represented on the three main markets EMEA, Japan, and North America and there are completely different region in terms of purchase habits and consumer needs.
But, if we compare freestyle, all mountain and freeride, there are 3 key price points. Freestyle is around 450€, all mountain around 500€ and freeride around 650€.
We see a true potential for high end products with a higher price. As we observe a generational shift, the consumer riding for more than 15-20 years is now looking for exclusive product with unique tech and stories.
As the 400€ price point is the most attractive, we at Salomon, want to deliver the best for our consumer.
That's why we offer a sintered base, hybrid camber, hybrid sidecut at this price point.
Consumers are more open than ever to unusual shapes. Got any mad shapes next year? How long will this shape direction last… is it a good thing for snowboarding?
Yes consumers still want this; And we like unleashing our creativity to shape boards like the Dancehaul. It is part of our mission to help the sport evolve.
We also think that creating timeless shapes more than crazy unusual shapes is what consumers look for. In fact, our consumers are not buying this kind of board every year. So they want to keep their board for years and don't want to get tired of it.
The Hillside project is a good balance in our board line. Beside fun shapes, with the Hillside project designs timeless unique shapes. And this is the vision we share with Wolle Nyvelt. Boards you want to keep and ride for many years.
We're really interested in graphic themes running through your line. What is your art department feeding you for next year?
Our approach is pretty unique and has been shaped by the years. Although we have an overarching design and color strategy that allows us consistency and cross merchandising, our graphic strategy is articulated through models and franchise. We strongly believe that consumers are looking for specific products more than for specific brands, so we design accordingly, with consumers' expectations and culture in mind, while always expressing our brand identity. Think about it like the seasons of a show. If you like peaky blinders, you'll expect season 5 to build on season 4, telling you a new story but with a consistent art direction and personality. For example, our Assassin graphic direction is consistent year after year, building a narrative around deadly nature, animals and men, with a modern gothic aesthetic and a bright modern color. The Assassin riders like it and recognize it, the retailers as well, everybody is happy… the same logic works for our key franchise like the Huck knife, the Craft, the Villain, the Wonder… One thing that's slightly different this year is our Hillside graphic identity even if all models are graphically built the same way, glorifying Wolle's work on the shape, and the bamboo construction with a very simple layout. Each model has a specific graphic signature, with a color, pattern and illustration done by an artist for a rider. This allow consistency while integrating new models (Annie's board this year) with a true specific identity.
What are your top marketing stories for next season? This will help us to put the focus on the right decks.
This winter we're highlighting some of our most esteemed women riders. Snowboarders that range from highly accomplished veterans to urban legends and rookies on the rise. They challenge the status quo of style and progression and stand out in the homogeneity of our sport.
We are dedicating a whole campaign to women riders, and this goes with the reinforcement of all our ranges with new models and new designs. But this goes beyond having only new products, we really want to create a lot of content and social activation with women. They may appear similar in the bond they share, the same cohesion that binds us all; our love for snowboarding. However, each of them have chosen distinctive lines in their approach on the mountain, and in life. In fact, they couldn't be more different. We encourage you to remember this the next time you ride—to choose any line and do it your way.
Hillside is also a main story next year. For the fourth installment of the Hillside project Wolle teamed up with a true pioneer of backcountry snowboarding, Annie Boulanger. Her passion for big lines and big waves was a driving force in collaborating on a shape that would become an instant classic.
Finally, as every year, our team of riders will mainly ride our Freestyle Flagship boards, The Villain, Assassin, Huck Knife and the Gypsy which means we will keep pushing those four iconic boards and it will concentrate a lot of our marketing efforts. But as this year is all about women and their stories, we will obviously focus even more on the Gyspy!