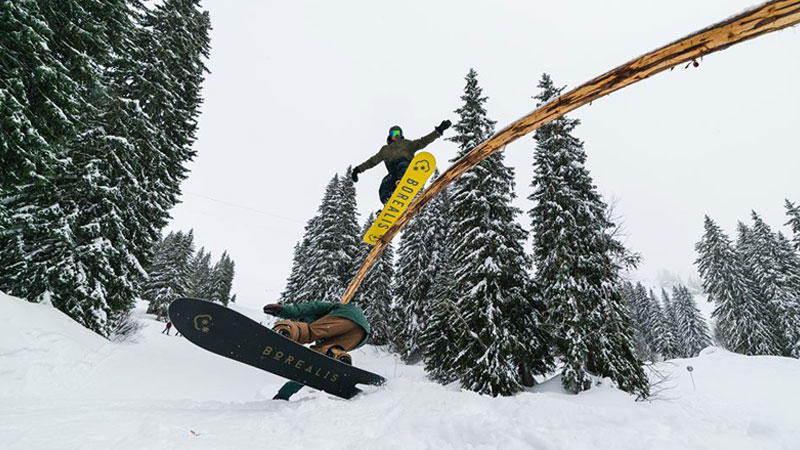 Borealis FW20/21 Snowboard Preview
Retail Buyers Guide: Snowboards FW20/21
Brand: Borealis Snowboards
Interviewee: Ben Hall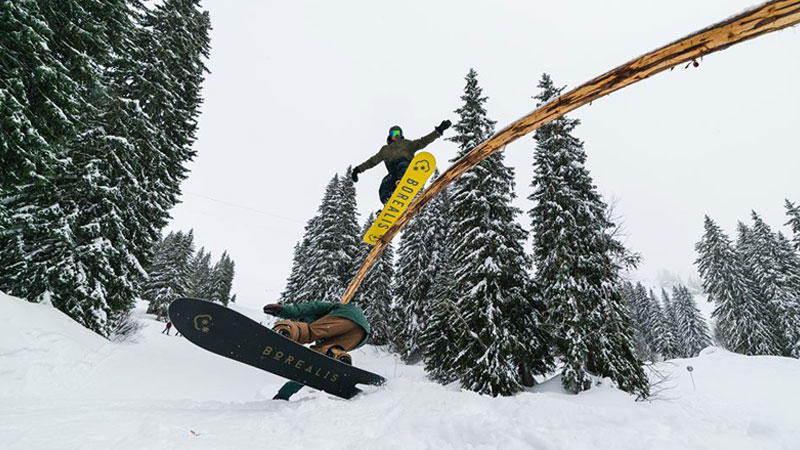 KEY PRODUCT FOCUS: Please pick the three most exciting boards from your new FW2021 line and tell us about them.
Dark Koi
Our award-winning Koi model has been around for 6 years now, and those who own it, riders, magazine editors and shop managers can testify to its fantastic adaptability to both powder and carving. Quoting Rob McReath from The Whitelines 2020 Test Reviews, "It's a rare thing when a snowboard comes along that doesn't just handle but excels in two contrasting environments. For riders looking to divide their time on the edge and in the deep, you might just find perfect harmony with the Koi".
For 2020-2021, a new evolutionary cycle has come to term, giving birth to the Dark Koi, a premium, ever-more accomplished cousin of the Koi. Faster, stiffer, more incisive. Ornamented with traditional Japanese Wagara or timeless patterns, combined with a black/blueish gradient, the Dark Koi takes everything that makes the Koi a legend and brings it to Masutā level of performance. Available in sizes 156 and 160cm.
Taiga
Since its birth in 2013, Borealis has traditionally focused on the freeride and backcountry side of snowboarding. With the new Taiga, we show that true freestyle also runs in our veins. Although seemingly similar to its distant sibling the Tundra, the Taiga has its very own character. This new twin-tip freestyle deck is supercharged with pop and dynamism, allowing your trickster instincts to truly express themselves. Hit street rails, dwell in the park but also draw creative tricks in the backcountry with this new ultra-lightweight soon-to-become leader of its category. Available in sizes 153 – 155 – 157 – 157W – 159W
Marauder
Added to the line last season, the Marauder is a beautiful snowsurf-inspired deck with a style of its own. Our motto at Borealis is "Inspired by nature". We incorporated this concept by mimicking the tiger shark: A long blunt-shaped nose, wide and powerful body and a solid but agile tail for swift turns. The Marauder is a dream to ride in powder, forests or open-freeriding, and is surprisingly fun and stable at high speed on pistes.
Construction. This is the place where you can talk to us about the new ingredients in your boards, and how you are building differently. We're interested in anything new in inserts / edges / cores / sidewalls / glue / resin/ wood types / base material etc here.
Borealis offers high-performance boards built with eco-materials. We call this process Ecological Riding Technology. All our boards are built with premium FSC©-certified wood cores. We use Greenpoxy© Bio-Resin (made from recycled biomass) in 90% of our boards since 2014 and Zero-VOC resin in other models. Other materials include our DNA Bioplastic Topsheet, Basaltech (basalt fibre composite), Flax Pads, recycled steel edges, opposite-coloured die cut premium sintered bases, water and latex-based inks and of course bamboo, which is a material we cherish and use in most of our boards, in the wood core and in the topsheet of many of our boards.
Where are you building, what factory in what country? No wrong answer here. What makes this production facility the best solution?
Most of our boards are made at Meditec and our ultra-premium models are made by an American shaper located in a top-secret factory.
 
Our boards are shipped from Meditec to the Marseille harbor by boat, which is the means of transportation with the least carbon footprint. Quality is consistent and 20+ years of experience ensure amazing quality, which we think is the most important thing.
Consumers are more open than ever to unusual shapes. Got any mad shapes next year? How long will this shape direction last… is it a good thing for snowboarding?
Yes, this is what makes Borealis so exciting! Drakkar, Koi, Marauder, Leviathan, Shaman; we specialise in cool innovative shapes and try to be a driving force in the "Snowboarding Renaissance" the industry is experiencing for the past 5/6 years.
We're really interested in graphic themes running through your line. What is your art department feeding you for next year?
Since 2013, the essence of our brand's visual identity lies in nature and cultures that cherish it. As my favourite scholar Terence McKenna wrote, "Nature is the great visible engine of creativity, against which all other creative efforts are measured". For 2020-2021, we continue to integrate this idea in our line's graphics: psychedelic fern design on our new women's model Botanica, snow-owl and landscape on the Tundra, traditional Japanese patterns on the new Dark Koi, tiger-shark-riding on the Marauder, etc.
What are your top marketing stories for next season? This will help us to put the focus on the right decks.
Dark Koi, bringing this classic board to Masutā (master)
The new Taiga: Borealis steps-up its game in the freestyle category
Borealis North America is born. Distribution is the USA and Canada is launched.
Borealis Test Centre launched in Hakuba at the Bohemian's Shelter, a forest lodge ran by Frenchman Gaspard Flandin. https://www.thebohemiansshelter.com/