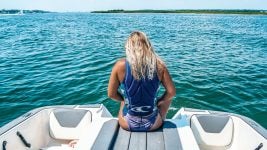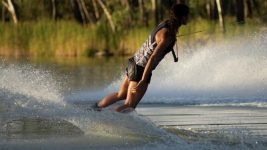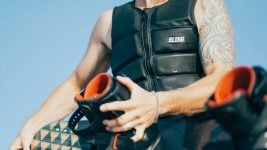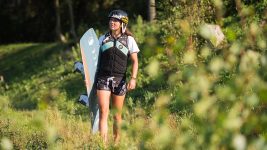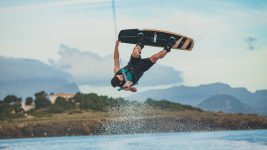 The balancing act between functionality, style and tech while delivering safety in impact vests is what sets brands apart from each other in the market. In this retail buyer's guide we look at where the focus has been put for 2020. By Dana Miskulnig. 
It's natural that brands cater to various disciplines to cover their bases, but Slingshot have found their strength in the cable market and are staying put with one design, "our 2020 wake impact vest is one simple design being sold across all segments of the market from boat to cable, and wherever else you feel the need for a little extra protection and floatation. The cable market is undoubtedly a strongpoint for Slingshot, but our vest is built for all waters," claims Brand Manager, Jeff McKee. On the other end of the spectrum, Follow Wake's line up of impact vests for 2020 covers all aspects of wake and doesn't leave any rider without a choice that's just right for them. There aren't just cross overs in vests for different wakeboarding styles but also watersports that see the need for impact vests. ION continue to offer impact vests for wakeboard as well as kitesurf enthusiasts and Jet Pilot are hard after the jet ski market. Söoruz is going all out and offering impact vests tailored to wakeboarding, kitesurfing, windsurf, foil as well as surf with their 'Rich' vest, meaning a huge array on offer for all watersports. 
Design 
It's no news that wakeboarders, especially the park riders, put a lot of importance on freedom of movement without compromising on protection so designs are slicker than ever, but special attention is going to upping the game in terms of safety and functional design. Jobe Sports' vests are now 50 Newtons and have added a D ring to all of their vests to improve safety standards and continue to design their products with a cohesive design so you can mix and match products to offer better sell through for retailers. O'Neill prioritizes performance with NytroLite Foam Technology in their impact vests, "which is stronger, absorbs 20% less water and is 3x lighter than conventional PVC foam. This allows for a super light, minimal bulk design with maximum impact protection," states Product Manager, Tom Copsey.
Tech
Impact vests are going back to basics in terms of design, but not when it comes to sustainability and tech. Brands are avoiding PVC as much as possible and rightly so as it is a plastic that is uniquely toxic because of its ingredients migrating into the environment during production, use and disposal. Marc Burhans, Product Manager at ION, says they, "only use the best neoprene available on the market from our supplier Sheico, one of the worlds biggest neoprene suppliers. The foam that we use is a PVC free foam." Freedom of movement is a key element in wakeboarding, so Liquid Force are coming in hot with the Spector Vest offering extra padding for the hard senders in the park without compromising on flexibility with their exclusive Bio-Spine pattern that creates more space for shoulders to flex while keeping a close fit around the rider's waist. "Liquid Force vests are unique in the way we combine different materials into purpose-built patterns, the styling is purely functional," says Wade Motawi, Director of Product Development at Liquid Force.
New Releases 
Brands are continuing to get feedback from team riders to improve their product offering, so what are the highlights for 2020?
We've already mentioned the Spector Vest from Liquid Force but they are bringing back the Ghost Vest better than ever with more foam padding and a ribbed flex panel design that forms to your body, wider arm openings and a tapered waist for a better fit. If keeping your phone close while on the water is important, the Fresco from Follow Wake will be of interest as they've added an oversized pocket to keep your phone safe and dry. In terms of functionality the Fresco is made with the TrueFit internal liner to ensure minimal movement for a consistent ride. If a pro model is more your vibe, Soöruz have collaborated with Jules Charraud to create a PVC-free impact vest made from recycled polyester. Soöruz have also made sure to get their female rider, Anne Freyer involved to further develop the female range. Whether you're looking to stock all-rounders or segment specific impact vests, there's a vest for everyone from the rookies to the pros in 2020.