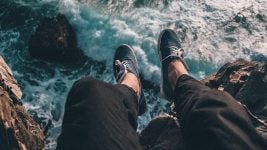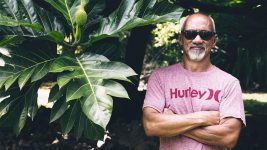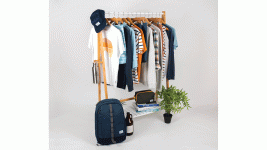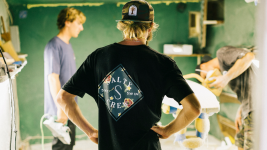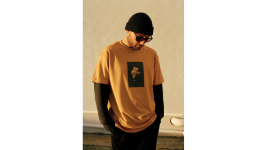 Like a genetically modified organism, surf textile has had its DNA fiddled with for decades, influenced by streetwear, skate apparel, then by technical outdoor clothing. However, for the last few years, surfwear has gone in reverse in order to find itself and recharge its batteries. The men's collections for spring/summer 2019 will be a perfect example of that. By David Bianic.
Surfwear's glory days are well and truly dead and buried, with double-digit growth figures being worthy objectives only in science fiction novels! And do you know what? That's a good thing. Surf textile has found its place, its true place, without ever disappearing. Gone are the days of frenetic development. Today, "the segment has shifted towards a structure and strategy that is more sustainable long-term," explained Dan Preston, head of men's textile design at Globe. "Brands have tightened up on the number of messages they are putting out there, reducing the size of their ranges, concentrating on higher quality, potent collections with a stronger focus on in-store merchandising," said Dan thinking strategically. "Keep it simple" summed up the design team at Rusty, another brand that has reduced the number of references "by isolating the best shapes/silhouettes and offering a variety of designs in these proven winners." Isolating the right product, definitely, but defining its place through a clear brand image, is the message hammered home at Vans: "Our design team consistently works alongside the Vans surf team to continually refine what Vans' point of view is on surf related product," explained Colin O'Connor, the director of textile design. And this policy isn't valid just for industry giants, it's also shared by smaller players such as French brand Sen No Sen, which is well tuned in to consumer purchasing habits in the sector: "Customers look for cheap items or they look for items that have worth, and they are OK to pay the right price for it," says brand Founder Mathieu Desaphie. Hurley are also on the same hymn sheet: "We target demographics who love surfing as much as they love quality products. More than prices, we are bringing value to our retailers and consumers." 
Surf brands are locked in a raging battle with large fast-fashion brands. These large chain store brands "tap into trends on the same timeline as us," commented Dan from Globe, but the finished products arrive in stores much faster, and also in their brand owned megastores. Fighting them on their own turf hardly makes sense (but finding inspiration in their strategies does) and it's "by staying true to values and our brand ethos, we are set apart from throwaway fashion," assured Sam Westley from the marketing department at Passenger Clothing. As such, the brand proposes that its clients affirm themselves as actors in a more sustainable method of consumption, by purchasing products made from recycled materials, using less plastic, or by promising to plant a tree for every new order. Mathieu from Sen No Sen even evoked adopting a slow-fashion philosophy, taking the time to conceive good products, that are better than the clothing chains, but also with "a story that we can tell to retailers so they can tell to people." Telling a story, not tall tales.
ONE BRAND, ONE STORY
Affirming a brand identity has become an obligation, rather than just jumping on the fashion bandwagon and following the latest trend. As such, the young English brand Passenger Clothing has positioned itself in the surf-style travel/adventure niche where clothing collections are matched with "a comprehensive travel accessories line for all kinds of travel, no matter how near or far," explained Samuel Westley. Inspiration can be found in road tripping, and the vanlife movement, between salt water, mountain tops and forests. For historic brands like Rusty, the movement to find inspiration in your own history that started two seasons ago continues: "The trend of the future is to look to the past. We have gone back to Rusty archives and dusted off the classic prints to give them a new time to shine." The designers at Vans had the same idea and are mixing the most emblematic of the brand's styles "with an updated look and feel." To say it another way, their spring/summer 2019 collection is based on shocking and lively colours, associated with more classic, saturated tones, designer Colin O'Connor told us. That seems to be the same choice as another historic brand, Lightning Bolt, which has revisited classic motifs and added more daring touches to them: "Retro colours and clashing brights provide a fresh update for high-summer graphics and tropical shirt styling", explained Maria Joao Nogueira in charge of European communication. This flashy side of things is exactly what has built the reputation of Claudio Brunotti, the windsurfer who was one of the first to use bright colours on his boards in the 70s. Those colourful boards will be the focus of a special theme within the 2019 collection with the colour block making a comeback on different pieces: sweats, t-shirts and boardshorts. Another variation of the same concept can be found at Body Glove whose collection is "driven by Body Glove's surf lifestyle heritage with classic bold tropicals, photomontage and retro colour blocking", stated textile head Andrew Maclean.
PATTERNS & COLOURS
Most of the brands will be offering a choice of two chromatic universes, with on one hand more flashy and lively pieces, and on the other more washed-out and discrete tones. Hurley are working with "more vibrant colours such as pink, yellow and blue – in addition to the core colours that are basics and fundamentals for easy mix-and-matches." Billabong has decided to offer two distinct graphic variants, Tradewinds and Under The Sun. The first tries to renew the tropical theme with "shades of grey, with bold edges of purple, mint and lemon accompanied by earthy shades and camouflage," says Marketing Coordinator Amélie Brignon. The second universe, Under The Sun, is based on "blue and earth tones inspired by the Atlas", an African influence that comes back with green nuances inspired by the Majorelle Garden in Marrakech, to which are added touches of red and yellow meant to evoke the spices from the markets. The same duality can be found at Body Glove that on one hand focuses on subdued colours – pink, lemon yellow, turquoise – and on the other more brash clothes based on neon palettes: pink, ceramic blue, and lime. At Protest, this bi-polarity is expressed on one side by very sporty pieces, in blue, red, green and grey, and the other by "a palette with more earthy, faded tones with army green and Bordeaux paired with neon accents" explained in detail, Head of Menswear Design, Ingrid Kalma. More of the same kind of thinking at Globe, but aiming for a more skate oriented clientele with their very 90s influenced Concrete collection (red, off-white, black, turquoise and flashes of citrus colours), and more surf oriented clients using a dusty looking effect with pastel colours in their Oceans collection.
THE CITY AT THE BEACH, THE BEACH IN THE CITY
Hybrid pieces will become even more commonplace in spring/summer 2019; trendy clothes that incorporate materials and characteristics of technical pieces. "Urban styling influenced our outdoor collection, making pieces versatile enough for wearing in the city or the outdoors," explained Maria from Lightning Bolt about pieces that incarnate the perfect balance between the fresh feeling from the beach and New York-style cool. This meeting of outdoor and surf fits the credo of the Salty Crew as well, whose muses are surfing fishermen. Technical features can be found in all of the brand's products, notably their multi-stretch, anti-UV surf t-shirts (SPF 40+ and UVA/UVB protection) with anti-microbial and water-repellent treatments. This technical dimension is also part of the DNA at Passenger Clothing, but with a greater accent on more natural materials, such as "a soft-hand-touch organic cotton, recycled pre-consumer cottons and a natural Yak hair and organic cotton blend that offers soft, breathable, odour-resistant and all-natural properties," listed Samuel Westley. And you don't have to look very far to find technical inspiration: Brunotti is renewing its wetsuit-inspired BR-TECH line, with finishing touches like stitchless seams, large zippers or water evacuation eyelets on sweat-shirts and sweat-pants: "The fabrics are laminated and have the strength and softness of a wetsuit. Other distinguishing details in this line are the 3D-embossed and reflective logos." On top of its two main collections, Billabong will continue highlighting it all-terrain textiles with its ADIV (Adventure Division) capsule collection, dedicated to big-wave surfer Shane Dorian and 100% eco-friendly for 2019: "We brought some comfortable fabrics that are lighter (Airlite fabric from our boardshort range) and with wicking properties (t-shirts, walkshorts)", explained Amélie Brignon. Hurley continued their technical win borrowing innovative features from their parent brand with the Swoosh: "Our offering of very stylish and technical items makes a big difference, as we see exceptional sell-through of our most technical pieces, such as the ones including Phantom or Nike Dri-Fit technologies."
This quick look at some future spring/summer 2019 collections proves that from now on not all surfwear brands look alike and that they are no longer interchangeable on the rack in shops. By reaffirming their positioning(s), they seem to be stronger and more authentic. This introspective exercise should be undertaken by retailers, as well: before you decide to sign on with one brand or another, you should know who you are and the clientele you are targeting. As Socrates said, "Know thyself". Or maybe it was Gerry Lopez.