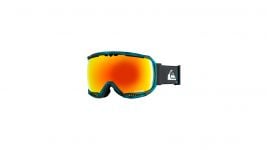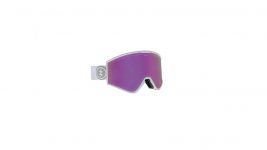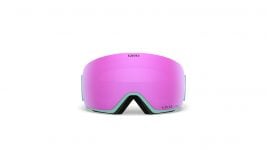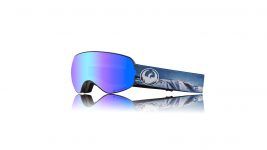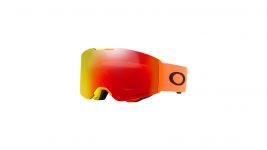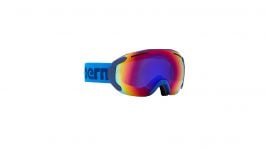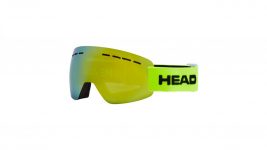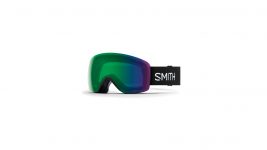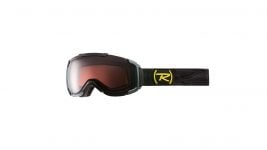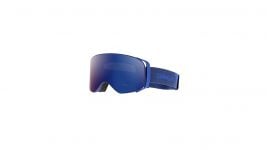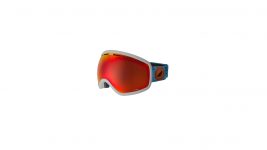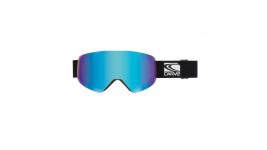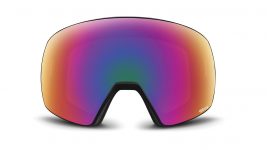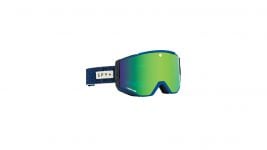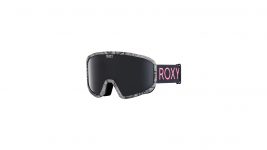 The better your vision and while no one can influence the weather, we can all do something about the gear we bring into the snow with us. What sounds quite simple takes some intricate technology though, which Anna Langer outlines in our Snow Goggles Retail Buyer's Guide for FW18/19.
CHANGING TINTS LENS TECH
"Innovation" is among the buzz words for FW18/19, with a futuristic new lens technology from both Oakley and Electric that changes tints with the push of a button – you don't even have to take your goggles off anymore. "PrizmTM React is a revolutionary electrochromic lens technology designed to adapt to environments in a matter of seconds with the simple touch of a button. Prizm React creates one lens for all possible on mountain conditions with three Prizm lens tint options offered in a single lens", including Rose, Torch & Black as Kurt Sabin, Category Manager at Oakley explains. Electric feature a similar technology in their new model The Electron, allowing a change in tint percentage with the push of a button. "Sitting in the higher price bracket, this piece isn't for everyone, but it gives the power to essentially change lenses without ever taking your goggles off!" says Electric's Snow Snow Marketing Manager, Cody Rosenthal. Zeal's Automatic lens also changes when it reacts with UV light: "The patented combination of polarized and photochromic technologies let the lens change gradually with light conditions, giving you a unique tint for every condition," in less than 10 seconds and gives the impression you have "30 lenses in one", especially paired with polarization.
The innovators at Dragon once again forge ahead and have developed their own photochromic lenses for FW18/19 "that functions the same, changes tint in the same time frame as Transitions and have wider VLT ranges," something we are particularly looking forward to checking out at ISPO. Sandbox Owner/Founder Kevin Sansalone calls their new Polarized Photochromic Technology a "kick in the butt to all of the quick change lens technology" as "you never need to change your lens again," with their new Shift technology. Spektrum Co-Founder & CD Robert Olsson states that he's "impressed with how well the new Photochromic lenses are working now and how fast they adapt to the light conditions." Out Of expand their photochromic and polarized One lenses to six colours, Sinner feature a Polarized SINTEC®/ Photochromic TRANS+ -Double lens in their Mohawk goggle and Bollé and Cébé extend their offering of NXT photochromic lenses as well.
ENHANCED CLARITY
But it doesn't have to be that fancy. "A good number of brands now offer high contrast lenses due to increased demand from the consumers," notices Andy Steel from Bern Unlimited, who have five high contrast models in store, from adults to kids. Giro name VIVID as their most popular lens, that has an "exclusive spectral curve to enhance contrast and boost confidence on snow," and is available in 9 lens options and comes standard in 10 models. Smith also see "demand for the performance and clarity of ChromaPop increasing" and expanded their offering to 11 tints, as does VonZipper with their proprietary WILDLIFE lens.
For 2017 Dragon started offering their Lumalens® technology for enhanced clarity and optimized colour tuning without an up-charge in all goggles and tints – making it their "new normal." Head's TVT (Trans Vision Technology) lens technology was also introduced in FW17/18 and is enhanced with a "mirror coating on the inside, so it looks flash but the coating is protected by the lens from external hazards, like swiping it off or scratches."
High quality lenses from Carl Zeiss are gaining ground as well, especially Sonar which is featured by Melon, POC, Rossignol, Spektrum, Quiksilver and Roxy, where it can be found in 60% of collections. "Instant recognition of features on uneven terrain (moguls, crevasses, icy patches, etc.) is key to avoiding injury," says Rossignol's Aurélie Zucco, Business Unit Manager Technical Equipment. "Sonar is distinguished by the fact that it maximizes the light transmitted and eliminates the blue light effect behind the retention of certain wavelengths, in order to improve contrast, optimize colours and increase the definition of moguls and dips in the piste, whatever the light conditions, guaranteeing increased safety at all times." On top of that, Spektrum also praise Zeiss' "impressive CSR program taking care of both staff and the planet."
LENS TINTS
The range of lens tints will not change too much for FW18/19, Carve report four primary colours from Clear to Grey, Rose and Orange, Melon show a "fairly even split across silver, green, blue and red chrome." Most Spektrum models have a brown base that "works great for a wide range of light conditions," with "a lot of different finishes" and Summit also "upgraded all lenses to brown/bronze tints", while the "new Talisman line has a polarised filter eliminating glare." TSG stick to Red Chrome, Green Chrome and Blue Chrome and Cyclops' new video recording goggle Boreas comes with an iridium lens, with the option of an additional rose coloured lens. Spy add a new Happy Bronze with Gold Spectra™ lens on their Space Legacy colourway.
Sinner and Bern also make sure that lens tints work well with the frame shades, "so for example a blue frame comes with a blue revo lens," says Annemiek van den Boogaard, Product Manager from Sinner, while Bern also match "strap, lid colour and logo on the corresponding helmets."
QUICK CHANGE FRAMES
The ability to change your lens with only a couple of simple movements has been very well received by customers, hence the offerings are growing every year. Bern features LensPOP in all adult goggles, Cébé use strategically placed magnets in their Magnetic Family, Giro pair their quick change magnetic lens system with the ADAPT STRAP, a customizable strap option, Head offer their Speed Snap Lens Exchange System in a regular and frame-lens construction on top price points, Spektrum add the SnapSwitch lens change system to their frameless G007 Helags model and TSG alternate between their Magnetic Interchange Lens System with self-locating rare earth magnets and the Fast Lock Lens System, "allowing to easily click the lens on the frame."
Anon evolve their Magna-Tech with their new M4 that offers fully interchangeable options for cylindrical and toric lenses and comes with an integrated MFI facemask. Zeal also add their first cylindrical goggle, the Hatchet, to their growing RLs family that uses an evolution of their patent-pending Rail Lock System that aligns the lens with the frame's dual rails by seamlessly sliding into the channel and locking into place with a magnet system for a safe and secure closure that also keeps out snow and ice. "The other amazing new benefit of this lens, is it allows you to lift the lens up in the channel about two centimetres while hiking so you get amazing ventilation when things heat up, but don't need to take your goggles off."
SPY updated their Lock Steady system with The Legacy, "allowing for a thinner goggle profile, effectively bringing the goggle lens closer to the eyes and allowing for greater peripheral vision." Out Of also advocate an enhanced field of view through a thinner construction in their "Dual Frame" construction with "Real No Frame" technology, consisting of two different frames with two diverse rigidities that "only allows to mount the lens in only 6 seconds, but protects the frame from eventual shocks providing an excellent protection". POC's new grilamid Orb frame provides "a maximized field of view and a simple and quick lens changing system" as well, as does the new completely rimless design of the Smith I/O MAG. Dragon's new frame and lens combo that is still waiting for a name at the date of print also brings the goggle further back, which allows for more peripheral vision. "It's not a new technology, rather giving the wearer more of what they need, which is visible area," explains Shay Williams, Product Development Specialist.
NEW SHAPES & MATERIALS FOR BETTER PERFORMANCE & FIT
Oakley's new Fall Line XL frame is a rimless goggle with a cylindrical lens shape, fusing "premium technology with a larger field of vission" and the only model that will feature their Prizm React technology. Based on the success of their Frameless ALT Model, VonZipper will continue to push ALT-SM "which is perfect for smaller to medium faces and will be a great option also for women." Rossignol agrees that "frames tends to be smaller, more integrated with modern designs" and also Carve show a new INFINITY frameless style that has (amongst other things) a slightly larger sleek design and a vented flow through system," next to the RUSH with an extremely thin frame "that also gives it a very clean frameless appearance" says Colin Foy, Product Development Manager.
Besides all innovations regarding lenses and frames, for Spektrum "the real story is the renewably sourced content in our Duo-Tone frames where we manage to keep all the functionality while taking better care of our planet. Using new plant based polymers derived from castor and ricin oils as well as recycled polyester these products don't compromise on functionality and truly earn our motto 'Clean Vision'". For Bern their exclusive 100% recyclable PLUSfoam® frameless goggle technology is becoming more and more relevant, "as environmental awareness and corporate responsibility become fashionable." PLUSfoam® is an industry exclusive material that is 100% recyclable, yet the "real difference comes in the weight (108-113.6 grams depending on frame size), fit, feel and unparalleled field of vision in this frameless series," argues Andy.
He continues: "The PLUSfoam® material outperforms traditional foams, rubbers and plastics by flexing and hugging your face without creating pressure points or air gaps like many other stiffer goggles on the market." TSG Articulating Outriggers in their Goggle One and Two also ensure great fit through a full range of face shapes and sizes by evenly transferring pressure across brow and nose to ensure a complete seal against the face. Bollé cater to this with the B-Flex technology on their TSAR range that "allows you to easily and quickly adjust the frame's nose and cheek areas to give an exact customised memory fit" and at the same time eliminates pressure points and air gaps.
DESIGNS & COLLABS
Regarding colourways and patterns, the tie with helmets is the man influence for brands that offer both goggles and helmets including Bern, Giro, Head, POC, Rossignol, Sandbox and TSG. Spektrum tie their goggles closely to their sunnies range for "a seamless package with a stronger visual impact the more of the range you sell or use," and Electric feature a "Darkside Tort" goggle that is based off their best selling sunglass SKU. They also continue their collab with Volcom with a "black and white half tone pattern" for next year, next to a goggle and mitten combo with Howl Gloves, "creating a new age military look for both items." Quiksilver and Roxy strengthen their collections by matching the prints with their outerwear and Smith created a unique colourway together with The North Face and team rider Austin Smith.
More athlete inspired Signature Series are offered by Bern, Smith, Dragon (Danny Davis, Blake Paul, Jossi Wells, Chris Benchetler, Forest Bailey, Gigi Rüf, & Bryan Iguchi), Giro (Lucas Beaufort), Quiksilver (Travis Rice), Roxy (Torah Bright), Spektrum (Ingemar Backman), SPY (Eric Jackson & Helen Schettini) and VonZipper (Halldor Helgason & Yagowoons). Electric add their first ever pro model frame with The Kleveland that allows for "some add-on features that will change the game" through a Keyhole System in the nose piece that we're rather curious about.
Other design highlights in FW18/19 include artist collabs from Melon and Spy, who add their
"perennially popular Danny Larsen collaboration" to two new frames, next to Giro's collaboration with Protect Our Winters. B4BC is even supported by two brands next season, VonZipper and Smith. The latter also work with the High Fives Foundation and give a "percentage of each sale of the B4BC Skyline Goggle, and co-branded Hi-Fives I/O and Quantum helmets to each foundation to support their efforts in growing awareness about each mission."
Colours are very much oriented on general trends, ranging from classic black and white, through natural colours and matte finishes all the way to "poppy" (Zeal) and "louder" (Electric) options. Bern introduce the "Patriot Concept" with a Red / White / Blue combo that "reflects the flag colours of no less than 38 countries around the world" which "seemed like a great move ahead of the forthcoming winter Olympics."
Giro use their customers "interests, cultures and aspirations" as basis for their designs and Melon feature "street inspired patterns such as Bandana prints, paint splatters and earthy outdoor inspirations in the form of topographic designs." Dragon work with "sublimated prints that allow for complex straps and different colour schemes", SPY offer a "a tactile experience" with their NASA-inspired Space Legacy 3D strap, next to a Herringbone collection, an updated camo colour pattern "with finer detail" and "geometric patterns seen in traditional Native American art". TSG also show Native Indian elements next to a "sticker bomb pattern, a custom dark blue/light blue/yellow camouflage, fine lines and stripes with logo integration and colour-blocking." Roxy and Quiksilver implement a "mix of plain and print patterns, jacquards, silicone print and logos" including camo. Summit keep it more minimalistic, "yet very bold with monochrome designs: Minimalist strap designs allowing our bold logos and lens coatings to provide the flare."