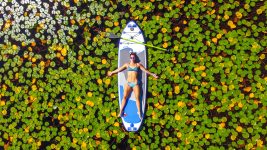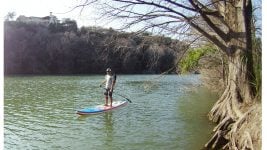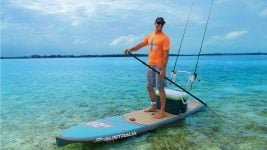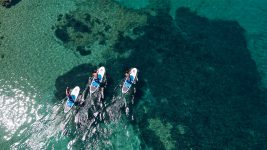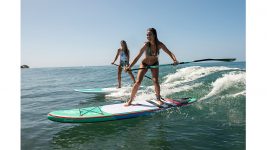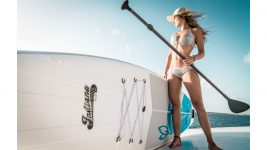 SUP is perhaps the most striking market in the boardsports world, boasting a super-wide array of uses that are in a constant state of flux. For retailers this means an opportunity for future sales, but at the same time there is a chance you can get lost in it all. So to stop your head from spinning, dear retailers, please follow this guide. By David Bianic.
City, ocean and even mountain, the SUP is a surfboard for all environments, free from the limitations of traditional boardsports. It's up to retailers to show an open mind when it comes to stocking SUPs, which goes beyond the remit of surf shops alone. The proof? You just have to see which markets are the leaders in Europe: "Our biggest market is Germany by a long way," enlightens Lars Ermisch, Brand Manager Europe at JP Australia, "followed by France, the U.K. and Austria." Even more surprisingly, Lars affirms that the commercial future of SUP "is in the North (of Europe), especially on the coast and in cities." It's a similar story at Fanatic with the German/Austrian duo leading sales, reveals Marketing Manager Karin Gertenbach. This is not just two isolated cases either given that we find strong markets in countries like Sweden (Lokahi), Czech Republic (Hala), Denmark (Norden), The Netherlands (Norden, Riber), Benelux (Surftech), Switzerland (Tripstix), Croatia (Indiana) and Serbia (Sol Paddle). This divide between northern and southern countries also matches with what the brands are supplying there: "Markets like France and Great Britain with more coastline sell more EPS surf models while in central Europe – Germany, Austria or Switzerland, it's more inflatables," explains Lars from JP Australia.
LEISURE VS. CORE
When it comes to the distribution of use, inflatables remain mostly for recreational use, while the more athletic dimension is of course represented by the more performance-based hardboards…although "Coming from the world of surfing, Surftech are attracting a core of watermen/waterwomen," points out Richard Preistley, commercial director for Europe at Surf Commission, "and we are seeing success in surf, race and prone (paddleboards) categories." While in most parts of the world, "50% of SUP activity revolves around downwind, touring and surfing," reckons Lars from JP Australia.
The good health of the SUP market in Europe is not exempt from metastases, notably competition from brands that don't exist and so are deemed disloyal – "no-name products of bad quality," cites Maurus Strobel, CEO of Indiana SUP. Often labelled as guilty are Asian manufacturers who bypass traditional distribution by selling directly, regrets Karin from Fanatic: "Most of them are not offering good quality products or good service, which can be harmful to the market." The same concerns are felt by Daniel Hunter from Riber SUP who indicates that "anyone can go on ebay and get an inflatable SUP for £250, which is a huge worry because these brands represent a first point of contact with SUP for a large number of people and through products that are questionable at best…"
TO THE RETAILERS' RESCUE
To combat this race to lowest price, brands are communicating about quality, most of all in shops where they are training their sales people, especially if they are not able to transmit this information to the potential client directly – on the inflatables' bags at JP Australia for example, or through the POS, "which explains how resistant our products are," indicates Benoît from Ari'i Nui. Also, most people are going to test centres, sometimes taking place in conjunction with big competitions, explains Phil Mandeau, commercial agent for the American brand Focus SUP, who is joined on this point by Naish who insist on the importance of "holding little events within the framework of bigger events".
This support can also be dematerialised, in the same way that Starboard have marketed on social media "because in high season, most sales are made online," reveals Svein Rasmussen, creator of the brand. This influx of new occasional participants also provides a big opportunity for growth, which is not dissimilar to that of rentals in the world of snowboarding where "the majority of newcomers are customers who prefer to rent rather than buy," affirms Thierry Kunz, Brand Lead at Laird SUP. This "SUP on demand" angle could however ramp up the already prevalent phenomenon of weather dependence since "the weather, and especially low temperatures, have a direct impact on sales", warns Siren SUP.
INFLATABLE TRENDS: CONSTRUCTION
Too often associated with the entry-level, the inflatable SUP category (or iSUP) is more diverse at first sight. While these models are put on the market at more attractive prices than "hardboards" thanks to their construction, there is a clear segmentation between usages (and therefore price). At Lokahi, the entry-levels ("I didn't say bad quality!" insists Sylvain Aurenche, Commercial and Communications Director) are distinctly separated from the high-end constructions of the Fusion series. Even more fleshed out, the inflatable range at JP Australia is characterised by three different constructions: "The Superior Edition (SE) and Superior Stringer Editions (SSE) models have a pre-laminated construction made of three layers of composite," explains Lars Ermisch, while the Light Edition boards (LE and LEC) only have two. At his counterparts from Fanatic we find the same segmentation, with three technologies in the Ray Air model.
Newcomers to the European market, the Americans from the brand Hala place the bar pretty high with a carbon construction that will hit the shops this season: "Basically, you get the same sensations and performance as a hardboard but with all the freedoms of an inflatable board, portable and ready to travel," summarises Brand Manager Jen Howland. "Inflatable SUPs are normally limited to certain activities. Hala wants to overcome these limitations whether it be on the river or surfing in the ocean." It's the same technical ideas from the Italians at RRD who have reinforced the structure of their inflatables with a technology baptised SDB standing for Sandwich Dyneema Belt, an ultra-resistant polyethylene band of fibre providing the board with "30% more rigidity than a conventional model," confirms Jacopo Guisti, SUP marketing manager.
To simplify, the trend for inflatables at the main brands is not a race to the lowest price but to quality, as pointed out by John Hibbard, Director of Red Paddle Co.: "There's a lot of poor quality equipment on the market and people are now looking for a secure, reliable, strong board that also has performance." Still, there's a little dampener from Starboard with Svein Rasmussen anticipating "a diminishing market share for inflatables in favour of hardboards," because of the lower standard of performance: "If you see someone with an inflatable SUP strapped to the top of their vehicle, it means they have not made the right choice in terms of technology…" Just as pessimistic, Benoît Tréguilly and Peter Durham from BIC are "not convinced of the long term success of the inflatable market and for a variety of reasons: low longevity and the mediocre performance of made in China products and other bad quality SUPs sold in shops as well as online…"
INFLATABLE TRENDS: DESIGNS
In terms of shape, the vast majority of iSUP sales come from versatile and easy to use models, 'all-round' boards: "When it comes to shape, demand mainly consists of 10'6" x 33" all-rounds and 12'6" x 30" for touring", indicates Sylvain from Lokahi. Inflatables are no longer the 'lower class' and this message is clear at SIC Maui where "designs are borrowed from their hard model equivalents", insists Helgo Wilhelm Lass, Commercial Director for Europe. "This means that we find geometries that are already tested elsewhere and have proven performance." To add rigidity and to guarantee a uniform rocker line, SIC have also introduced a stringer into these inflatables through Dyneema Stringer Technology (DST) and are proud to be "the first brand to offer a real downwind inflatable board." The iSUP's scope of use is continually expanding, as Benoît Brecq from Ari'I Nui Stand Up Paddle confirms: "We are finding more and more different uses for inflatables. Unsurprisingly, touring and leisure remain at the heart of the market but we can also see new uses such as fishing and yoga growing this season." That's why NSP has approached the Canadian outfitter Scotty, a specialist in fishing products: "We have equipped lots of our inflatables with fishing rod holders, like on the Fisherman and the Touring models," reports Andreas Mencke, the brand's Commercial Director and Marketing Specialist.
Another big trend is the emergence of river boards, a phenomenon that's already huge in the States as Karin from Fanatic explains and to which the brand responds to with two specific models: "The Rapid Air is designed to get everyone on board, from the newbie to the experienced rider, while the Rapid Air Touring is its longer, more tapered equivalent, destined to cover long distances for enthusiasts of rivers and touring."
Just about everyone owes it to themselves to get into a niche (or more than one), such as SUP Yoga/Fitness. A good example of this is the central platform from Fanatic for making a group of eight boards in a star formation for yoga or fitness classes. This fitness market is closely linked to a female clientele and brands are doubling their efforts to offer boards that are easy to handle, explains Lars from JP Australia: "Women represent almost half of our clientele and for them, having to either carry a 13kg board or a 7.5kg board to the water is not the same thing."
Speaking of effort, having to pump up the SUP is still a hindrance to the discipline. Even though electric pumps that connect to a car's cigarette lighter are widely available, the last PSIs that provide the full rigidity must still be put in manually. To overcome this constraint, the SipaBoard AIR claims to be the first auto-inflatable SUP in the world and won the gold medal at the ISPO Awards 2017/18. Further still, SipaBoards hope to offer "a SUP propelled by turbine engine", to extend participation potential even further…
HARDBOARD TRENDS
In the mould of windsurfing in the 90s, surfing SUP over the last five years has seen a real call to arms with boards of higher performance but less and less accessibility: shorter (around 7 foot), narrower (up to 24") and thinner (volumes of less than 80 litres!). In 2017, brands are promoting models to please a larger audience. "One shape that sells well for us is the Hybrid model. This combines the advantages of a touring board with the characteristics of a Surfing SUP", explains Lars from JP Australia. With its displacement hull at the front and manoeuvrable pintail and the back, this model is designed to combine the best of the two worlds. The same steps were taken at SIC Maui whose Feelgood range "is destined for leisure surfing," as is the Agent model, which comes in five sizes, says Helgo Wilhelm Lass. We are also witnessing a return of the longboarding style with the high-performance nose-riders like the Stylemaster at Fanatic: "Easy to paddle and super high-performance in the surf, allowing for really fluid deep carves as well as styled out footwork on the front and back with your toes hanging over the nose", boasts Karin Gertenbach.
Still in surfing SUP, constructions are mimicking shortboard surfing, with technologies like Surf Glass at Norden, "who offer flex characteristics similar to that of normal surf boards", coming with "a transparent glass and an EPS core reinforced with carbon inserts," adds CEO Andy Wirtz. These really "surfy" finishes diverge from the previously "windsurfy" aesthetics of SUPs and for good reason, proposes Sylvain from Lokahi: "When people buy a hardboard, they want a sexy board", like their CustomPro model which leaves nothing to the imagination with its transparent glass exposing the central stringer.
Perhaps even more rewarding than surf models in terms of image, race/downwind boards allow brands to show off all their technical know-how; real race beasts that only concern a limited audience but represent the driving force of the sport. "The race market is limited but that's where the real enthusiasts are", affirms Benoît Brecq (Ari'i Nui). At Surftech, Richard reveals how much effort is put into race boards, "with the new Bark Vapor Ghost Carbon," a board reserved for the elite…of bank accounts, selling for 2800 dollars. As an alternative to carbon, JP Australia's race models have a BIAX construction that "benefits from the same machine shape as the carbon versions but at a favourable price," informs Lars Ermisch, with a lower weight than some "full carbon" competition boards. We should also note the exclusive rudder system from SIC Maui, the F.A.S.T. or Foot Accentuated Steering Technology which will not only equip race boards but also "downwind and touring models", adds Helgo.
Still in hardboards, the third axis of evolution after surfing and downwind/racing is touring, an aquatic version of hiking, long hours out on boards capable of carrying other equipment (waterproof bags, fishing equipment, etc) and that are fast and stable. A good example of this trend comes from the new Outback from JP Australia: "This is a multifunction touring board; to be used by the whole family, for lengthy jaunts or fishing trips. It has 'Light Capsule' storage, which has a see-through underside so that you can put a torch in there, for example, and light up the water under the surface during night time sessions", explains Lars Ermisch. At the same time, you should not see these models as 'utility' vehicles, they must also be "styled" like at Indians who are offering "touring boards with wooden veneers and carbon-innegra construction", reports Maurus Strobel, the brand's CEO. "People like gliding fast!" The same attention to the finish is paid to the hard Ray model from Fanatic, a touring board that looks like a race board.
For the SUP market, 2017 will be a year of consolidation and of more-solid-than-ever brand/retailer partnerships. Competition from "straight to consumer" business has pushed brands to attend to their dealers so that they are able to promote quality ahead of price, supported by storytelling and technical discourse. "All budgets should be able to find a suitable product but customers have to understand the benefits of real commercial advice, real customer service and high-quality products. It's not always a question of price," reminds Lars from JP Australia. In other words, the added value of "branded" SUPs also resides in the work of retailers.