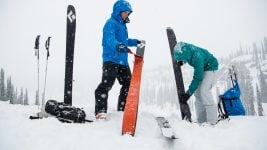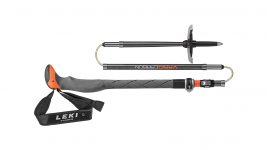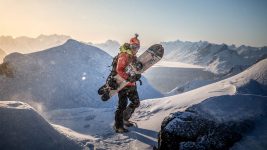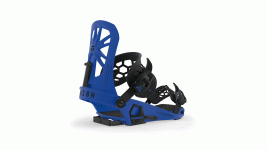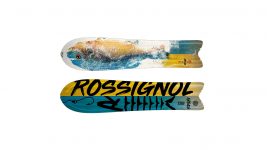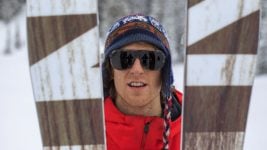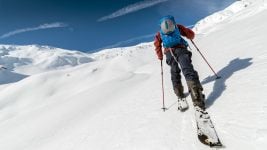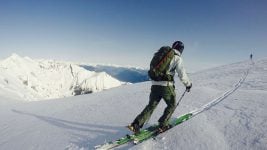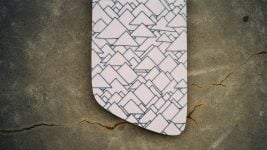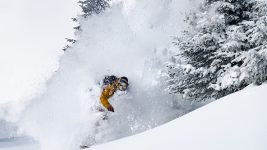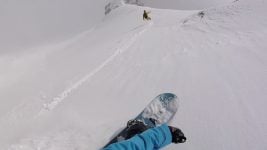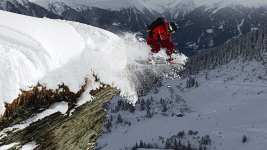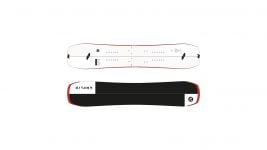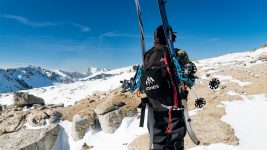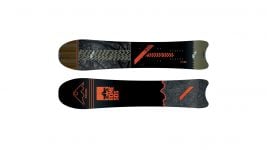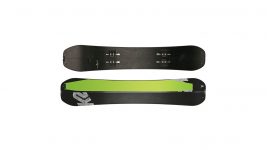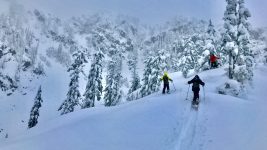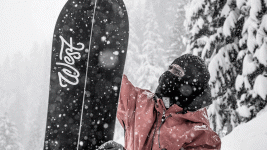 If you're not selling splitboards properly, you're missing a trick. This scene is of increasing importance as snowboarding regrows – so it's time to swat up on uphill snowboarding. Tom Wilson-North demystifies the splitboard corner and looks at what's available next year.
SEAMS, CLIPS & HOOKS
Splitboard hardware comes attached to the board, but any good shop has spares for repairs or upgrades. Karakoram is the undisputed leader in hooks; their premium active-joining Ultraclips are the business, and will feature on Burton's splitboards amongst many others next year. "These are the best on the market", agrees Moonchild's Jure Sodja. "They're part of what makes the board ride like a solid, and since they're mounted via inserts, there are no screws through the base." Solid hooks are also available from Phantom, whose Board Cleats are nearly weightless, and whose ergonomic Hercules Hooks will come on Neversummer splits next year. Then, Plum have a new TT Hook system which allows you to go into ride mode with the skins still on, should the urge grab you.
At tip and tail, Karakoram's Tip Locks are coming standard on the Jones Ultracraft & Carbon Solution; they stop the tips popping open, and are compatible with nearly everything as an aftermarket upgrade. Spark R&D's Tip Clips do a similar job. And we were impressed with Furberg's innovative new seam sealer. "We've got a completely new way to eliminate the vertical movement of the board halves in ride mode. Not just under the hooks and bindings but along the entire length of the board. We believe this is the future of splitboarding," claims Furberg's Hampus Cederholm. See it for yourself at the on-snows and trade shows.
POLES
Black Diamond's Compactor has been the reference in splitboard poles for some time now. "We were the first brand to bring Z-Pole technology to market," says Brand Marketing Manager, Christian Lehmann. "While the compactable poles were originally designed for trail running, the team immediately realized the potential for splitboarding." But there are alternatives out there too. Leki's Tour Stick Vario Carbon has a 100% carbon shaft and Aergon foam grip, and it folds to 42cm in the pack.
If you're looking for even smaller, K2's Swift Sticks are the shortest out there and will require a magnifying glass to find at 33cm folded, but the market is looking for solidity, functionality and durability too. We liked the look of Jones' new Talon Carbon with integrated ice scraper and chunky basket, whilst Rossignol's new Xavier de le Rue signature poles are in a three-section design, using Dyneema cord deployment.
SKINS
Nothing really new in skins; G3's Splitboard+ are still super popular, and come in Grip, Glide & Universal formulae. We are seeing a trend of pre-cut skins being marketed by board companies – Korua are doing that with mohair mix next year, and Rossignol's precut XV signature skins will be made by Pomoca.
BOARDS
Of course, everyone wants a light splitboard. Amplid comes out lightest year after year with their Milligram, but there is some intense competition next year. Neversummer have split the Atom (groan) with a mega light new carbon mesh and retro 50s graphics. Korua's new Escalator 56 is insanely light with a skinnier waist than usual, and Borealis see weight reductions via razor-thin tips and tails. Sandy Shapes will be showing a Zingara Extra-Light which is fresh to see on a twin-tip shape. In general, brands were all cagey about giving us exact weights ("you know, tolerances, bro") but feel free to nerd out with your handscale at the tradeshows before you get moved on.
Next year there are more women's splits around than ever. Rossignol have a Diva Split developed with world's-nicest-snowboarder and FWT champ Marion Haerty, and Coalition's Sojourner is a great shape with a mellow swallow. "Designing for women isn't a guessing game for us – we are the ones designing and testing our equipment, so that leads to a more refined end product", explains Coalition's Jen Gurecki. Gara Splitboards, who have a really nice line of decks and also build for West, reported the same uptick in interest for women's product. Jones are bringing out a long-awaited Women's Hovercraft Split with redesigned Inner/Outer Traction Tech edges, and Rounded Recycled ABS Sidewalls for improved topsheet durability.
In shapes, four piece splitboards are here to stay – the Phénix and Salomon splits are leading this category – and more boards are getting cut-outs for skin attachments – the Moonchild Trailblazer 2.0 executes this best. Generally, shapes are getting a little more usage-specific as the market matures. "Before, our only split was pretty much an overall freeride shape. We decided to go from this middle line in two opposite directions. We have a lots of friends who are freak alpinists and go splitboarding anytime – for them we have the carbon Muveran – then we have the Grammont which gives a more surfy feeling." Borealis' fish-shaped Koi Split is back again after selling through well last year, and Rome's Powder Division splits look unique and come out of the excellent Utopie factory in Canada. A little further south, in Maine, Winterstick will be producing their new Volaire pow slasher swallow shape at their own little factory at the bottom of Sugarloaf resort.
Although rad pow shapes attract consumer interest and sell, there's no substitute for a consistent flex and long effective edge when things aren't as smooth as expected. "We designed our Nevado to be a super capable and versatile splitboard, ready to handle pow – but also those not so perfect scenarios, which are quite often a part of the whole splitboarding scenario," says Konvoi's Ben Dietermann. It's the same story at Endeavor, who play safe with a do-it-all board called the Patrol, and G3's new Axle is pitched as a true quiver-killer. Over at Gara, Ota's versatile Enduro shape gets a new triax glass construction with carbon stringers which bring the price down whilst maintaining the board's performance.
In construction, almost every board builder we spoke to was aware of the need to protect topsheets against tailbang and crampon scratches while touring.
Amplid are using a polyamide material on the topsheet of their bomber new Tour Operator which sounds cool. "In the lab we've found this material we're using can resist 10x times more notch stress," gushes Amplid's Rich Ewbank. There's a brushed nylon topsheet on K2's new Maurauder, and Capita's NeoSlasher uses a Duratail V2 Die-Cut topsheet for protection.
Anyone into spending time outdoors is going to require a solid sustainability message from the makers of the gear. Jones splits will all have FSC wood cores next year; Stone's cores come from sustainable forests and they're only using die-cut bases. Weston are doing it right too. They've eliminated all volatile organic compounds from their materials, recycling all their scrap, and using sustainably sourced wood for the cores. High five!
BOOTS
Lots of splitboard-specific boots have a two-year product life cycle, and we're midway through one right now, so gotta wait until 20/21 for the next paradigm shifts. However, Nitro are upgrading their Capital line-topper with a feature called Hike'n'Ride with integrated forward lean adjustment actioned via the TLS lacing system, and a special sole reinforcement to protect against wear and tear when using semi-automatic crampons. Alternately, check out the unique automatic-crampon compatibility on Northwave's Domain CR.
BINDINGS
Splitboard bindings are the key part of the assortment to get right; Karakoram and Spark dominate the volume, but have little brand-new stuff next year. Union, however upgrade to Expedition 2.0 for year three. "Expedition has been completely redesigned for improved touring, changeover and riding connection. If you're looking for the most bang for your buck and absolute best riding binding on the market, this is what you need," enthuses Union's Riley Goodwin. A spring-loaded pin, lighter baseplate, new FLAD, better touring bracket and more ergonomic ride mode interface will show Union are serious about splitboarding.
SP have a new Multientry Split binding, which uses an easy-in, easy-out highback. Meanwhile, Spark R&D are upping production on their insanely light Pro bindings after unexpectedly high dealer demand.
Hardboot splitboarding is trending up too, with Plum & Spark's systems gaining traction, but Phantom remains the grail for AT set-ups. "Our binding system uses tech toe pieces for tour mode, which is the most efficient touring action out there. Bindings stow in the pack on the way up and then quickly mount to the board for the descent," explains Phantom's Ryan Koupal. Unfortunately, and incredibly, purpose-built splitboard hard boots still don't exist, so splitboarders are forced to mod or Macgyver Dynafit, Arc'teryx or Scarpa ski touring boots. The dollars lost to the ski companies because of this omission are significant. Snowboard boot companies, this is your time to shine and give the people what they want.
PRICING AND VALUE
Clearly the top end of the splitboard market is pretty well supported with lots of eye-watering pricepoints and superlative claims. Most brands agree that this is where the action is. "So far people are prepared to spend the money, but there are products around which are expensive but offer nothing to back up the price. People are getting sceptical," cautions Konvoi's Dietermann.
Since touring is generally a late-season activity, product is often purchased on sale which eats heavily into retailers margins. Add to that a demographic which is particularly tech savvy and adept at sniffing out deals and you've got a bit of a job on your hands to sell gear at full retail. Thankfully, we're seeing a trend back to good value product from the likes of Stone & Nitro, which offer great value and thus lower the barriers to entry.
CONCLUSION
There it is. A complex market which is getting easier to work, with some cool innovations in the pipeline. A number of interesting and functional pow shapes, as well as some refinements to versatile freeride shapes, and a big push in women's splitboards. Oh, and a hopefully soon-to-be-filled gap in the boot market. All that's needed now are some passionate and invested splitboarding salespeople and there's no reason why this category can't open up wider for every snowboard shop.