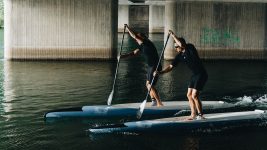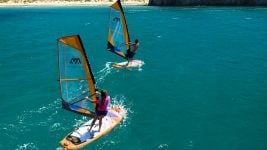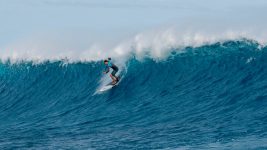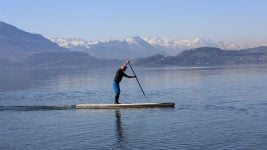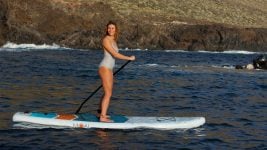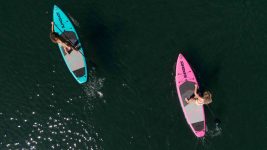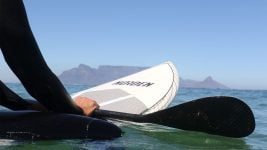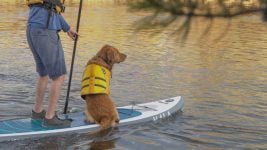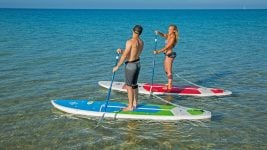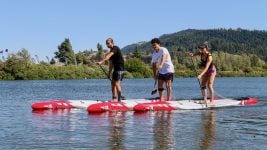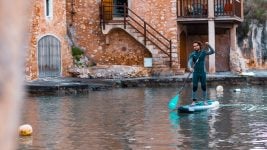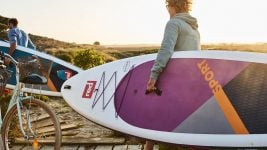 The SUP world will gather in Nuremberg from 4-6 October this year for the 17th edition of PADDLEexpo. 300 exhibitors spread over 5000m2 and visitors from 50 countries: check out a preview-premier of what's new for SUP 2020 in this buyer's guide by David Bianic.
Before launching into the season to come, let's see what the brands think about the current SUP market: growth, saturation, consolidation? The latest figures to date concern the 2017-18 season, as Anthony Scaturro, Global Brand Manager at SIC Maui cites purchasing intentions were almost identical to 2017: to the order of 3.5% (SUPIA 2018 Market Research).
As always, it makes sense to separate sales of inflatable boards from hard boards to get a better idea of the entire situation. At NSP, Marketing Director Carne Forbes confirms that there are less players in the hard board market now, which allows the remaining brands to keep a piece of the pie. Regarding iSUPs, "you could say the bubble has burst", before she adds, "or is about to burst…just like the low-priced boards on a hot sunny day!" For George Shillito at Red Paddle Co., the race to the lowest price on the iSUP market is more of a benefit than a danger as it attracts new participants who, according to him, will end up looking for better quality gear. This is an opinion shared by Alex Tobutt, Distributor for Naish in Europe (Kubos Sports) who reckons that even if they manage to persuade just 10% of the people who bought a cheap inflatable model – for the family or for serious use – to invest in a second board then that will be enough for the sector to envisage a decent future.
WHAT FUTURE FOR HARD BOARDS?
The gateway into the SUP world opens straight onto all-round inflatable models, boards around 10 feet with an outline that's as round as it is reassuring. This absolute bestseller in the sector has in some ways "killed" the hard board, which used to be the order of the day for endemic SUP brands, to the point where we had to ask brands if there was still an outlet for hard boards aimed at beginners and occasional participants. For Renwen Lu, Marketing Director at Aqua Marina (only iSUP), progress in technology and materials have made inflatables so rigid and responsive that they easily meet the requirements of occasional participants. But Craig Gertenbach, Brand Manager at Fanatic can't help but highlight the irony of seeing "many inflatables on car roofs or being inflated all summer long as people use their SUPs more and more". What's the point of having an inflatable one then?
Alex from Naish also thinks that too many people are geared towards inflatables "when they have no need for one, i.e. they have storage and transport". The practical side of iSUPs can also be questioned, adds Craig from Fanatic, the fact that it's "a lot easier to take (a hardboard) off the roof on a hot day than inflating an iSUP!" One point to him.
Limiting the hard SUP to core participants would be an aberration, says Olivier Madar from Laird Standup because, "the difference in feeling between hard board and inflatable is so big, even a pure beginner can appreciate a good hard board!" This feeling can even be measured, and at BIC SUP hard boards "are continuing to outsell inflatable boards worldwide at a ratio of 3:1", points out Benoît Tréguilly, Head of Communication. A big part of these sales comes from beginner boards, rentals and boards for schools, with their TOUGH_TEC and ACE_TECH technologies.
The opposite is also true, says George Shillito from Red Paddle Co. and "core riders now look to have and inflatable board in their quivers for travel, training and holidays". Providing iSUPs for riders and hards for beginners? This market is decidedly hard to pin down…
iSUP TRENDS SS20
In terms of use, the hegemony of the all-round models on the inflatable market is obvious ("90% of sales", says Gatis Valdbergs from Gladiator) but gradually brands are perceiving growth in touring boards as a logical next step: boards capable of taking you further, faster and whose shapes are beneficial to your ego. One example comes from SIC who are releasing their touring model in both a hard version and an inflatable, the latter featuring a wood clad print on the top for a "real thing" look.
As for technology, multi-chamber iSUPS made an appearance as a major trend in our last Buyer's Guide 2019), which doesn't seem to be reflected by what brands are saying. However, four chamber models have been kept by Mistral, the Bi-drop from Aquadesign as well as the Bullet from SIC with Fusion Skin, a downwind/open water board: "If you are going to paddle off shore and want the security and fail-safe of a secondary bladder system," explains Anthiny Scaturro. On the subject of inflation safety, JP Australia are proudly announcing that all their iSUPs (with the exception of the Superlight Series) will come with hot-welded rails: "After a few years of heavy use, some inflatable boards (throughout all brands) start to leak and lose air along the glued seams", states Philip Mackenbrock from Marketing "as all glues tend to lose their flex and adhesive force". For their part, JP claim to have fixed this glue problem "forever" with this Welded Seam Technology. To reduce the amounts of glue used and therefore weight, many are adopting a technology called "Fusion", in the same way as MOAI, that is to say, a second layer of PVC "fused" to the first: "This makes the product stronger, longer lasting due to reduced use of glue between the double layers of PVC and also lighter to carry".
So after reinforcing and stiffening boards in recent years, it's now onto weight loss after putting on a bit of bulk. One of the solutions is the woven dropstitch, a cross mesh, not tight threads, that ensure that "boards are 1.5kg lighter with a much stiffer feeling under your feet," affirms Ollie O'Reilly, Product Manager at Starboard. Mistral are also adopting this woven dropstitch and are posting some revealing figures: the 12'6" Trekker model is going from 16.9kg to 11.3kg thanks to this construction, in other words, a weight loss of around 20%.
Jobe Sports are continuing to lean on their X-stitching technology launched in 2019: heat bonding with an X stitch in the thread "combined with a layer over the centre of the board which acts as a stringer for the board, for even more stiffness."
With their 9'6" Compact model launched in 2018, Red Paddle Co. made a big impact by offering an iSUP taking up minimal space, perfect for travelling and transportation. In 2020 the brand will extend this concept to an 11' Compact Sport model, a board employing the same MSL Pact technology but with a more racy shape and more volume. "The High Density thread Matrix at its core and the special outer coating allows for a more malleable deflated board which means it can be easily folded and rolled to produce a super small pack size", clarifies George Shillito. Others will be exploring this avenue henceforth, like Fanatic (Pocket range) or O'Neill Boards with their new-for-2020 Smart model, available in two sizes: "I've seen a paddler of 110kg more stable on our new Smart M than he was on a standard all-round shape!" asserts Sylvain Aurenche from One-Kin (Lokahi), who produce O'Neill's iSUPs before adding, "you'll be surprised how small the Smart becomes when deflated, half the size of a standard board." We'd also like to mention the Ultralight Edition models from Airboard, which won the 2019 Gold Award for SUP at ISPO. In addition to weight and volume being reduced by half, they can also be inflated with the PumpBag, a 53-litre waterproof bag that also acts as a pump and you can even use a paddle-pump!
More small sizes at I Love SUP but this time for a different reason with a model, I Love Rock Kids (8' x 28'' x 4'', 160l) aimed at young SUPers or a new model from MOAI aimed at lighter people; children or adults. Let's not forget about the Yoga/Fitness iSUP niche that NSP have joined with their NSPiration Mat. Another niche but at the other end of the spectrum are multi-person XXL models, from simple two-person ones from MOAI to the Megacraft (15'1" & 17'1") and the Speedcraft (6m70!) from Aquadesign. Finally we should applaud the investment of Siren SUPsurfing into adaptive sports, offering a really stable iSUP capable of taking wheelchair users on board.
HARD BOARD TRENDS SS20
Andrea Di Sante, Administrator for JLID Distribution (Infinity, I Love SUP), tells it better than we can: "Hardboards selling numbers are probably not the most interesting in the market but they guide new riders to approach the sport in a serious way". It is indeed hardboards like the magnificent Blackfish Infinity that sell the dream, perhaps before people backtrack to a racing iSUP out of practicality. To distinguish themselves from the "plastic" side of iSUPs, composite board specialists are turning more and more towards simple, tried and tested constructions. This is the case at Norden whose surfing SUP uses Surf Glass Technology (SGT), "pretty similar to the modern EPS/EPOXY surfboard construction", insists Andy Wirtz, CEO and Product Designer. Along the same lines, JP Australia are using a reinforced structure along the length of the rails throughout most of their range (Foil, Foil Slate, Surf, Surf Wide, Fusion, Longboard & Hybrid), reminiscent of the latest high-tech short boards. IPR Technology (Innegra Parabolic Rail is placed within the rails and covered in Innegra (a high-performance polypropylene fibre): "The parabolic form of the rail combined with the mounded fibre creates a strong and solid U-beam structure that connects the deck, rail and bottom," explains Phillip Mackenbrock. Inspiration from surfing is just as clear at Jobe Sports with their bamboo cladding that "gives a stylish look to the board and adds response. Combined with the channel setup in the boards you get a board with stability and speed!" clarifies William Dorrnekamp.
For race models, carbon appears as a must-have, and not always at prohibitive prices either as Siren are proposing super light models sold under the €1700 mark. Within the higher price bracket, Starboard are extending race/surf fireballs into many different carbon technologies: Blue Carbon, Carbon Sandwich, Wood carbon and Carbon "Wood Carbon replaces Hybrid Carbon race technology, featuring a full wood sandwich deck," reveals Ollie O'Reilly before adding that this technology provides a 500g weight reduction for more perky acceleration.
By leaving the Cobra manufacturing plant for Kinetic in Vietnam, SIC Maui are able to unveil new constructions for 2020 such as the SuperFly (that replaces the SCC+), featuring an EPS core wrapped in a PVC skin then covered in carbon and glass fibre: technology that will be available on the RS, Bayonet and Bullet models, ensuring incredible rigidity as well as robust boards.
FOIL: BONUS OR PARASITE?
As we wait for our next Foil Buyer's Guide 2020 (also checkout our kiteboarding retail buyer's guide P39), let's take the chance to ask the brands their thoughts about this new market, whose figures are still just anecdotal. Hydrofoil has grafted itself onto a SUP sector that's still in its infancy and the risk of cannibalisation is real. For Andy Wirtz (Norden), "Hydrofoiling should be seen as a independent sport and should be marketed like this". He takes the example of downwind SUP, "killed" by the emergence of the foil. Benoît Tréguilly at BIC doesn't think that foils represent such a threat on sales themselves but he's disappointed that the industry is so focussed on such an extremely niche activity that may put off potential newcomers to SUP who might say to themselves "it's too difficult for me".
For the vast majority, the foil is an advantage and the team at NSP are putting forward an interesting analogy for the issue, comparing foils to the appearance of snowboarding 30 years ago: after being stigmatised and sometimes banned, it ended up becoming popular and led to the rejuvenation of the ski sector with new designs and innovations. For Slingshot, who are world leaders in foil sales, "maybe 5% of the market paddles in waves and actually surfs", so even if this small slice of the population do adopt the foil, it remains a niche market.