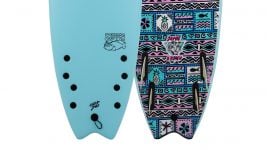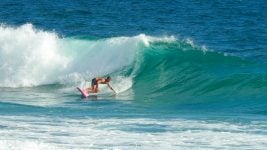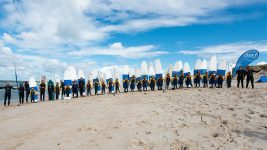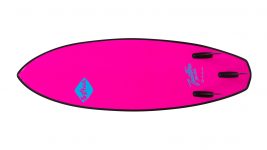 It was all in the books. "Foam is your friend" said the holy bible of the surfboard craftsmanship. Though it had to be read as "stubby" rather than as the material nature per se, foam really is your friend. Is a foamie your BFF ? Surely it isn't, yet it is a friend worth having in your quiver. By David Bianic.
How come those foamies got to experience such a rise in the overall surfboard market? There is no need to look further says the team at Euroglass (Quiksilver & Roxy Softboards): On the one hand, "they are stronger and safer than normal hard booards", and second, "they are sexier, more colorful [than regular surfboards]", and "stock don't age as quick". That is what we call a unique selling point, isn't it?
The appeal for foamies yet isn't identical whether you are an experienced surfer or a newcomer to the joy of waveriding, as sums up Benoit Brecq, Brand & Marketing Manager for MDNS Surf (Hoff Distro): "The market growth has two faces: the rising number of entry level riders and the accomplished surfers who see in the softboards a fresh & fun tool to ride specifically in summer conditions – small waves and crowded breaks."
Cheap VS Premium
As the bodyboard in its prime time, all foamies do not fall in the same basket. Cheap models are abundant among sport retailers and even supermarkets, whereas performance boards remain the privilege of core surf boutiques. But there is also a third path, as aimed by Euroglass: "Our target is the middle. Not the Costco/decathlon entry level foamie softtops – that sadly to say is a great product –, nor the core soft tops brands, such as EPS hard bottom foamies mike Mick Fanning's. We stand in the middle, offering competitive products, with sexy designs that rediscover the heritage of Quiksilver and Roxy brands." Decathlon is indeed flooding the market with its foamies among the Olaian range, agrees Lionel Franssen, sales manager at Napco global (Softlite and Mullet softboards), but "on what we call 'premium', brand marketing is making the real difference". Softech also sits exactly in this "premium softboard" category, insists Brad Rochfort, UK Territory Manager at Surf Hardware: "Our 'Performance Series' boards feature custom profile rails, hand shaped to compliment each model and elevate the feel and response of the board. FCSII plugs come as standard, and our new safety fins (FCSII SFT model) are included in the price."
2020 TRENDS
That said, what is bubbling in the foamie segment in this very troubled COVID season? Interesting enough, the guys at Euroglass noticed how much the softboard market mirrors the [traditional] surfboard trends: "We sell a lot of shorter sizes boards and minimal but in the future we are testing single and twin fins to reflect trends that happen in surfboard markets", such as their Bat, a fish shape available in 6'0'' and 6'6'' lengths, or the Frankenfish 5'8'' in the Spooked Kooks' range. See also the Mullet Single Fin, a 6'0″ (20 1/4″ x 2 7/8″, 35 Litres) with "more refined rails and trimmed closer to the specs of your regular surf board". To sum it up,  Andy Wirtz at Norden – primarirly a hard board label – explains "the trend will be to translate any given shape into softboard construction."
Excentric shapes such as the very first Beater model from Catchsurf still register great traction though. So, the weirder the better? Close enough admits Lionel at Napco: "I would say weirdo shape. With the CNC cut, you can do almost everything that you want." We do not make any lousy asumption when saying that the mini/weirdo shapes mostly appeal to the core surfers, whereas the longer models which copycat the regular hardboards "meet the needs of a broader audience, from a growing woman's market, or progressing learners, to families looking for the all-round board that the kids can enjoy, but mum and dad can still shred on", says Brad at Softech, thinking of the 6'6 and 7'0 sizes of their best-selling 'EG Flash' model, as well as the new 6'10 in the Bomber range.
The demand also very much relies on the location of the buyer, as reminded by Andreas 'Maui' Maurmeir from Rollin' Stoke (European Distributor of Catchsurf): "The shoreline pretty much decides what kind of board or shapes the shops will buy.
In Laguna Beach our Special 54 Modell kills it as the surf there allows to skimboard like shred the shorebreak. North of Bordeaux shops prefer the LOG's from 7'-9' of length. We always propose new shapes to satisfy all needs."
BACK TO SCHOOL
Beyond the hip and cool kids riding foamies in deadly shorebreaks, softboards remain a staple for surfschools and rentals. Gnarlier than the guillotine lip, newbies abuse takes a toll on the softboards, as witnessed by the team at INT Softboards: "We have been supplying boards to the Junior Lifeguard programs, surf schools and rental business for the last 19 years. They like to have INTs because the boards can withstand the groms dragging them across the sand, rocks, and parking lot", says Mason Ward, Sales Manager. And so brands have to adapt accordingly. "[At Euroglass] We design surf school purposed design boards with triple stringer, water resistant fin systems, nose and center handle and shapes that help beginners to flow and feel the stoke of surfing." School specific models are also on the agenda at Norden as they build "softboards that will last surf schools 2-3 years when using them every day. There is not many products out there that can do this. We also offer a special designed color panel EVA deck that helps the students to find their feet better and teachers can explain them easily where to lay and where to stand."
MAKE IT BOLD
Graphics in the softboard category have much in common with skateboards & snowboards. Compared to so-white composite models, foamies bear loud and shiny colors. So we weren't really surprised when Euroglass revealed that "they design skateboards and softboards category together because it is very similar to replicate skate graphic on a soft and viceversa". Softech offers a variety of prints, colour combos and marble effects inspired by custom resin tints. Hot in 2020, their new Toledo 'Wild Fire' in the neon colour, "an eye catcher!" ensures Brad Rochfort. Still, the Softech customer has a choice between a bright colour-pop option alongside a subtler tonal colour option for the very same model. We also learned that the brand uses a DSS technology (double sided slick) on their Performance Range so they can print graphics on both the deck and base. "DSS also improves speed and stiffens the overall flex pattern to provide more drive, acceleration and turning response. It allows for a traditional wax and/or deck pad setup so it feels like a traditional custom board under your feet" adds Brad.
Neon it is at Vision Softboards as well, says Martyn Kirby: "We've gone down the block neon colour route for 2020 with each model having its unique print on the slick. These prints combined with bold neon PE deck and slick colours complete the 80's inspired package!"
Still, Catchsurf has to meet a challenger when it comes to graphics. For each board shape and length, you will find 4 standard colorways, and "all the rest is Pro Models or Artist Collaborations", adds Maui. Just to name a few: JOB, Johnny Redmond, Kalani Robb, Taj Burrow, Tyler Stanaland, Blair Conklin, Harry Bryant, Sierra Lerback, Julian Wilson, LOST Mayhem and Evan Rosseland. As the name suggests, Spooked Kooks "love the fun and playful horror-kitsch vibe, and that is a direction we will be developing further in 2020".
A PIECE OF JUNK?
We do know by now that foamies are not the disposal surfboards we thought they were. Still, a question rises: Is a softboard more or less sustainable than a regular PU/EPS surfboard? "In some way it is in some not", answers 'Captain Obvious' at Euroglass. "The manufacturing process it is. Less material wastage being a molded technology. Also less resins and fiberglass involved but more energy consumption and materials aren't yet that green." Euroglass is presently studying the use of a recycled ABS deck and plastic for fin plugs and other parts but they confess "we are still far away". Mason at INT Softboards is quite enthousiast about their boards being made "with 100% recyclable materials!" Same direction at Softlite and Mullet Softboard as the company is "looking to built new cores which are 63% recycled, the same one we use for our bodyboard brand, Pride, but you have to try it and see if it last" tells Lionel Franssen. But for the time being, he confesses "it's not sustainable at all"… Greener production isn't all, as it has to rhyme with sustainability, as emphasized by Andy at Norden: "If the boards don't last, they cannot be sustainable even if you use the most eco friendly material. They brake, you throw them away, that's wrong. Normal surfboards can always be fixed.» This is the reason why Norden has developed a construction that can be fixed just like a regular surfboard. To maximize the lifespan of the softboards, some brand such as Catchsurf use triple stringers, but "still, there is an impact on nature with our surfboards", admit Maui.
A fad to last? It surely is, so save some floor space for those fun tools and bet on the medium/premium pricepoints rather than on the low-priced no-name brands. Shape-wise, split the offer in between the performance foamies addressed to your local experienced surfers, and on the other hand more user-friendly models with mini-mal attributes.