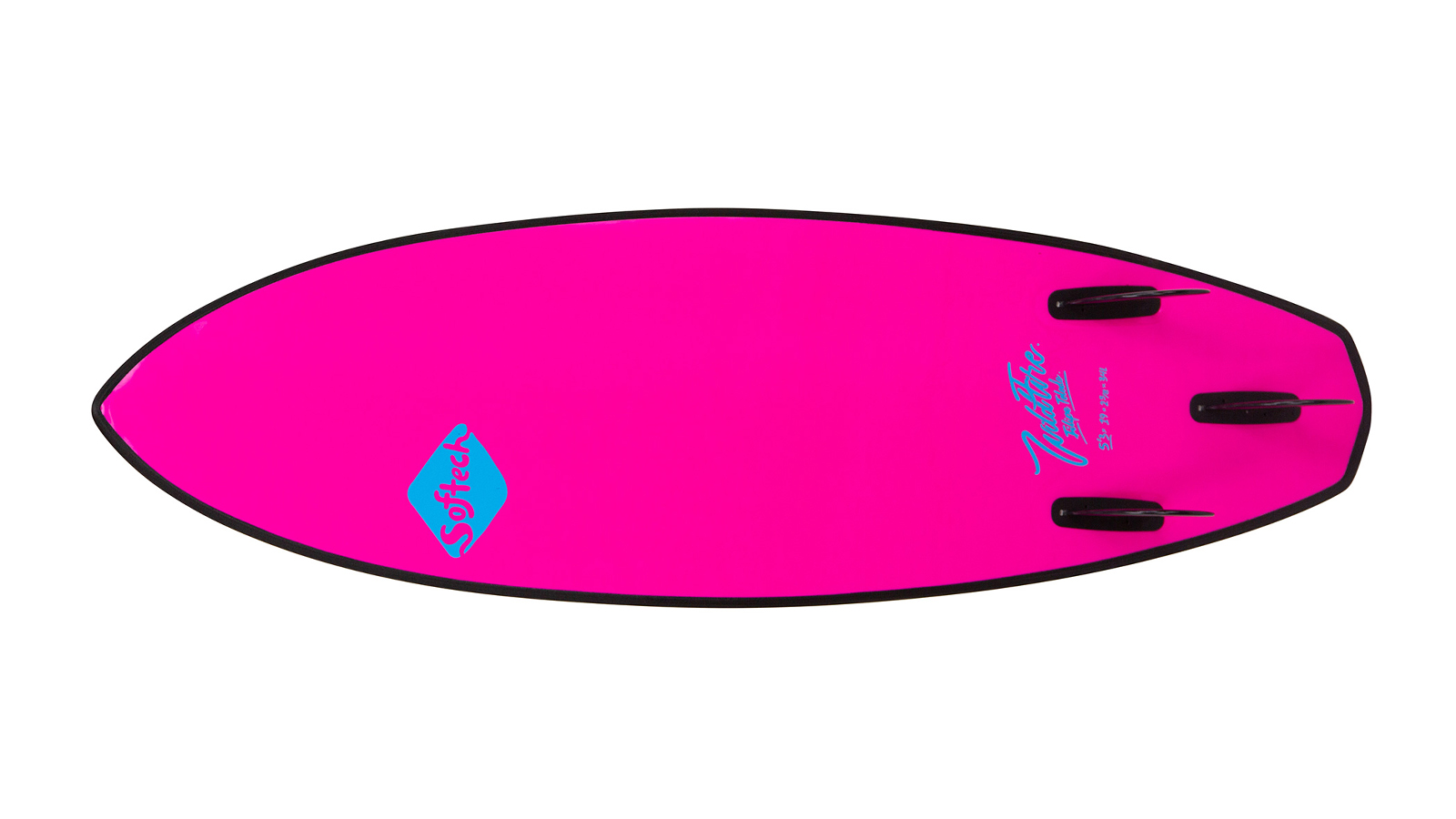 Softech 2020 Foamie Preview
Brand: Softech
Interviewee: Brad Rochfort, Surf Hardware UK Territory Manager
The foamie frenzy hit the surfboard market like a storm: just a fad or is it here to stay?
The softboard market is on a rapid rise. Initially left exclusively to surf schools, it soon became a novelty option for smaller days and summer fun. Today it's become an essential part of a surfers quiver, as well as for surfing families where the softboard can be used and enjoyed by everyone.
The endemic softboards brands now face a wave of price-oriented options. What is your selling point so you can add value to a "foamie"?
Softech sits in the 'Premium Softboard' category with a focus on quality that lasts. Our 'Performance Series' boards feature custom profile rails, hand shaped to compliment each model and elevate the feel and response of the board. FCSII plugs come as standard, and our new safety fins (FCSII SFT model) are included in the price. It allows the user to switch over to their favourite FCSII fins in an instant, or remove them easily for storage and transport. Our team riders work closely with us to test and develop new boards, look out for signature models from Mason Ho, Filipe Toledo, Sally Fitzgibbons, Kyuss King and Eric Geiselman.
Which designs are trending in 2020? The original weirdo shapes or more progressive boards?
We witnessed the market switch 3 years ago from the original 'beater board' shape towards progressive boards in the 5 to 6 foot range, and more recently trending into sizes from 6 to 7 foot. These slightly bigger performance boards seem to meet the needs of a broader audience, from a growing woman's market, or progressing learners, to families looking for the all-round board that the kids can enjoy, but mum and dad can still shred on. For 2020 we will have added 6'6 and 7'0 sizes in our best-selling 'EG Flash' model as well as adding a 6'10 to the Bomber range. For those looking for pure performance we are also introducing the new Toledo 'Wildfire' in 5'3 and 5'11 sizes.
Do you cater for the schools/rental market?
Yes, surf schools are an important part of our business and we have built our 'Original Series' boards such as the Roller and Zeppelin models around the specific needs of the surf schools. Their knowledge, expertise and feedback have been used as the benchmark to create the most user-friendly boards on the market that are both durable and value for money. Our extensive range of sizes, colours, templates and design features such as Softech's unique handle system and lightweight design all come from their feedback.
Graphics in the softboard category have much in common with skateboards & snowboards: what eye-catching models do you offer in 2020?
Good graphics are a key part of a softboards appeal and we feature a variety of prints, colour combo's and marble effects inspired by custom resin tints throughout the Softech range. We offer a bright colour-pop option alongside a subtler tonal colour option so the consumer has a choice. The new Toledo 'Wild Fire' in the neon colour is an eye catcher! Most of our Performance Range feature DSS (double sided slick) so we can print graphics on both the deck and base. DSS also improves speed and stiffens the overall flex pattern to provide more drive, acceleration and turning response. It allows for a traditional wax and/or deck pad setup so it feels like a traditional custom board under your feet.
Is a softboard more or less sustainable than a regular PU/EPS surfboard?
Sustainability is now a big part of our business model, all the way from product development to the final manufactured product. We aim to build the best quality softboards that have the lowest environmental impact as they will last for years, and our factories are equipped with state-of-the-art air filtration systems which take care of the working environment and the health of our skilled board builders. New eco-materials are still being developed and these will eventually filter into the market. One of our first steps in sustainability was introducing direct shipments in 2018 to our surf schools from our factory, rather than being sent to our warehouse in Hossegor first. This not only reduced shipping costs but drastically reduced each boards travelling carbon footprint. For 2020 we have initiated a trial to deliver all surf school boards with totally plastic-free packaging.
Best Sellers
Please name and describe your 3 highlight pieces and items that retailers should definitely order.
2020 Highlights
Toledo Wild Fire
More refined than most of its counterparts in the range, and with the scales tipping firmly towards performance, the ft wildfire raises the yardstick for softboard shredding.
Features:
ultralight double sided slick
stringers x 2
4 x rail system
fcs ii fin system and fins
hybrid shortboard outline
belly channel, diamond tail
Available in 5'3 (32l) and 5'11 (37l)
Bomber
Tapered tail shape with a longboard outline up front, makes this board the ultimate cruiser that will flow down the line and turn on a dime.
Features:
exl deck foam
stringers x 2
fcs ii fin system and fins
single sided slick bottom
Available in 5'10 (44l), 6'4 (56l) and 6'10 (60l)
Roller
Hand shaped funboard with generous outlines and lots of volume, these boards are stable and very easy to ride for learners as they gain confidence riding waves and start performing basic turns. Featuring Softech's unique carry handle system.
Available in sizes 6'0 (54L), 6'6 (61L), 7'0 (66L), 7'6 (71L), 8'0 (94L), 8'4 (103L), 9'0 (112L)