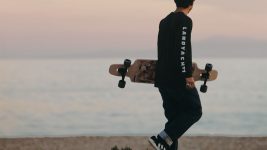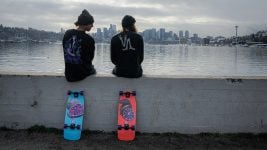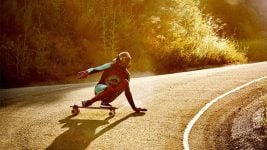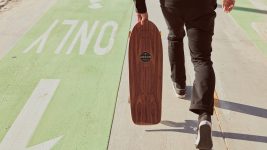 Coronavirus or not, the wheels keep spinning in the longboard biz. Get the details in our 2020 Longboards Retail Buyer's Guide – COVID-19 Edition by SOURCE Skateboard Editor Dirk Vogel.
2020 was going to be a banner year for our industry with skateboarding making its official debut as an Olympic discipline and mainstream interest at a new high. Then COVID-19 hit – and cancelled everyone's plans (and the Olympics). Nevertheless, folks in the longboard business remain optimistic, including Lowri Holness at SHINER Distribution/Arbor Longboards: "The Olympics would have definitely boosted the skateboard market in general. Now, with the delay, the public is focusing more on the pursuits they can do when they are again able to go outside, and skateboarding will be one of those staple pursuits."
Since social distancing measures appear destined to become the 'new normal' when economies across Europe end their COVID-19 lockdown measures, the future of team sports remains uncertain. But skateboarding, on the other hand, can be enjoyed alone and longboarding in particular offers a relatively safe mode of enjoying the outdoors, which has led to somewhat of a paradox in retail. "During this time locked up at home we've seen the demand for skateboards go up for sure… Our online retailers, which are still open and operating have been keeping busy!" said Josh Barrow, EU Marketing Manager at Globe. At Landyachtz, International Accounts Manager David Price confirmed: "With all kids being out of school and parents trying to find ways to keep them busy in their house or neighbourhood, online skateboard sales are up in Europe. The situation in the USA is similar."
Another factor working in longboarding's favour: COVID-19 is not the first crisis in recent years. The industry weathered 2008's Great Recession and only recently climbed out of a downward cycle of overstock and imposter brands from the mid-2010s. Dave at Landyachtz said: "We started off Q1 of 2020 in a good position. Pre-books with European accounts were up 15% on average." At Jucker Hawaii, head honcho Mike Jucker concluded: "It appears that the consolidation of brands has tapered off and only the good ones remain. At least in Europe." Sharing this sentiment, Andreas 'Maui' Maurmeir, Retail and Marketing Manager at Sector 9 said: "It's back to a real level. The trashy cheap stuff is finally out of the stores or the stores do not exist anymore. That being said there are still so many people out there practising and for sure they want and need excellent hardware."
Here at the major longboard hardware trends retailers need to watch in 2020 as the world emerges from COVID-19 lockdown:
RIDING STYLES: SURFING AND COMMUTING
Summing up the main riding styles for the season, Benoit Brecq at HOFF Distribution (Flying Wheels) said that, "the market in Europe is more centred on Surf Skate and cruising." His brand caters to surf skate with three technologies, including the Lombard baseplate that turns any conventional truck into a surf set-up, plus the Capitol single-pivot truck and STR closed-angle surf truck. Maui at Sector 9 has seen great demand for, "Gullwing Sidewinder Trucks that allow to carve at higher speed to really get yourself from point A to point B surfing." This season, Z-FLEX introduces Waterborne Surfskate Adapters to give existing boards that 'surfy' edge, while all brands mentioned in this report also offer Surf Skate completes starting at €139. Meanwhile, product developer Iciar Sánchez, creator of the Slide by Sancheski series, sees alternative transportation as a hot trend: "We believe cruiser demand has risen over longboarding due to the fact that they are easier to carry and more versatile than a 40-inch board. Timothy Mackey at DB Longboard also said that, "compact commuting platforms are gaining traction. Drop through twin tips 38-40 inches still slay."
SHAPES: SHORTER LONGBOARDS
The trend towards shorter rides is universal, reaching even performance segments like downhill. "Performance downhill boards are steadily getting smaller to be more manoeuvrable, relying on improved trucks, wheels, and bushings to provide stability," said Shane Maloney, Brand Manager at Madrid Skateboards, pointing out the brand-new signature board shape for IDF World Champion Harry Clarke, the Snitch. Speaking of shapes, current line-ups crystallize around wide-bellied surf-style decks and elongated drop-through longboards. At Z-Flex, Jay Baikie, Head of Marketing & Ecommerce, is hyped on the 37-inch Log-roll Surfskate that is "based off the popular Z-Flex Chipper shape and utilizes the patented Waterborne technology as a market first. Don't mistake this for just another reverse kingpin truck on another cruiser. Our Surfskates use asymmetrical design to allow for 3x more turning than an ordinary skate truck."
Miller Division's product manager Ivan Garcia Arozamena sums up 2020's shapes as follows: "As for surfskates and cruisers, they vary between 29 "and 32.5" Always with extra widths for better foot position and comfort. The shapes of all kinds, from pintails, swallow tails… The important thing is that in the area where you put your feet you have enough size to ride at ease." At Landyachtz, Dave Price reported: "Mini-Cruisers are gaining in popularity and continue to be our best sellers. I would define 'mini-cruiser' as under 32 inches length, 8-inch or narrower with narrow trucks and smaller, under 65mm wheels in new shapes like our Dinghy Coffin and Dinghy Blunt."
CONSTRUCTIONS: TECH VS. CLASSICS
The level of tech and finesse in board constructions has never been higher. Leading the way, Pablo Castro at Loaded Boards highlighted the "biscuits and gravy construction for the Icarus. The five-part core allows us to create dramatic contouring to achieve our best soulful carving experience to date. As of 2019 we've moved most of our production over to Entropy Super Sap resin. We've also been using an increasing amount of basalt fabric instead of fiberglass or carbon." While most brands, including Arbor, Globe, and Madrid to name but a few, rely on premium maple and bamboo in their boards, Sector 9 is bringing back a classic: "We are happy that we will bring back some fibreglass boards into our line with the SPLASH SNAPBACK. Fibreglass production became ridiculously expensive in the States, almost impossible to bring something up for a reasonable price."
NEW BEGINNERS NEED BOARDS
Blame it on the lockdown, but a new wave of beginners – including older riders rediscovering their groove – are picking up longboards. Asked about appropriate boards, Shane at Madrid suggests: "Drop-thru longboards with large riding platforms are holding on to popularity in the beginner and casual market due to their ease of use." Retailers need to stock completes from high-end brands to make sure that newbies have a positive experience from day one. Lowri Holness is proud that, "all of Arbor's Certified Completes are built with the best components, including Paris and Ace Trucks and Arbor Wheels." Timothy at Origin Distribution (DB, Rayne, Flow Surfskates) said: "We predict our short cruisers will continue to be popular as people who haven't done much longboarding will pick boards that are budget-friendly and have popular shapes and sizes."
ACCESSORIES: TIME TO UPGRADE
The accessories segment is also rife with upgrades and innovations. Another potential advantage, as consumers may avoid large purchases because of COVID-19, but still want to enhance their ride with new trucks or wheels. Here's where Landyachtz comes in with new precision 120mm Grizzly race trucks and dual durometer race wheels (Cheetahs) that are the result of over one year of R&D. Shane at Madrid swears by the combo of Caliber II 50° 184mm Trucks and 89a bushings. Jucker is still riding high on the success of the new P1 longboard truck, while Miller Division has upgraded the Surfskate Truck (xrkpII) to achieve 12 percent better turn with eight-hole baseplates to expand the wheelbase by 2.5 centimetres. Speaking of turning, Iciar Sánchez at Slide said that their "new third-generation front truck makes wheel bite (almost) impossible." In terms of wheel trends, Timothy at Origin Distro sees the impact of commuting (see 1.): "We think that big wheels will follow this trend. Our 90mm Hurricanes by Cloudride make sidewalk cracks and general debris easy to roll over." Pablo at Loaded Boards confirmed that "big and beautiful continues to work well for Orangatang. Our 85mm Caguama continues to do excellent for us." Benoit at HOFF suggests Black Arrows bearings and Frowars wheels as must-haves, particularly the Gyro (76mm), Climax (65mm) and Bumper (60mm) models.
SUSTAINABILITY? CERTIFIED!
Due to the widespread lockdown, 2020 may go down in history as the first year in which CO2-emmissions are actually declining. Perhaps consumers will emerge from the crisis with a new vigour for sustainability and transparent practices. In that case, major longboard brands have the advantage: "We are working on decreasing production and post-consumer landfill waste in terms of packaging and one-time use plastic. Also new materials that are eco-friendlier. It's too early to share our secrets, but our #1 goal this year is to become more sustainable and be more aligned with the UN Sustainability Goals," said Desiree Moore, Marketing Director at Dusters California. Arbor crafts all boars from FSC Certified Canadian Maple, while The Bamboo Collection is built with a sustainable Bamboo Finish Ply. Ivan at Miller Division announced: "All our skateboards carry the FSC seal, which guarantees that they come from sustainable forests that are reinforced at the same time." Certified or not, longboards offer a clean option for urban transportation in the 'new normal' after COVID-19 and have never been more evolved and diverse than today.