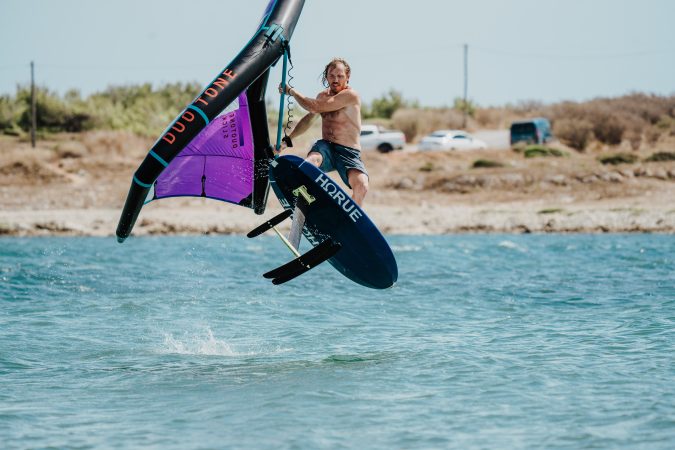 Horue SS24 Foil Preview
What sport is driving more foils demand at the moment (kite, wind, wing, surf…)? 
Obviously, wingfoil is pushing the market forward with a big demand for beginners. We also see a demand for intermediate to expert riders who need a an advanced hydrofoil such as our Biplane model LIBEL. Foil pumping has also won many new customers, who have flat water spots close to them. For this particular demand, we developed a new foil very efficient for this purpose, high ultra high ratio aspect. 
Which of your 2023 foils are selling well and why?
We have 2 main foils for 2023 : the monoplane VINI V3 and the Biplane LIBEL. Both are well selt, because these are for 2 differents purposes. Vini V3 is an allround foil, especially efficient with an amazing low drag. It's usually selt for wing, wind, surf, kite, etc… You really can ride all the disciplines with Vini range. With many fuselages, connection systems, wings etc… if offers a huge number of combinations. LIBEL biplane hydrofoil is very unique onto the foiling market. It uses the same SM1 carbon prepreg 2023 mast than the VINI, but has a biplane fuselage. Biplane configuration gives an amazing maneuverability to HA ratio, providing a feeling of liberty and lightness while riding. With a huge range of fuselages, top wing, bottom wing, stabilizer and connection systems, it offers more than 960 uniques combinations! Also, we had a demand for Takuma front wing compatibility. As a result, we developed a fuselage for these front wings on our mast and stabilizer range.
What are the highlights of your 2024 foil offer?
2024 will bring some improvements for our current foiling range, but we (and many of our customers) already consider that our 2023 range is way ahead of its time, that's why our 2017 foiling range has been onto the market for more than 4 years. We also want sustainability  a part of the market goal for HORUE. this objective can only be achieved by keeping product onto the market until significant improvement can be done on the products. Minors improvements onto design and performance won't bring to new range.
What materials and construction techniques are you using for your 2024 range?
2023 and 2024 products are made in carbon prepreg closed mold at high temp for masts and wings. We also use G10 wings for the LIBEL range, as biplane use small front wings (from 216cm2), we manage to get good strength on G10 material, lowing the price for final customer.
What's your current situation regarding stock and deliveries? What's your forecast for your 2024 foils?
We have stock for all our foiling range. Boards are made only on demand in Europe, avoiding stock, so reducing final price.
Best Sellers
Small screw box to absolutely get in your quiver, the Lifebox contains more than 36 pieces in a amazing compact box made in France from biodegradable plastic. Selt 37,50€, it's a bargain!
Your customers don't manage to dockstart? Don't hesitate to advise them the Bungee from Horue. Especially developed for foiling start, we lauched this product in 2019 so even beginners can use it. A static connection point and a foil, here you go!
Get the "WOW, What is that weapon?" from your customers by showing the Horue Biplane LIBEL in your showcase! But not only, thanks to its construction and design, LIBEL gives extrem "rail to rail" maniability for a great pricing on spare parts, like wings, fusleages, etc…  Devellopped on SM1 mast, LIBEL is available with several connection system to the board : 4 holes plate – 4 holes plate with gap – Deep tuttle – KF-box. Be sure your customer will have the right board compatible with LIBEL!